Important preventive measure to consider to avoid vitiligo.
The condition known as vitiligo results in patches of skin losing its pigment. With time, the discoloured spots typically enlarge. Any portion of the body's skin might be impacted by the illness. The tongue and hair can both be impacted by it.
Melanin often controls the hue of skin and hair. Melanin-producing cells die or stop working, which causes vitiligo. All skin tones are affected by vitiligo, however those with dark or black skin may notice it more. Neither the ailment is infectious nor life-threatening. It could cause stress or make you feel self-conscious.
The afflicted skin's colour may return with vitiligo treatment. However, it doesn't stop further skin colour loss or recurrence.
What is vitiligo?
Skin losing its colour in patches is a symptom of vitiligo. Each person's entire amount of skin that vitiligo might affect is different. Additionally, it may have an impact on the hair, tongue, and eyes. The majority of the time, the affected areas are permanently stained.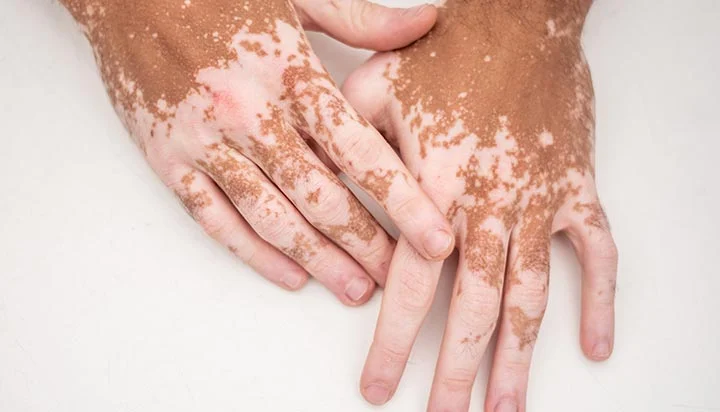 Affected parts will be more sensitive to sunlight than unaffected ones since the disorder is photosensitive. It is difficult to foresee whether and how the patches will expand. It could take weeks for the patches to spread, or they could stay in for months or years.
People with darker or more tanned skin tend to have lighter spots that are easier to see
What are the types of vitiligo?
The emergence of flat, lighter-colored spots or patches on the skin is the only sign of vitiligo. The first white spot that stands out is frequently in a sun-exposed location. A little spot that is slightly lighter than the surrounding skin at first, it gradually becomes paler till it turns white over time.
The patches typically have an erratic form. On all skin tones, the edges can occasionally be irritated and have a reddish tone that might itch. However, it typically doesn't result in any discomfort, irritability, soreness, or dryness of the skin.
Each person experiences vitiligo differently. For instance, whereas some people only see a few small white spots that never grow larger, others experience larger white patches that converge and damage wider sections of skin.
Generalized: This is the most prevalent kind of vitiligo, which results in macules showing up all over your body.
Segmental: Only one side of your body or one particular part of your body, such as your hands or face, is affected by this type.
Mucosal: Mouth and/or vaginal mucous membranes may be affected by mucosal vitiligo.
Focal vitiligo: It is a rare kind in which the macules only appear in a small area and do not spread outward over the course of one to two years.
Trichome: This kind creates a bullseye with a white or colourless centre, then a lighter-pigmented area, and finally a toned portion of your skin.
Universal: This uncommon form of vitiligo results in more than 80% of your skin being pigment-free.
What are the symptoms of vitiligo?
Numerous signs of vitiligo include:
Skin colour loss that typically first manifests in patches on the hands, face, and regions near body openings and the genitalia.
premature greying or whitening of your eyebrows, beard, eyelashes, or scalp hair
tissues that border the inside of the mouth and nose losing colour (mucous membranes)
Although vitiligo can begin at any age, it often manifests before the age of 30. The following may be impacted by your vitiligo, depending on the type:
Almost every skin surface. This type of vitiligo, also known as worldwide vitiligo, causes practically all skin surfaces to darken.
lots of body parts. Generalized vitiligo is the most prevalent form, and the discoloured patches frequently progress on adjacent body parts in a similar manner (symmetrically).
Single side or portion of the body. This form, known as segmental vitiligo, typically starts earlier in life, progresses for a year or two, and then stops.
Just one or a few body parts. Localized (focal) vitiligo is the name given to this kind.
Hands and the face. Acrofacial vitiligo is the name given to this form, which affects the skin on the hands, face, and the areas around body openings like the eyes, nose, and ears.
The course of this illness is impossible to foresee. The patches may occasionally stop developing on their own. The majority of the time, pigment loss spreads until it affects the majority of the skin. The skin sometimes regains its colour.
What causes vitiligo?
Vitiligo is brought on by a shortage of melanin, the skin's pigment. This does not make sense, for some reason. According to research, vitiligo may originate from:
An autoimmune disorder occurs when your immune system misidentifies healthy cells (melanocytes) as harmful bacteria or other foreign invaders that might harm your body. Your immune system overreacts to this, producing antibodies that attack your melanocytes.
Genetic modifications: A genetic mutation or alteration to your body's DNA can have an impact on how well your melanocytes work. There are more than 30 genes that can make you more likely to get vitiligo.
Stress: If you frequently suffer physical stress on your body or mental stress on your body, particularly after an injury, the amount of pigment your melanocyte cells produce may alter.
Environmental triggers: Your melanocyte cells' ability to operate can be impacted by conditions including exposure to harmful chemicals and UV light.
What increases your risk of vitiligo?
What specifically causes vitiligo is uncertain. Many vitiligo sufferers have no family history of the ailment, and it doesn't seem to be inherited. The National Institute of Arthritis and Musculoskeletal and Skin Diseases, however, cautions that having vitiligo or other autoimmune diseases in your family may raise your risk.
Having vitiligo-related genes like NLRP1 and PTPN22 may be additional risk factor, according to a 2018 research. Because your body is attacking its own cells, the majority of researchers think that vitiligo is an autoimmune illness. According to a 2016 study, roughly 20% of vitiligo patients also have another autoimmune condition.
Vitiligo may be linked to a wide range of autoimmune conditions, such as:
thyroiditis is brought on by a malfunctioning thyroid.
lupus
psoriasis
Baldness, or alopecia areata
diabetes type 1
Addison's illness, pernicious anaemia, and poor vitamin B12 absorption
scleroderma, a condition affecting the body's connective tissue
Additionally, some specialists claim that vitiligo appears following:
serious wounds or sunburns
exposure to chemicals and poisons
high stress levels
How can I prevent vitiligo?
There is no known technique to stop vitiligo because it may have a number of causes. You can lower your chance of getting vitiligo by:
adopting sensible sun exposure practises.
employing a moisturiser on a daily basis to take care of your skin.
preventing physical stress or harm to your body.
managing any autoimmune disorders that may be present.
REFERENCES:
For more details, kindly visit below.