Breast cancer: Can a wearable device help to detect it?
To screen for breast cancer at home, researchers created a wearable gadget.
Initial testing reveal that it is capable of detecting tiny cysts that are comparable in size to early-stage breast tumours. To confirm the effectiveness of the gadget, clinical trials are required.
One day, a cutting-edge piece of wearable technology that can be fastened to a bra might enable individuals to identify breast cancer symptoms while lounging at home.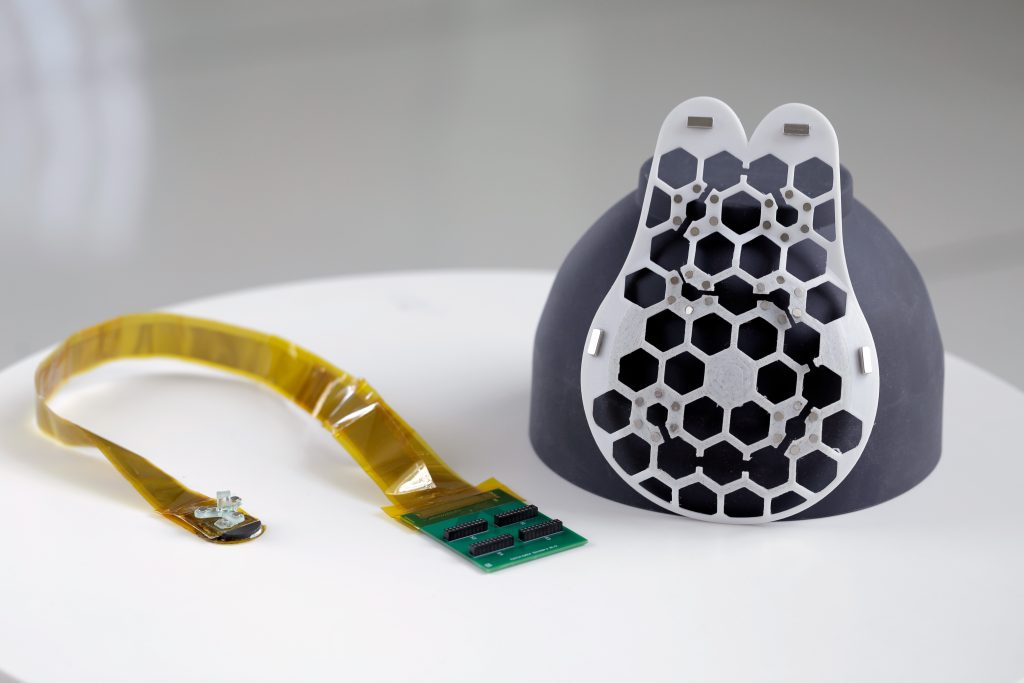 With approximately 1 in 6 cancer-related deaths among women, breast cancer is the most common cancer in the world. Women make up the great majority of breast cancer patients. Men experience 0.5% to 1% of cases, though.
If discovered when the cancer has not yet moved outside of the breast, breast cancer has a 5-year relative survival rate of up to 99%. The 5-year survival rate drops to 30% if discovered later, such as when cancer has spread to distant bodily areas like the lungs, liver, or bones.
Currently, the most popular approach for detecting breast cancer is a mammography, an X-ray imaging procedure.
Mammograms must be performed in an imaging center even though they are typically efficient at detecting 87% of malignancies. This limits access for many people, especially those with low incomes, who could postpone screening as a result of the high associated expenses and challenges in organizing transportation.
The health outcomes for those diagnosed with the condition globally could be improved by initiatives to increase accessibility and lower the cost of breast cancer screening.
Researchers recently created a wearable ultrasound breast patch that could enable patients to scan for breast cancer at home.
Bard-certified doctor Dr. Kamila Seilhan, stated: "This wearable ultrasound device may help patients at high risk of breast cancer in the interim between routine mammograms by enabling early tumor detection."
A breast-attached wearable breast cancer detector
The same ultrasound technology that imaging centres utilise is the foundation of the device. However, because of the piezoelectric materials used, it can be made smaller to function as a portable ultrasound scanner. Through a mechanism called piezoelectricity, crystals transform mechanical energy into electrical energy, which in this instance can be used to interpret ultrasound measurements.
"The device sends sound waves into the breast tissue, and as it moves across the breast, it produces high-quality images identifying cysts that may need to be investigated by a breast cancer specialist," said Dr. Jennifer Tseng, F.A.C.S., medical director of breast surgery and a double board-certified surgical oncologist specializing in breast cancer at City of Hope Orange County Lennar Foundation Cancer Centre in Irvine, California, who was not involved in the research.
To make the device wearable, the researchers created a flexible, 3D-printed patch with honeycomb-like holes. The patch fastens to a bra with holes so it may touch the skin and scan breast tissue there.
The entire breast may be imaged thanks to the scanner's six various positioning options. In order to capture photographs from various perspectives, it can also be rotated.
The scanner has already been tested on a 71-year-old woman who has a history of breast cysts. They were able to identify cysts with the gadget that were as small as early-stage tumours, or 0.3 centimetres in diameter. According to their findings, the images produced had an 80mm depth and a resolution comparable to that of conventional ultrasounds.
Senior author of the study Canan Dagdeviren, Ph.D., Associate Professor of Media Arts and Science at Massachusetts Institute of Technology (MIT), stated that the technology makes it simple to repeatedly take pictures from the same location.
Increased screening availability for breast cancer
Dr. Dagdeviren stated that the ultimate purpose of the device is to reach underrepresented women, including those living in less economically developed nations, and to make breast cancer screening more accessible and affordable.
Dr. Seilhan remarked that if successful, the device could be especially helpful in isolated locations without simple access to medical facilities.
"Healthcare facilities and organizations with limited funds can purchase the device more easily because of its low cost," she said.
She continued by saying that while the gadget is simple to operate, it might be useful in settings where medical personnel have limited technical expertise.
Dr. Tseng pointed out, however, that in order for patients in less developed nations to benefit fully from diagnostic technologies, it is equally critical for them to have better access to those tools.
However, she added, "patients still need to have the data reviewed by an expert who can recommend what to do next." This device may assist patients identify potential problem areas that they were unable to identify before.
When will the breast cancer wearable device be obtainable?
According to Dr. Dagdeviren, the device might be usable for 4-5 years. She is starting a business to achieve this goal and is looking for partners and investors. For mass production and FDA certification, she stated, "we will need about $40 million."
In spite of the fact that the device now needs a "bulky computer interface" to process photographs, the author continued, her team is currently working on a more portable design and will soon release an iPhone-size image processor.
The researchers are also creating a workflow that will enable artificial intelligence to examine data and produce diagnostic evaluations that might be more precise than those made by a radiologist comparing photos that were obtained over some time.
Experts spoke with Dr. Richard Reitherman, Ph.D., a board-certified radiologist and medical director of breast imaging at MemorialCare Breast Centre at Orange Coast Medical Centre in Fountain Valley, California, who was not involved in the study to learn more about potential future uses for the device.
"This kind of product will be a welcomed supplemental addition to women's health care," the doctor said. "If it can be demonstrated to be on par with mammography and dedicated breast ultrasound for breast cancer screening, it will be a welcome alternative."
However, he pointed out that one of the biggest obstacles for any new gadget is completing successful clinical trials, which will probably require collaboration with the American College of Radiology.
"This is a complex and difficult proposition," he said. "The jump from translational science to clinical efficacy remains to be seen."
What are the limitations of the study?
Its limits stem from the fact that the technology is still in its early stages of development.
The University of Kansas Cancer Centre breast radiologist Dr. Onalisa Winblad, who was not part of the study, stated that she does not currently support its use because it "does not have scientific data to prove utility."
The linked article's photographs are of low quality when compared to those from our normal breast ultrasound. In patients with dense breast tissue, ultrasonography is a tool that is beneficial in addition to mammography.
Dr. Tseng concurred that although ultrasonography is a useful tool for breast cancer screening, it cannot take the place of mammography and other types of preventive treatment provided by a breast cancer specialist.
Different technologies are more effective than others at detecting various breast alterations. For instance, while some calcifications cannot be seen with ultrasonography, others can be seen with mammography, she noted.
She stated that two of the most crucial elements in how effectively the tool performs as a breast cancer screening tool are "the device's ability to find true positive cases and avoid fake positive cases."
She continued by saying that even while the tool might be simple to use, how well it works may still rely on the user. Also, she added that because the human breast varies from person to person and even among individuals, large-area and deep-tissue imaging can be challenging.
When challenged about the device's limits, Dr. Reitherman stated that in order to maintain good quality metrics, the scanner must be operated under medical supervision, such as through "virtual supervision by a radiologist."
"Therefore, the existing medical community and physicians that would be interpreting and recommending actions based on this device's information would need to be on board," he said.
REFERENCES:
For Breast Cancer medications that have been suggested by doctors worldwide are avalaible here (https://mygenericpharmacy.com/index.php?therapy=10)