Type 2 Diabetes: Can kombucha help to manage blood sugar?
A fermented tea called kombucha offers advantages including enhancing gut health. Researchers carried up a study on persons with type 2 diabetes because they were interested in whether the probiotic beverage may be useful in decreasing blood sugar.
After four weeks, the researchers evaluated the blood sugar levels of two groups of individuals with type 2 diabetes who had either received kombucha or a placebo beverage that tasted similar. They switched the groups after a break, then assessed the participants again after another 4 weeks.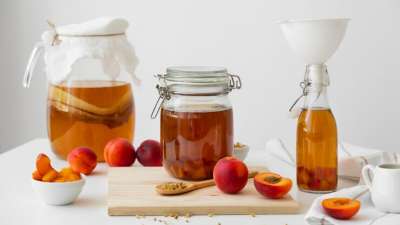 In contrast to a placebo, the results showed that drinking kombucha for four weeks dramatically reduced fasting blood glucose levels in comparison to baseline.
The researchers claim that this is the first investigation of kombucha's effects on persons with type 2 diabetes.
In type 2 diabetes, the body has trouble producing or properly controlling insulin. According to the Centres for Disease Control and Prevention (CDC), diabetes affects millions of people in the United States and is the eighth largest cause of mortality in the nation.
Scientists are interested in discovering new ways to lower blood sugar, especially through dietary choices, as the prevalence of type 2 diabetes rises.
The School of Health at Georgetown University in Washington, D.C., conducted research to see whether the Chinese tea known as kombucha, which is fermented with bacteria and yeasts, could lower blood sugar levels.
They discovered that merely 4 weeks of consuming kombucha reduced fasting blood sugar levels prior to meals from an average of 164 to 116 milligrammes per deciliters (mg/dL) after comparing blood sugar averages between drinking kombucha versus a placebo.
In contrast, according to the American Diabetes Association, normal fasting glucose levels are between 80 to 130 mg/dL before meals.
Tracking fasting blood sugar
The authors highlight that the study's participants were drawn from the General Internal Medicine Clinic at MedStar Georgetown University Hospital, which has "a strong interest in diabetes care."
They recruited 12 individuals with type 2 diabetes for the trial. They had to consent to consume the designated beverage on a regular basis as well as test their fasting glucose at various intervals at home.
The individuals were also told by the researchers to stick to their regular meals. They did not want dietary modifications to have an impact on prospective blood sugar drops.
The participants were split into two groups, and each group was given an 8-ounce beverage to consume everyday with dinner for a period of 4 weeks. Some participants received kombucha, while others received a placebo beverage that, according to the authors, tasted like kombucha.
The recipients of the kombucha were switched around during the study's second phase. The individuals had to wait eight weeks before starting back up on their drinking routine so that the researchers could account for any lasting effects of the kombucha.
The subjects experienced further 4 weeks of consuming their assigned beverage after the 8-week "washout period" ended. In the initial phase of the study, participants who consumed kombucha also consumed a placebo beverage, whereas the others consumed kombucha.
The researchers next examined the information the subjects supplied regarding their fasting glucose, which they assessed at the following intervals:
their starting point before starting the drinking program
after the first week
towards the conclusion of week four
following the washout time
end of the first week of the second round.
following the fourth week of the second round.
Drinkers of kombucha had reduced blood sugar.
In order to determine if kombucha increased glucose levels, researchers averaged baseline data from subjects, data from each 4-week round of kombucha consumption, and data from placebo consumption.
Following 4 weeks of kombucha consumption, the subjects' average baseline blood sugar level fell to 116 mg/dL from 164 mg/dL. This represents a decline for the kombucha group of almost 30%.
In contrast, after consuming the placebo beverage, the subjects' baseline blood glucose levels barely changed. The authors report that there was no statistically significant difference between the placebo and the average fasting blood glucose levels.
A larger investigation, according to the researchers, is required due to the study's drawback of a limited sample size.
According to a press statement from the study's lead author, Dr. Chagai Mendelson, "We were able to provide preliminary evidence that a common drink could affect diabetes."
"We hope that a much larger trial, using the lessons we learned in this trial, could be undertaken to give a more definitive answer to the effectiveness of kombucha in reducing blood glucose levels, and hence prevent or help treat type 2 diabetes," he continued.
A residency program is being completed by Dr. Mendelson at MedStar Georgetown University Hospital Medical School.
Experts discuss the advantages of kombucha
The outcomes of the study were discussed by Alyssa Wilson, a registered dietitian and metabolic health coach with the California-based company Signos.
Wilson stated that there is "some encouraging data" supporting the inclusion of kombucha in a nutrition care strategy.
For those seeking a healthy alternative to sugary drinks, she said kombucha is a "great option" and may help "reduce hunger and prevent sugar cravings."
Wilson noted that further research is required to support the findings even though she thinks the study to be promising.
"More research is needed in a larger follow-up study to determine the effectiveness of kombucha in reducing blood glucose levels, but the findings are promising and exciting for this patient population," she said.
The work was also discussed by endocrinologist Dr. Florence Comite, who founded the Comite Centre for Precision Medicine and Health in New York City.
Dr. Comite pointed out that more research is indicating a link between conditions like type 2 diabetes and the composition of the gut microbiome, which is changed by probiotics like kombucha.
The metabolism, inflammation, and immunological response all seem to be substantially influenced by the microbiome. Managing glucose management will be impacted by improving the proportion of beneficial bacteria to harmful bacteria in the stomach, according to Dr. Florence Comite.
She expressed her need for more research in this area, stating that "a causal association between kombucha and lowering blood glucose deserves further study. It is unclear whether diabetes affects the gut or if an unhealthy microbiome contributes to the disease."
Additional information on kombucha
Depending on how much you consume, kombucha has around the same amount of caffeine as a cup of regular tea.
Due to its high caffeine and low alcohol level, kombucha is not advised for children or pregnant or nursing women.
It's recommended to buy kombucha rather than attempt to create it at home if you decide to start drinking it (after consulting with your healthcare professional).
Start out with a little quantity of kombucha.
Always check your blood sugar levels to see whether they have an effect on how you control your blood sugar in general. (Each individual is affected differently.)
REFERENCES:
For Type 2 diabetes medications that have been suggested by doctors worldwide are available here https://mygenericpharmacy.com/index.php?therapy=13