What are the precautions and warnings of Montair tablets?
An anti-allergic drug called Montair is primarily used to treat asthma and seasonal allergies. An allergic reaction is an immune system reaction to outside substances that are usually not detrimental to your body. These alien substances are referred to as "allergens". A localised inflammatory illness of the lungs and airways, asthma can cause excessive mucus production in response to certain stimuli such viruses, allergens, and exercise.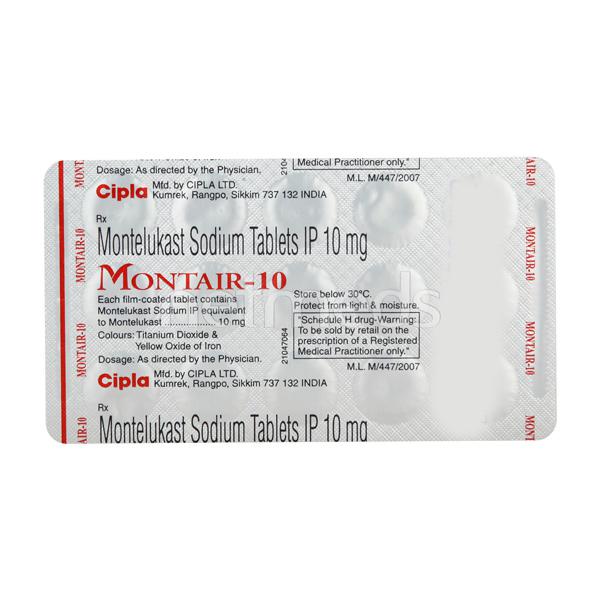 Montelukast, a component of Montair, is a leukotriene antagonist. Leukotriene, a chemical messenger, is blocked, which lowers inflammation and swelling of the lungs' airways. Asthma episodes are avoided and breathing is made easier. When you have an allergic reaction to something like dust or pollen, leukotrienes are also generated in your body. Leukotriene levels are reduced by Montair, which also prevents your symptoms.
Medicinal Benefits
The anti-allergic drug Montair contains montelukast. As a leukotriene antagonist, montelukast lowers edoema and inflammation in the nose and lungs, improving symptoms and treating a wide spectrum of allergy disorders. As a result, symptoms including sneezing, runny nose, coughing, watery eyes, etc. are reduced. Asthma and allergy symptoms can be avoided with the use of this drug, which is referred to as a preventer.
How to use?
Take it as your doctor prescribes, whether with or without food. With a glass of water, swallow the entire tablet. Do not chew, break, or chew it. Tablets that can be chewed. Completely chew the tablet before swallowing. Do not consume it in its whole. Granules. Before using, take sure to read the label carefully. Mix the granules thoroughly with the milk or water before drinking right away.
Side Effects of Montair
abdominal pain
Body pain or pains
urine with pus
Anxiety and agitation
Heartburn Skin rash
distorted vision
Face, lips, tongue, eyelids, hands, and feet swelling
Unwellness or vomiting
Diarrhoea
Fever
Precautions and Warning
If you are allergic to Montair or any of its constituents, avoid taking the medication. Before beginning Montair, let your doctor know if you have any mental disorders as it may cause mood changes (symptoms include anxiety, aggressive behaviour, irritability, restlessness).
At times, you could experience depression. If you experience any of these symptoms, let your doctor know. Avoiding contact with recognised allergens (agents that cause allergies), such as pollen, dust, etc., is advised. Allergies to particular foods have been documented. To decrease your mental alertness, Montair should not be taken with alcohol or other antidepressants. Do not stop taking Montair suddenly, even if you are asymptomatic and feeling fine. Doing so could cause an acute asthma attack.
Safety
ALCOHOL
While taking Montair, avoid consuming alcohol as it may aggravate adverse effects like tiredness.
PREGNANCY
The effects of Montair-10 Tablet 15s on pregnancy are not well understood. Prior to beginning Montair-10 Tablet 15, please consult your doctor if you are trying to conceive or are already pregnant.
BATERIAL FEEDING
The effects of Montair on breastfeeding are little understood. Montelukast, however, might enter breast milk. Please seek medical advice before beginning Montair-10 Tablet 15's.
DRIVING
If you become drowsy or find it difficult to concentrate while taking Montair, do not drive or operate machinery. Your ability to drive could be affected by Montair. Consult a doctor if the symptoms last longer.
Liver
Patients with liver disorders should use LIVER Montair with caution. If you have a history of liver illness, tell your doctor. Before recommending Montair-10 Tablet 15s, your doctor will consider the advantages and possible hazards.
KIDNEY
Patients with kidney disorders should use Montair-10 Tablet 15 with caution. If you have a history of kidney problems, tell your doctor. Before recommending Montair-10 Tablet 15s, your doctor will consider the advantages and possible hazards.
REFERENCES:
For more details, kindly visit below.