Important factors you need to know about heart attack.
What is a Heart attack?
A heart attack, also known as a myocardial infarction, is a very hazardous ailment that develops when the blood supply to your heart muscle is cut off. A blockage in one or more of your heart's arteries is typically the cause of the poor blood flow, which can happen for a variety of reasons.
The injured cardiac muscle will start to deteriorate without blood flow. A heart attack might result in lasting cardiac damage and perhaps death if blood flow isn't rapidly restored.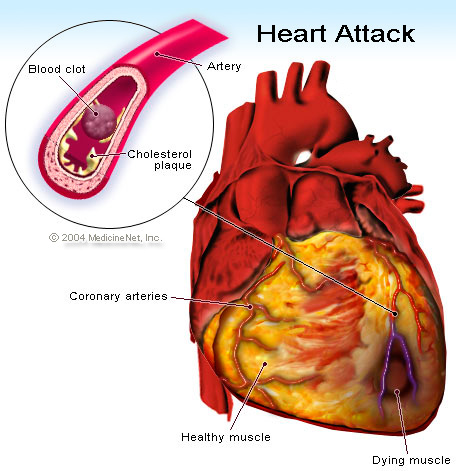 A person who is having a heart attack, also known as a myocardial infarction, will experience symptoms such as discomfort in their chest and other body areas. Early detection and timely treatment of a heart attack are essential and can save a person's life.
Cardiovascular arrest, in which the heart entirely stops beating, is not the same as a heart attack. Both situations are medical emergencies, and cardiac arrest can result from a heart attack if it is left untreated.
What does a heart attack feel like?
Blood flow to a portion of your heart ceases or is significantly reduced during a heart attack, which damages or kills that portion of your heart muscle. Your heart's complete pumping cycle may be interfered with if a section of your heart is incapable of pumping because it is dying from a lack of blood flow. Blood flow to the rest of your body is reduced or even stopped as a result, which can be fatal if it is not immediately fixed.
Symptoms of a heart attack
It is essential to detect the warning signs as soon as possible and call emergency services because heart attacks can be fatal.
These signs include:
chest pain, pressure, or tightness that you can feel in your chest.
widespread discomfort in the arms, neck, jaw, or back
a sensation of weight or crushing pressure in the chest
a sensation resembling indigestion or heartburn
nausea, and occasionally vomiting
clammy and perspiration
breathing difficulty
feeling faint or disoriented
Anxiety can occasionally feel like a panic attack.
wheezing or coughing if there is an accumulation of lung fluid
The order and length of the symptoms might vary; they may linger for several days or appear and disappear quickly.
The following could also happen:
Hypoxemia: This refers to low blood oxygen levels.
Pulmonary edoema: Liquid builds up in and around the lungs in pulmonary edoema.
Cardiogenic shock: This occurs when the blood flow from the heart is insufficient for the rest of the body to function properly, causing an abrupt drop in blood pressure.
Sometimes heart attacks affect men and women in distinct ways.
Heart attack causes
Coronary heart disease is the main reason why people have heart attacks. In the arteries that provide blood to the heart, plaque accumulates in this area. Atherosclerosis is another name for the widespread accumulation of plaque in arteries.
Heart attacks come in two primary categories.
When plaque on the artery's inner wall ruptures, cholesterol and other chemicals are released into the bloodstream, resulting in type I heart attacks. As a result, the artery may become blocked by a blood clot.
Type II heart attacks do not completely block an artery, but the heart does not receive the amount of oxygen-rich blood that it requires.
Heart attacks can also result from:
damaged blood vessels
spasms of blood vessels
abuse of drugs
hypoxia, low blood oxygen levels
Heart attack risk factors
You may be at risk for a heart attack due to a number of circumstances. Some elements, such as age and family history, are unchangeable. On the other hand, you can alter the risk variables that you have control over.
Risk factors that can be altered and those you can influence include:
smoking
elevated cholesterol
inadequate exercise
high stress levels
prediabetes
consuming a diet heavy in saturated and trans fats
excessive alcoholic beverage use
Most ethnic and racial groups in the US die from heart disease, which is also the most common cause of heart attacks.
According to the CDC, it is responsible for 23.7 percent of all fatalities in white non-Hispanic Americans and 23.5 percent in black non-Hispanic Americans. Both numbers are slightly higher than the 23.4 percent population level overall.
According to the National Institute on Aging, if you're over 65 years old, you're at a higher chance of having a heart attack than someone who is younger. For women, in particular, this is true.
Additionally, your chance of having a heart attack may be increased if your family has a history of diabetes, high blood pressure, high cholesterol, or obesity.
Treatments
A procedure may be suggested by your doctor if you've suffered a heart attack (surgery or nonsurgical). These treatments can provide pain relief while lowering the risk of having another heart attack.
Typical practises include:
Stent. A stent is a wire mesh tube that doctors implant into the artery after angioplasty to keep it open.
Angioplasty. A balloon angioplasty or plaque removal procedure can unblock a clogged artery. It's significant to highlight that angioplasty is no longer often used by medical professionals.
Heart bypass Surgery. Your doctor will reroute the blood around the obstruction during a bypass procedure.
Heart valve surgery. In valve replacement or repair surgery, doctors fix or swap out leaking valves to support the heart's pumping action.
To treat your heart attack, your doctor may also prescribe one or more of the following drugs:
aspirin
additional medications to dissolve clots
As blood thinners, antiplatelet and anticoagulants
drugs that reduce pain
nitroglycerin
medicine for blood pressure
beta-blockers
With a heart attack, timing is everything when seeking medical attention. The more quickly blood flow can be restored to the damaged area of your heart, and the more likely a favourable outcome is, the sooner you receive treatment after experiencing a heart attack.
Heart attack prevention
There are some simple activities you can take to help keep your heart healthy, even if there are many risk factors that you cannot control. Here are a few instances:
Consume a nutritious, balanced diet. As much as you can, try to include nutrient-dense foods in your diet. Lean proteins, whole grains, fruit, vegetables, low-fat dairy, nuts, and seeds should be your primary focus. Limit your intake of fried, fatty foods as well as simple sugar-containing items like soda, baked pastries, and white bread.
Regular exercise: For the best heart health, try to engage in 150 minutes or more of physical activity each week.
Give up smoking. If you smoke, think about discussing starting a smoking cessation programme with your doctor. Smoking is a big contributor to heart disease, therefore giving it up can help lower your risk.
Reduce your alcohol consumption. When it comes to alcohol and heart health, moderation is crucial. Two drinks a day for men and one drink a day for women is considered light to moderate alcohol use.
Get a cholesterol assessment. Consult your doctor about the steps you should take to lower your LDL cholesterol and triglycerides if they are higher than they should be.
Control diabetes. Take your diabetes medications as directed by your doctor, and monitor your blood sugar levels frequently.
Consult your physician. Work closely with your doctor to follow your treatment plan, which should include taking your medications, if you have a heart condition.
All of these actions are crucial for reducing your risk of heart disease and potential heart attacks. If you are worried about your chance of having a heart attack, talk to your doctor.
REFERENCES:
For more details, kindly visit below.