What are the Applications and Side effects of Chamomile?
Chamomile and its use?
Chamomile is a naturally occurring flowering plant that is one of the most ancient herbs known to mankind. This herb belongs to the Asteraceae/Compositae family. It is naturally found in native areas of western asia and Europe.
This herb has an apple-like aroma that explains the meaning of the name Chamomile which in Greek means Apple. Chamomile is represented by two categories such as German chamomile and Roman chamomile.
There are several scientific names to describe Chamomile such as:
Matricaria recutita
German chamomile
True chamomile
Chamomilla recutita
Hungarian chamomile
Chamomile is one of the most common substances used to flavor food, beverages, mouthwash, soap, cosmetics, etc. This herb has been used as a herbal remedy since ancient times. It is used as an alternative medicine to treat several medical conditions such as:
kidney problems
liver problems
digestion problem
anxiety
gout
rheumatic pain
inflammation
colic
fever
headache
bladder problem
muscle spasm
diarrhea
gingivitis
common cold symptoms
insomnia
bruises
ulcers
hay fever
hemorrhoid
menstrual disorders
Benefits of Chamomile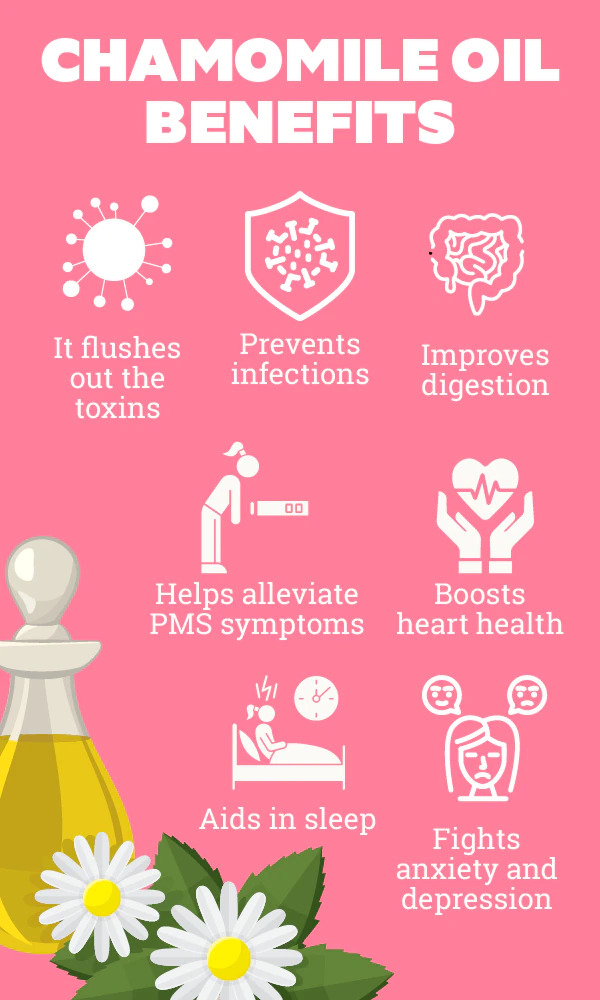 Chamomile is associated with a number of health benefits in a human body such as:
manage the symptoms of Fibromyalgia
management of Attention deficit-hyperactivity disorder (ADHD)
treats gastrointestinal problems
treats insomnia
relieves the symptoms of common cold
treats diarrhea
provides antidiarrheal and antispasmodic properties
anxiolytic properties that reduces anxiety
manage infantile colic due to antispasmodic property
reduce menstrual cramps due to antispasmodic property
prevents symptoms of motion sickness
Chamomile doses and Applications
Chamomile is a kind of substance that is commonly consumed in different forms such as herbal tea, oil, tincture, dry powder, capsules, etc. There are different doses and its frequency depending upon the the form of chamomile and its used that is generally classified as:
Essential oil: it can be used during bath by dropping 5-10 drops of chamomile in a full bucket. This helps to treat several skin conditions and diseases.
Capsule: 400-1200mg divided doses are generally used to treat several medical conditions in capsule form.
Tincture: 15ml of dose 3-4 times daily to treat gastrointestinal and digestive issues.
Aa a tea: Tea form of chamomile is used to treat a number of medical conditions.
As an ointment: as a cream, concentration between 3-10% of chamomile is effective against hemorrhoids, and mucositis.
It is advisable to avoid dosing of different forms at a time. Consuming one type of chamomile is beneficial and essential for the body.
Side effects of Chamomile
Although chamomile is a naturally occuring herb, there are several side effects involved with this substance ranging from moderate to severity in nature.
Common side effects are:
scaling
mild skin rashes
itching
These effects are mild and may go away within a few days.
Moderate side effects when used s a cream are:
Skin itching/redness
skin swelling/rashes
These effects must be informed to the doctor if observed.
Severe side effects are:
difficult breathing
hives
facial swelling
These allergic reactions require immediate medical attention if observed.
REFERENCES:
For more details, kindly visit above.