Genetic Overlap of Endometriosis & Chronic pain conditions
There is presently no cure for the disease endometriosis, which can lead to discomfort and infertility. In order to determine whether endometriosis has a hereditary component, researchers at the University of Oxford in the United Kingdom examined DNA samples from hundreds of female participants.
25 teams from around the world worked together with the researchers to collect and analyse a sizable amount of data from female participants with and without endometriosis.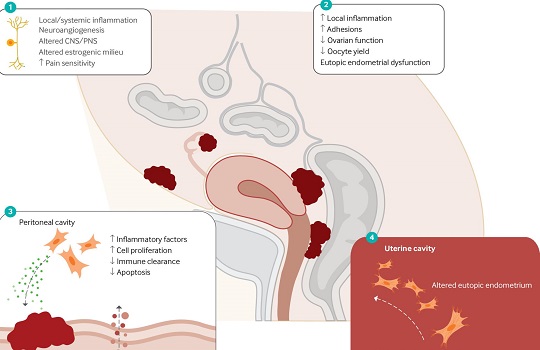 Their results demonstrated a link between endometriosis and other inflammatory disorders in addition to demonstrating the genetic component of this condition. For those who have it, endometriosis can be a crippling ailment, and identifying it can be expensive and challenging.
Scientists from the University of Oxford collaborated with experts from other countries to study the DNA from tens of thousands of female volunteers. In order to understand more about the genetic variables influencing the illness. They found that endometriosis might be related to other inflammatory diseases.
Endometriosis overview
The endometrial lining, the tissue that lines the inside of the uterus, thickens during the menstrual cycle as part of the process. This lining usually sheds throughout the menstrual cycle if a person does not become pregnant.
A tissue that resembles this lining can occasionally proliferate where it shouldn't, which is what happens with endometriosis. This lining may develop in the pelvic region, around the ovaries, or around the fallopian tubes. It can occasionally even grow around other organs like the intestines or the bladder.
Endometriosis symptoms and indicators might include:
discomfort in the pelvic and lower back
difficult times
digestion problems.
The World Health Organization (WHO) estimates that 10% of menstrual women worldwide who are in their reproductive stage are affected by endometriosis.
The study methods
In order to ascertain whether there is probably a genetic component to endometriosis, the research team from the University of Oxford planned to undertake a genome-wide association study (GWAS). They did a meta-analysis of the data gathered.
The researchers gathered data from more than 60,000 people. People had been diagnosed with endometriosis in collaboration with 25 other teams. They compared it to DNA samples from slightly more than 700,000 people who had been diagnosed with endometriosis.However they not have the disease.
Participants with either European or East Asian heritage provided the samples.
The genetic differences between those who have endometriosis and those who do not were taken into consideration by the researchers when they examined the data. The implications of these variations on "endometrium, blood, and other important tissues" were also taken into account.
In order to determine whether there was a connection between endometriosis and nine other immunological or inflammatory illnesses, researchers also looked at those conditions.
Genetic map of endometriosis
The scientists discovered 42 genetic loci sites of genes or genetic sequences in the genome. They regarded important for developing endometriosis after reviewing the data provided.
This research supports the hypothesis that endometriosis may have a hereditary component, which may be important for the advancement of diagnostic procedures and therapeutic approaches.
The researchers were able to pinpoint a number of genes and hormone regulators that were linked to both endometriosis and other pain problems after further investigating these locations.
The scientists discovered links between a number of medical illnesses and symptoms, including asthma, osteoarthritis, chronic back pain, and migraines.
Senior research scientist at the Wellcome Centre for Human Genetics at the University of Oxford and the study's first author, Dr. Nilufer Rahmioglu, spoke about the study.
"We were able to generate a treasure trove of new information about genetically driven endometriosis subtypes. Also, pain experience using different datasets of women with and without endometriosis. Some of which had unprecedented detailed data on surgical findings and pain experience collected using standardised criteria," said Dr. Rahmioglu.
Links to IBS, migraine, asthma
MNT spoke with Dr. G. Thomas Ruiz, the head of OB/GYN at Memorial Care Orange Coast Medical Center in Fountain Valley, California, who was not associated with this study.
This study confirms the significance of a family history of endometriosis. Gynecologists have long known this, and this study confirms their theory, according to Dr. Ruiz.
Dr. Ruiz stated that the study's huge sample size is a strength and that a lot of useful information can be extrapolated from it. He advises concentrating on the overall concept that "endometriosis and advanced stage endometriosis" have a genetic basis.
Dr. Ruiz continued, "There seems to be a connection between the body's response to endometriosis and other inflammatory diseases like osteoarthritis and asthma.
The results of the study were also discussed by Dr. Steve Vasilev, an integrative gynecologic oncologist who is board-certified, the medical director of integrative gynecologic oncology at Providence Saint John's Health Center, and a professor at Saint John's Cancer Institute in Santa Monica, California. Dr. Vasilev was not involved in the study.
Diagnosis and management
Endometriosis may be the cause of persistent pelvic discomfort, painfully heavy periods, and other menstrual symptoms. Women who are concerned about these symptoms should speak with their gynaecologists.
There is currently no blood test that can validate a doctor's diagnosis of endometriosis, according to recommendations published in the Canadian Medical Association Journal earlier this month.
Endometriosis is generally diagnosed by laparoscopic surgery. But like all operations, this one is a little intrusive and comes with certain dangers.
As a result, these new diagnostic guidelines advise doctors to detect endometriosis by combining patient history with imaging. Diagnostic techniques covered by the recommendations include magnetic resonance imaging (MRI) and transvaginal ultrasound.
Hormone therapy, such as birth control tablets can have efficacy rates of 60-80%, people with endometriosis can manage their symptoms. Nonetheless, surgery may be required to eliminate lesions in those who are attempting to get pregnant.
REFERENCES:
For more details, kindly visit blow.