Increase your lasting period with Malegra FXT
Malegra Fxt is a medical combination of two drugs i.e. sildenafil and Fluoxetine. This medicine is generally used to treat erectile dysfunction and premature ejaculation in men. Malegra addresses erectile problems in a more complex approach and provides better performance than either of the single drug.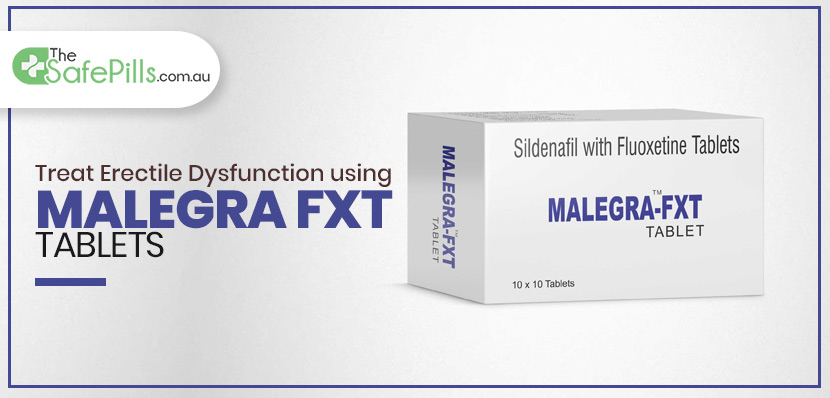 An insufficient supply of blood to the penis can lead to erectile dysfunction (in specific literature abbreviated ED), a fear of losing an erection can cause anxiety and, therefore, premature ejaculation, and a performance anxiety can cause an insufficient blood supply to the penis, with a resultant loss of erection.
When and how to use?
Malegra is available to us in a form of a pill that must be taken by mouth usually 30-60 minutes before the onset of sexual activity. One pill before the activity is ideally recommended. The medicine must be swallowed or chewed as per the nature of the tablet. Consult a doctor if you face any confusion or exception.
The reasons that lead to premature ejaculation and erectile dysfunction in general, as well as the factors that led to them, need to be investigated In some cases, the reasons may be of organic and physiological origin, or they may be caused by medical issues that need to be addressed to the best of one's ability. Malegra FXT can be helpful in many situations, but you should always investigate the causes of both Erectile Dysfunction and Premature Ejaculation. 
Side effects
Side effects one may observe while medicating with Malegra Fxt includes facial flushing, stomach pain, nausea, headache, nasal congestion, diarrhea, vision problems, etc. Inform your doctor if these conditions persist or get worse.
Contraindications
Malegra FXT should not be taken by individuals with the following conditions:
Consult your doctor about your current health status and medical history to get the complete details on its contraindications.
Precautions
Malegra FXT can impair your ability to drive and operate hazardous machinery and cause drowsiness. Alcohol can exacerbate this effect. Usually, Malegra FXT takes up to 4 or 5 weeks to fully take effect. You should not stop taking it without consulting your doctor first. Don't become discouraged and continue taking it. Discontinuing suddenly could cause unpleasant side effects.
It is important to inform your doctor before taking this medicine:
REFERENCES:
For more details, kindly visit below.