Blunders we usually make when using Antibacterial wipes.
In the present pandemic, many people are looking for hand wipes that destroy viruses as an alternative to gel. These wipes are suited for a number of applications and surfaces. Disinfectant wipes are the most convenient way to clean effectively. But did you know that antibacterial wipes can be useless if used improperly. This includes wrong contact time or the inappropriate cleaning technique.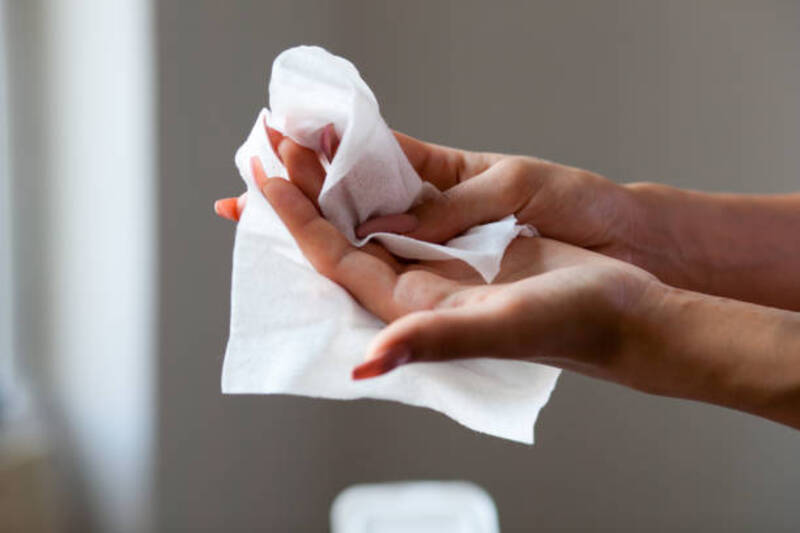 In this post, we'll examine some of the frequent errors people make when purchasing, keeping, and utilising wipes, as well as how you may stay clear of them. We'll go over some important advice on the most common wipe kinds so you can choose wisely. Also, storage and usage strategies to get the most out of your cleaning routine.
The wrong product
In actuality, a lot of the problems begin even before you open the package because you choose the incorrect product. I don't intend to imply that you accidentally brought a bottle of bleach home from the store instead of a pack of wipes. It's more probable that you fell for a common ruse employed by many domestic companies to convince you that these wipes are all you need to complete the task at hand.
The likelihood is that the pack claims to eliminate 99.9% of germs. They actually only leave out the fact that they haven't been scientifically confirmed to be antiviral. Also, the contact time is only 10 minutes; we'll talk more about contact time when we discuss cleaning methods.
You might also wonder if all wipes are antibacterial given the vast array of wipe brands available. No, they are not; it is crucial to ensure that wipes making antibacterial claims have adequate testing to support those claims. The European Standard EN1276, which certifies a product as antibacterial, serves as a minimum standard.
Incorrect storage
You may rest easy knowing that you have the appropriate tools for the job and that they are prepared for deployment at a moment's notice. You can store the wipes in a cabinet with the lid tightly covered until you need them. It's crucial to keep the lid closed when the wipes aren't being used in order to prevent drying out.
For them to be effective, there must be plenty of moisture available for them to disperse over the area you are cleaning; otherwise, they are useless. A great storage suggestion is to store the pack on its side so that all of the wipes will still retain an equal quantity of moisture if moisture does collect in the pack.
Many applications with same wipe
It's standard practise to use the same wipes to clean several different surfaces; this is acceptable as long as a new wipe is used for each different surface. If not, there is a considerable risk of cross-contamination since germs spread more widely when they are transferred from the wipe to the new surface. Use a fresh, moist wipe to clean each new surface, and dispose of dirty wipes properly in the trash can.
Improper cleaning methods
Using improper cleaning methods is arguably the most frequent error people make. They use wipes that are overly dry, which spreads germs rather than eliminating them; they use the same wipe on several surfaces; and they don't let the area naturally air dry, which gives cleaning chemicals less time to work.
Leaving them in a hot place
It could be tempting to keep a container of hand wipes or cleaning wipes in your car's glove box or a cup holder on a hot, sunny day. They will dry out in the heat, so that is a bad idea. Store wipes at room temperature, which is roughly 70°F.
Not reading the label
Labels, as we all know, are tedious. But, the best way to utilise your antibacterial wipes is to read the label. According to Karen Daw, a dental and medical OSHA and Infection Control coach and speaker, the label contains information regarding "how long the product must remain wet on a surface to inactivate all the germs." This is something you've probably never even considered. According to her, the label will usually state that the area should stay wet for at least three to four minutes in order to eradicate any bacteria present.
Additionally, the wipes' labels may really indicate which kinds of bacteria they are efficient against. Don't just assume that any wipe will kill anything. After all, since they are antibacterial wipes, they are prepared to kill bacteria rather than necessarily viruses.
Flushing it down the toilet
This error has been particularly common in 2020 as a result of individuals utilising wipes instead of toilet paper due to a lack of supplies. Wipes can undoubtedly be used, but dispose of them instead of flushing them down the toilet. Indeed, even if the wipes are marked "flushable" on the packaging, discard them.
Despite what we just said, you can and should ignore this portion of the label even though we just stressed the need of reading the label. The wipes can get caught in the pipes and could cause blockages or worse, overflows because they are thicker than toilet paper and don't degrade as easily.
Using it on visibly dirty surfaces
Since its sole aim is cleaning, this may initially seem weird. Nevertheless, if you use it on a surface that is already unclean, you can merely end up moving the dirt. Surface cleaning should be carried out in a different manner than wiping down surfaces to disinfect them. Cleansing becomes more challenging when a surface is unclean, says Daw. So, it might be necessary to scrub the surface thoroughly with one wipe (or just soap and water), then grab a second wipe to disinfect.
Using it after its expiration date
Antibacterial wipes may not seem like they would have an expiration date, but Ghildayal points out that occasionally they do not. You might not be able to see an expiration date on your wipes, but in general, you shouldn't use them more than two years after purchase, at the most, he said RD.com.
How would you determine when to cease using something if it had no expiration date? Ghildayal advises that if they smell weaker than usual when you reopen them for use, they are perhaps too old to be put to use. That won't be an issue right away, of course, as the majority of people don't leave their wipes lying around unused, but it's still good to know that it's one of the unexpected things that exists.
Using it as your only cleaner
Even though it might seem clear, this merits discussion. Wipes with antibacterial properties are useful for immediately disinfecting a surface. It won't perform a "deep clean" or clean particular surfaces that call for a particular cleaning agent. Jon Gibbons of Smart Vacuums clarifies, "They are not good enough to be the only cleaner for your kitchen and bathroom surfaces. Antibacterial wipes are excellent for a quick clean-up, but they won't make the kitchen or bathroom truly spotless.
REFERENCES:
For more details, kindly visit below.