Is Penile Implant surgery the best treatment for ED?
What is Penile Implant?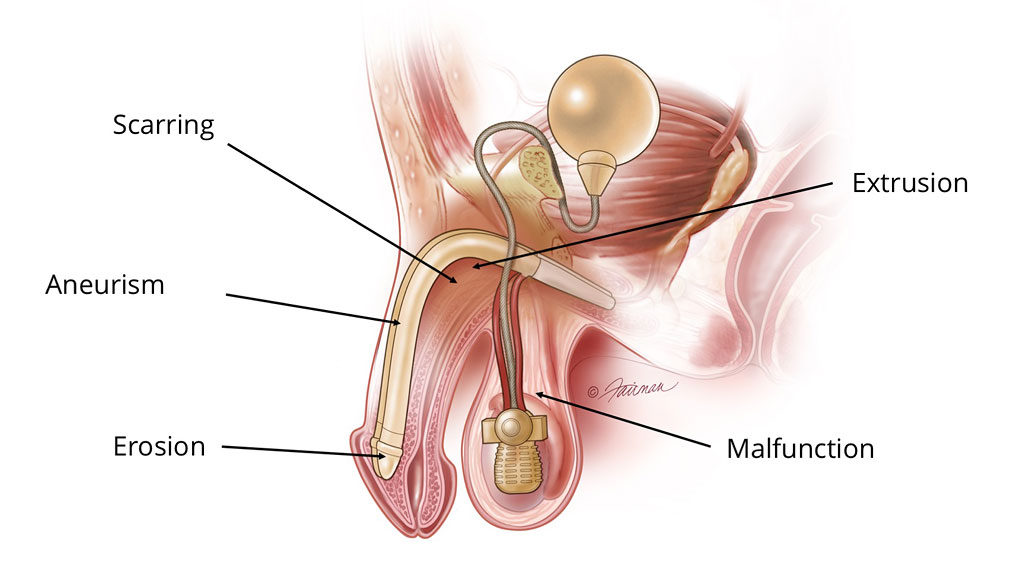 An erectile dysfunction (ED) treatment that involves a penile implant is called a penile prosthesis. Inflatable or flexible rods are inserted into the penis during the surgery. An inflatable rod requires a saline solution device and a pump that is hidden in the scrotum. Saline solution is pumped through the pump to the device, where it inflates and gives you an erection. The device can be deflated again later.
In general, men who have tried other ED treatments without success are recommended to undergo this procedure. The majority of men who undergo surgery are satisfied with the results.
How Penile Implants Work
Penile implants are available in two different types today. One of the most popular penile implants is the 3-piece inflatable implant, but a malleable penile implant is also available. Both types of implants are custom-fitted to your body so that you can have a satisfactory erection during sexual activity. The sensitivity of your ejaculates and ability to ejaculates shouldn't be affected.
As a general rule, the 3-piece inflatable implant produces a more natural erection, while the malleable implant (flexible rods) produces a permanently firm penis.
Ideal candidate for Penile Implant
Following are ideal conditions required in an individual to undergo the penile implant.
ED that is persistent and impairs your sex life.
candidate has already tried ED medications such as:

sildenafil (Viagra)
tadalafil (Cialis)
vardenafil (Levitra)
avanafil (Stendra)

has already tried a penis pump (vacuum constriction device)
didn't received positive results from penile injection medications like TriMix
diagnosed with Peyronie's disease
prostate cancer history or have previously undergone a prostatectomy
You might not be ideal candidate for implant if:
there's a chance ED is reversible
ED is due to emotional issues
having a urinary tract infection (UTI)
you have inflammation, lesions, or other problems with the skin of your penis or scrotum
Reasons to Consider a Penile Implant
Patient Satisfaction Rates: Inflatable penile implants have a 98% satisfaction rate.9 Additional Patient Satisfaction Rates: Patients who received a penile implant appear to be significantly more satisfied with the treatment than those who received ED medication or other treatments. When your penis is flaccid, you will not notice a penile prosthesis.
Additional Patient Satisfaction Rates: Patients treated with a penile implant appear to be significantly more satisfied than those treated with ED medication or other treatment options. It is not noticeable when your penis is flaccid when you have a penile prosthesis.
A Discrete Treatment for ED: Penile prostheses are a discreet treatment for ED because they are undetectable when the penis is flaccid. It is impossible for your partner to know you had an implant to treat your ED unless you tell her.
Minimal Recovery Time: There is no typical recovery time as each man has his own unique recovery process. However, a typical recovery period after a prosthesis implant procedure is four to six weeks. It won't take long for you to get back to enjoying sex once you're fully recovered.
Cost-effective: According to studies, penile implants offer the best long-term value for ED treatment over a decade-long period.
Insurance Coverage: Penile implants are prescribed by a physician and are generally covered by most insurance plans, including Medicare.
What is sex like after an implant?
Upon inflating or moving the implant into place, it should feel similar to a regular erection, both in terms of girth and stiffness.
More than 80% of people with three-piece inflatable penile implants and their partners reported high satisfaction rates and quality of life improvements after five years of treatment, according to studies of 126 people.
Most people are able to regain sexual function after 6 weeks and do not experience any changes in their orgasms, but there are some adverse effects that may occur as well:
85-93% of participants can have penetrative sex with the implant
60% of people reached orgasm after the implantation
postoperative pain
a difference in penile sensation
mechanical implant failure
shortening of the penis
floppy glans syndrome, where the head of the penis does not become hard
93% of participants were satisfied with the ZSI-475 FTM implant
REFERENCES:
For more details, kindly visit below.