Lets Understand Why You Have Migraine During Your Period.
According to a recent study, migraine attacks in cisgender women who are menstruating may be brought on by an increase in the peptide CGRP, which has been associated with migraines. The study found that this increase correlated with a drop in oestrogen that happens after menstruation.
In spite of the fact that these individuals may still experience migraine attacks, the study did not detect an increase in CGRP in those who used contraceptives or had undergone menopause.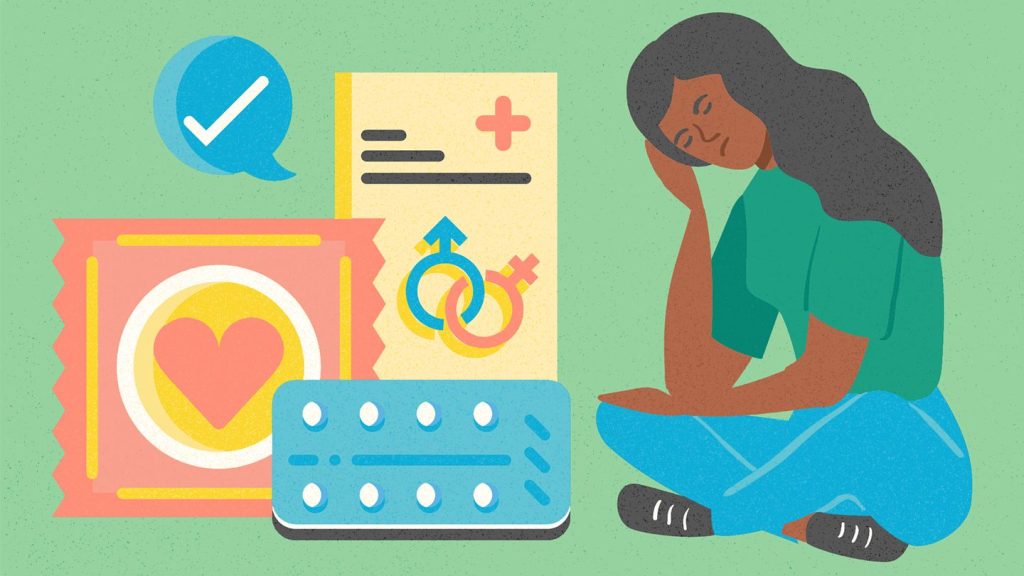 Since many years ago, experts have recognised a link between the beginning of menstruation-related migraine episodes and a decline in oestrogen levels. The exact workings of this relationship, nevertheless, are still unknown.
A recent study discovered that levels of a peptide linked to migraines fluctuate along with hormonal levels during the menstrual cycle. The calcitonin gene-related peptide, or CGRP, is present in greater amounts during the decline in oestrogen that happens at the start of menstruation.
If you get migraine attacks, you might have observed a rise in frequency around the time of your period. This is not rare, and it might also be related to the oestrogen levels dropping prior to menstruation. Hormones can cause migraine during pregnancy, perimenopause, and menopause.
Menstrual migraine symptoms
The symptoms of a menstrual migraine are comparable to those of other migraine types without an aura or other sensory abnormalities. They typically start 1 or 2 days after your menstruation starts.
Menstrual migraines are frequently divided into two types:
Menstrual migraine: This more frequent type can have vision abnormalities as one or more of the aura symptoms. Other periods of the month may have episodes of the migraine.
Pure menstrual migraines: They only happen before or after your menstruation starts.
Typical menstrual migraine signs include the following:
one side of the head typically experiences excruciating head ache.
nausea
vomiting
sensitivity to loud noises and light
Menstrual migraine attacks may be accompanied with premenstrual syndrome (PMS) symptoms as bloating, breast tenderness, nausea, and mood swings.
How do hormone levels affect migraine?
Hormone fluctuations can cause migraine episodes. Certain drugs, such as birth control pills, can also contribute to them.
Menstruation
The National Headache Foundation estimates that 60 percent of women who suffer from migraines also experience menstrual migraine attacks. This can occur anywhere from two days before and three days following the conclusion of the menstrual cycle.
When a person starts menstruating, migraines may start, although they can start at any moment. Through menopause and the reproductive years, your attacks may remain.
Menopause and the perimenopause
During perimenopause, decreasing levels of oestrogen and other hormones, such as progesterone, might result in migraine headaches.
Perimenopause typically begins 4 years before to menopause, however it can start as early as 8 to 10 years prior to menopause. Moreover, migraines can occur in those taking hormone replacement therapy.
Pregnancy
The first trimester of pregnancy is when pregnancy hormone headaches are most prevalent. This is brought on by an increase in blood volume and hormone levels.
Common headaches are another condition that might affect pregnant ladies. These can be caused by a variety of factors, such as caffeine withdrawal, dehydration, and bad posture.
Is it migraine or a headache?
A migraine episode is distinct from a regular headache. They commonly affect one side of the brain and create intense, throbbing pain. There are two types of migraines: "with aura" and "without aura."
In the 30 minutes prior to your attack, you might experience one or more of the following signs and symptoms if you have migraine with aura:
observing light-flashes
noticing odd lines or patches
a momentary blindness
Hands or face numbness
tingling feelings in the face or hands
alterations in speech
weakness
unexpected alterations in flavour, smell, or touch
Aura-related migraine symptoms might also include the following:
nausea
vomiting
intolerance to sound or light
discomfort behind one or both ears.
one or both temples are hurting
Typical headaches never start with an aura and usually hurt less than migraines. There are numerous types of headaches, such as:
Tension headaches. Tension headaches can be brought on by high amounts of stress and worry. They might also be brought on by strained or tense muscles.
Clusters headaches. These headaches are frequently confused with migraines. Usually affecting one side of the head, they can also involve other signs and symptoms like runny nose, watery eyes, and nasal congestion.
Other causes of migraine attacks
Depending on your age and family history, you may experience menstrual migraines or migraines without a clear cause. You are more vulnerable just because you are a woman.
Obviously, you have little control over your gender, age, or family history, but keeping a migraine diary can be beneficial. This can assist you in locating and averting triggers.
Possible triggers include:
bad sleep patterns
drinking alcohol
consuming tyramine-rich foods like smoked fish, cured or smoked meat and cheese, avocado, dried fruit, bananas, aged food of any type, and chocolate
consuming a lot of caffeine-containing beverages
exposure to unusual weather patterns or situations
fatigue
fasting
exposure to extremely high, intense light levels or noise
smelling harsh aromas from chemicals, cleaning supplies, perfume, and automobile exhaust
using artificial sweeteners as food
ingesting artificial flavours and colours like monosodium glutamate (MSG)
How is migraine diagnosed?
If you have migraine symptoms, your doctor will frequently begin by performing a physical examination and asking you about your family's medical history to rule out any potential underlying illnesses.
Your doctor may suggest additional testing, such as the following if they believe anything other than hormones is causing your migraine attacks:
test of blood
an MRI
CT scan
Spinal tap, lumbar puncture
REFERENCES:
For more details, kindly visit below.