How can you Treat Osteoporosis using Turmeric?
What is Turmeric and its use?
Turmeric is a shiny yellow color fragrant powder that is obtained from creeping rootstalk of one of the plants that belongs to the Ginger family. It is also called Indian saffron or Golden spice. Turmeric was historically termed as a traditional medicine which was used in Ayurveda.
The primary component through which turmeric gets its yellow color is curcumin. Activities of turmeric are general attributes to curcumin and closely related substances. Turmeric is a general spice and major ingredient in curry powder. It has a mild, bitter taste that is routinely used to color or flavor mustards, cheese, butter, and curry powder. Turmeric is used in different forms depending upon its application. The best way of turmeric intake is considered as a liquid form or could be blended in a smoothie or drink.
Apart from the variety of its application in foods, people also generally use turmeric to treat a number of medical conditions such as:
hay fever
digestive system
liver disease
itching
upper respiratory tract
Osteoarthritis
depression
fat build-up
relieves pain
Nutrients in Turmeric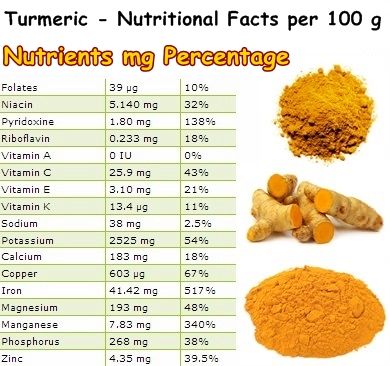 Turmeric is a spice that could be considered as the most effective multi nutrition supplement. There are various essential nutrients and minerals involved with this spice that includes:
protein
manganese
carbohydrates
potassium
fiber
phosphorus
vitamin C
Vitamin B6
iron
calcium
Benefits of using Turmeric
Turmeric is associated with a number of health benefits due to its multi-nutrient properties. Some of the most important health benefits of turmeric along with curcumin or other agents include: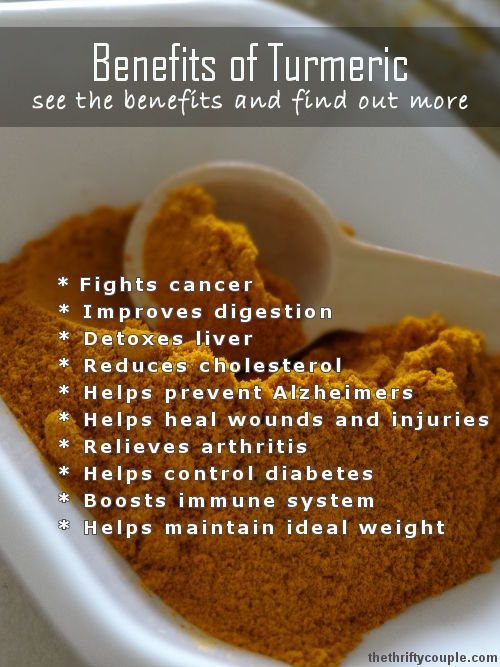 treats Osteoporosis
anti-inflammatory compound
improves brain derived neurotrophic factor
helps in preventing cancer
improve certain arthritis
helps in fighting age chronic diseases
beneficial against depression
useful for the treatment of Alzheimer's disease
reduces risk of heart disease
increases body's antioxidant properties
consist of bioactive compounds
improves liver functions
improves digestion
may help in eye inflammation
reduces the risk of diabetes
reduces gum disease
prevents prostate cancer
Necessary amount of Turmeric intake for Humans
Turmeric is a beneficial substance generally used as a spice in typical Indian food. According to the reports, on average, an Indian diet provides 2000-2500mg of turmeric per day i.e. approximately 60-100 mg of curcumin daily. A typical extract in the same amount could provide 1900-2375 mg of curcumin.
There is no conventional consensus on beneficial turmeric or curcumin doses as per age or gender. however, there are several standard doses specifically calculated for certain medical conditions which are classified as:
To treat Osteoarthritis – A turmeric extract dose of 500mg twice daily for 2-3 months is beneficial for osteoarthritis.
Relieve Itchy skin – A two month course of 500mg turmeric extract three times daily could relieve itchy skin.
To treat high Cholesterol – A turmeric extract course of 700 mg twice daily for 3 months can help against high cholesterol.
Treats Ulcers –  Turmeric dose between 3000-6000 mg per day is effective for the treatment of ulcers.
To treat MDD(Major Depressive Disorder) – An 8 week course of 500mg turmeric twice daily is recommended for the treatment of MDD.
REFERENCES:
For more details, kindly visit below.