High pollution & heat waves may double heart attack risk
High pollution & heat waves may double heart attack risk
According to a new study, the combined effect of extremely high temperatures and airborne particulates from unattended wildfires may increase the chance of suffering a heart attack.
To identify correlations between the two, the study examined temperature and heart attack data from the Jiangsu province of China over 5 years.
Avoid going outside when the air quality is bad, or if you must, do a N95 mask. Try to restrict outside activities when it's too hot.
Introduction
In the 174 years that scientists have been monitoring global temperatures, June 2023 was the warmest month on record for Earth, and July is forecast to be just as hot. This summer, the United States has already shattered more than 1,000 records for high temperatures.
As of this writing, around 1,090 active flames are raging throughout Canada, where wildfires have been blazing for weeks. The wildfires have affected a large geographic area and may be endangering the health of millions of North Americans by continuously spewing fine particulate matter clouds of smoke into the air.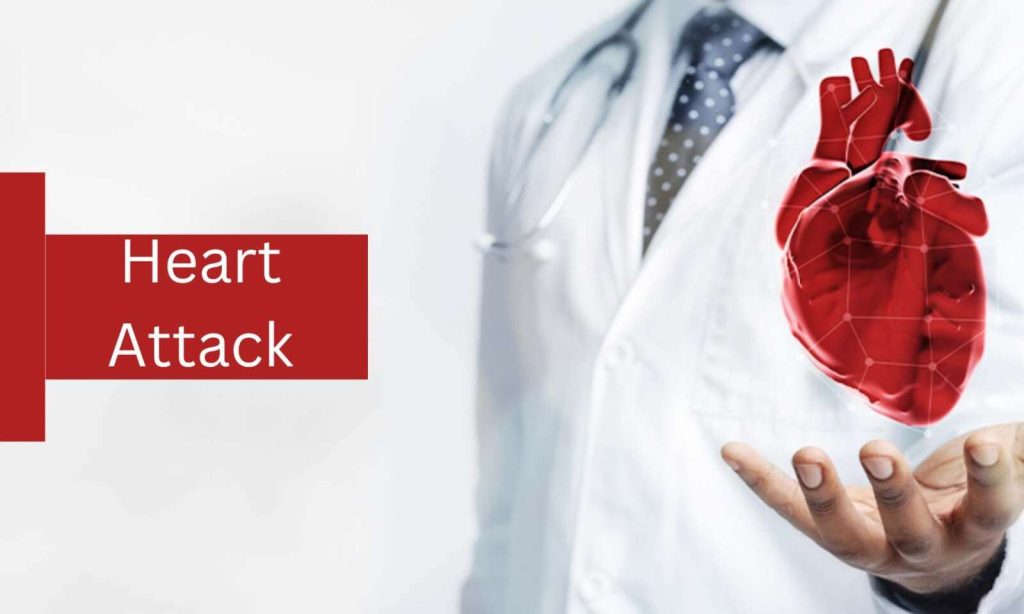 excessive heat, and to a lesser extent, excessive cold, can be deadly when combined with airborne particulate matter, according to a recent study from scientists in China.
According to the study, exposure to extremely high temperatures and fine airborne particulate matter, such as that produced by wildfires, can more than double the chance of developing a myocardial infarction.
PM 2.5 stands for "particulate matter, 2.5 micrometers or smaller," and refers to the tiny particles that are the subject of this article. They may or may not be visible, but they are minute specks of solids or liquids floating in the air.
PM 2.5 is made up of an ever-changing slurry of sulphates, nitrates, carbon, or mineral dusts, according to the National Institutes of Environmental Health Sciences.
The Centres for Disease Control (CDC) notes that while factories, fires, unpaved roads, and construction sites can all emit PM 2.5, flames and wildfires are the main culprits.
In Jiangsu province, China, deaths from myocardial infarction between 2015 and 2020 were examined in the new study. There is a significant range of high and low temperatures in this region because it has four distinct seasons. To gain their insights, the researchers correlated weather trends with heart attacks.
What makes PM 2.5 so harmful to human health?
Medical News Today was told by cardiologist Dr. Rigved Tadwalkar of the Pacific Heart Institute in Santa Monica, California, who was not involved in this study, that the small size of these particles enables them to enter areas of the human body where larger particles cannot.
They can sort of integrate themselves inside the bloodstream since they are so little, according to Dr. Tadwalkar, and this might trigger inflammatory reactions.
According to him, this may lead to oxidative stress, "and we know that this is sort of like the central mechanism behind how damage occurs to the blood vessels and also the heart," he continued.
As stated by Dr. Tadwalkar, "a cascade of events that leads to a common problem that we see in cardiology, which is the creation of atherosclerosis or plaque that can lead to lack of blood flow risk for heart attack, cardiovascular events, et cetera."
A temperature more suitable for people
According to epidemiologist Dr. Rakesh Ghosh, it is challenging to establish the ideal temperature for humans because we are adaptable and can tolerate a wide range of temperatures.
Dr. Ghosh is a specialist at the Institute for Health & Ageing at the School of Nursing at the University of California, San Francisco. She was not engaged in the current study.
Or, to put it another way, "what is a heat wave for Europeans will not be so unbearable for South Asians because they experience hot weather for most of the year and winters are not as cold in South Asia as they are in Europe," said Dr. Ghosh.
Dr. Tadwalkar remarked, "It's amazing what the human body can sort of adapt to."
The authors of the new study were motivated by this acclimatisation to evaluate the impacts of heat and PM 2.5 using average temperatures in Jiangsu province.
The risk of dying from a heart attack increased by 18% during two-day heat waves with temperatures at or above the 90th percentile for typical weather, or 82.6 to 97.9 degrees Fahrenheit.
The risk was elevated by 74% during 4-day heat waves over the 97.5th percentile, and by twice that amount on hot days with high PM 2.5.
"The concept," explained Dr. Tadwalkar, is that we need a climate "where we can have a bit of a balance between the generation of body heat to keep ourselves warm, and heat loss, without actually causing it to tax the body as well as the cardiovascular system."
Recent studies
The topic of severe temperatures that affect our core body temperature was brought up by Dr. Ghosh. "The interesting part is that core body temperature in humans is maintained within a very narrow range, around 37 degrees Celsius [98.6 degrees Fahrenheit]," he said. When exposed to extreme temperatures, it is unknown what will happen to that core body temperature.
The latest research discovered a connection between extremely cold temperatures and high PM 2.5 concentrations, although a smaller one. Myocardial infarction risk rose after 2-day cold spells with poor air quality by.04%, increasing with lower temperatures and duration, and by 12% during 3 days.
Dr. Tadwalkar hypothesised that the reason why extreme cold has less of an impact is because people migrate indoors when it's that cold, limiting their exposure to the elements and risk.
In addition, he stated that it's possible that heat-induced blood vessel dilation promotes the distribution of PM 2.5 throughout the body, but cold can have the reverse effect and inhibit it.
Being safe when there is a lot of pollution
Try to spend as much time indoors as you can on days when the present PM 2.5 air concentration, a reflection of the local air quality, is high. If possible, blow out the air conditioner while keeping no outside air flowing in. Keep your stove or bathroom fans on if you don't have air conditioning and they vent outside.
Another way to reduce the amount of PM 2.5 that enters your body is to use a N95 face mask.
Visit the AirNow website of the US government to find out in real-time how much PM 2.5 is in the air where you are. For iOS and Android smartphones, there are no-cost AirNow applications.
Dr. Tadwalkar emphasised the need of staying hydrated in excessive weather since sweating causes the body to lose fluids.
"Dr. Ghosh advised breaking up the protracted period with sporadic short breaks in 'air-conditioned settings' so that you are only exposed to milder temps. Cool-air breaks, as opposed to being constantly exposed to the heat, "help your body regulate things throughout the day," as Dr. Tadwalkar put it.
Dr. Ghosh advised wearing light, loose clothing as well as wide-rimmed caps. He also advised staying alert to "heat-related illnesses such as heat cramps, heat exhaustion, and heat stroke, so that you can seek immediate help in an emergency."
REFERENCES:
For Heart disease medications that have been suggested by doctors worldwide are available here https://mygenericpharmacy.com/index.php?therapy=11