Latest list of foods that can lower blood pressure?
All individuals with high blood pressure, including those using blood pressure-lowering medication, are advised to maintain a heart-healthy diet. It may be especially beneficial to consume foods rich in minerals like magnesium and potassium.
High blood pressure, also known as hypertension, is the most prevalent risk factor for heart disease that may be avoided.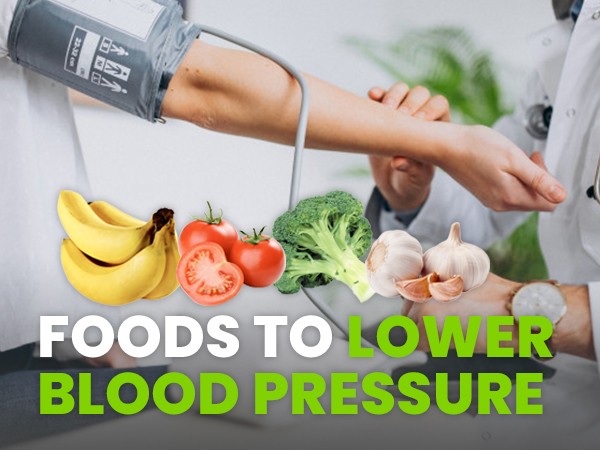 A person with high blood pressure is one who has a systolic blood pressure (SBP) reading of 130 mm Hg or higher. Also, a diastolic blood pressure (DBP) reading of more than 80 mm Hg, or both. High blood pressure affects more than 1 billion individuals worldwide.
Blood pressure medications, such as ACE inhibitors (angiotensin-converting enzyme) inhibitors, are frequently utilised. However, making dietary changes and other lifestyle adjustments can help lower blood pressure to healthy levels. It can also minimise your risk of developing heart disease.
For decreasing blood pressure and maintaining ideal levels, a balanced diet is crucial. According to research, consuming some foods in your diet, particularly those high in certain nutrients like potassium and magnesium, lowers your blood pressure.
Numerous studies have revealed that some foods help lower high blood pressure. We examine several foods that could be beneficial and how to eat them. Generally speaking, a serving is what the United States Department of Agriculture (USDA) defines as:
1 cup of fruit or vegetables, either raw or cooked
100% fruit juice in one cup
two cups of leafy salad greens, raw
a cup and a half of dry fruit
The USDA suggests eating about 2 cups of fruit and 3 cups of vegetables per day for most people, however this varies slightly by sex and age.
Citrus fruits
Citrus fruits, such as grapefruit, oranges, and lemons, may significantly reduce blood pressure. They include a wealth of vitamins, minerals, and plant chemicals that may help maintain the health of your heart. This decreases the risk factors for heart disease like high blood pressure.
A 5-month study including 101 Japanese women found a strong correlation between daily lemon juice consumption and walking and decreases in SBP. The result was attributable to the citric acid and flavonoid content of lemons.
Consuming orange and grapefruit juice has also been linked in studies to lower blood pressure. However, before including this fruit in your diet, speak with your doctor because grapefruit and grapefruit juice may interact with common blood pressure-lowering drugs.
Fatty seafood such as salmon
Omega-3 fats, which offer considerable advantages for heart health, are a good source in fatty fish. These fats may lower blood pressure by reducing inflammation and oxylipin levels, which are substances that constrict blood vessels.
Increased consumption of fatty fish rich in omega-3 has been associated in research to decrease blood pressure readings.
Those with the greatest blood levels of omega-3 fats had considerably lower SBP and DBP than those with the lowest levels of these fats, according to a study of 2,036 healthy individuals. A decreased risk of hypertension has also been linked to higher omega-3 intake.
Green leafy vegetables
The high nitrate content of leafy green vegetables helps control blood pressure.
Consuming at least 1 cup of green leafy vegetables each day may help lower blood pressure and lower the chance of developing cardiovascular disease, according to some study.
Leafy greens include, for instance:
cabbage
greens, collard
kale
dandelion greens
spinach
Swiss chard
Berries
Berries have a number of remarkable health advantages, including the potential to lower risk factors for heart disease like high blood pressure. Antioxidants, such as anthocyanins, the pigments that give berries their vivid colour, are abundant in berries.
Anthocyanins have been demonstrated to raise blood levels of nitric oxide and decrease the synthesis of blood vessel-restricting molecules, which may aid in lowering blood pressure. However, to corroborate these proposed pathways, more human study is required.
lentils and beans
Fiber, magnesium, and potassium are just a few of the minerals found in beans and lentils that help control blood pressure. Eating beans and lentils may help lower high blood pressure levels, according to numerous research.
In comparison to other diets, beans and lentils significantly lowered SBP and average blood pressure in persons with and without hypertension, according to an analysis of 8 trials including 554 participants.
Dark chocolate
Flavonoids, an antioxidant, are found in cacao, a component of dark chocolate. According to the AHA, flavonoids may assist in lowering blood pressure. It does point out that a person might not be able to eat enough flavonoids from dark chocolate for it to have appreciable advantages.
According to the AHA, a modest quantity of chocolate every so often can be a healthy addition to a diet. However, it suggests that people eat it for enjoyment rather than for health.
Kiwis
According to a 2015 study, eating kiwis on a regular basis may help control modestly elevated blood pressure.
For 8 weeks, people who had 3 kiwis daily exhibited a greater decrease in systolic and diastolic blood pressure than those who consumed 1 apple daily. The authors of the study speculate that this might be because of the bioactive compounds in kiwis.
Kiwis contain a lot of vitamin C. According to an earlier study, people's blood pressure levels significantly decreased after taking 500 mg of vitamin C daily for roughly 8 weeks.
Oats
Oats include beta-glucan, a type of fibre that may be good for blood pressure and heart health.
Beta-glucan and avenanthramide C, both contained in oats, have been shown in a 2020 rodent study to lower levels of malondialdehyde, a sign of oxidative stress in hypertensive rats. These findings imply that components found in oats may help lower blood pressure and safeguard the heart in other ways.
Fermented food
Probiotics are good bacteria that are abundant in fermented foods and may help control blood pressure.
Researchers looked at information on 11,566 Korean people who are 50 years of age or older from 2020. The findings imply that menopausal women who consumed fermented soy foods had a lower incidence of hypertension. For men, it didn't seem to be the case, though.
Experts recommend that people restrict their salt intake because it raises the risk of high blood pressure. Even though salt-fermented vegetables have a high sodium content, a 2017 study did not indicate that consuming them increased the risk of high blood pressure.
Organic yoghurt
Fermented dairy products include yoghurt. Data from individuals with and without high blood pressure were analysed in a 2021 study to see whether there was a connection between fermented dairy products and hypertension.
The participants with high blood pressure who ate more yoghurt had reduced systolic and arterial blood pressure compared to the non-participants.
Spices and herbs
Strong chemicals found in some herbs and spices may help blood arteries relax and lower blood pressure.
Animal and human studies have demonstrated the potential for a number of herbs and spices to lower blood pressure, including celery seed, cilantro, saffron, lemongrass, black cumin, ginseng, cinnamon, cardamom, sweet basil, and ginger.
Research suggests that including foods like leafy greens, berries, beans, lentils, seeds, fatty fish, citrus fruits, and carrots in your meals and snacks may help you achieve and keep your blood pressure readings at an ideal range.
Incorporating a couple of the foods suggested in this article into your diet may be beneficial if you have high blood pressure or want to maintain healthy blood pressure.
REFERENCES:
https://www.webmd.com/hypertension-high-blood-pressure/ss/slideshow-hypertension-low-bp-foods?
https://www.healthline.com/nutrition/foods-high-blood-pressure
https://www.medicalnewstoday.com/articles/322284
https://www.medicalnewstoday.com/articles/322284
https://khealth.com/learn/hypertension/foods-that-lower-blood-pressure/
For more details, kindly visit below.