Walking steps 1-2 days a week linked to health benefits.
According to recent studies, the optimum daily step count for reaping the health advantages of walking is 8,000 brisk steps.
A recent study shows that walking merely one to two days per week is still significantly connected with a decrease in all-cause and cardiovascular mortality, which will inspire people who find it difficult to walk every day of the week.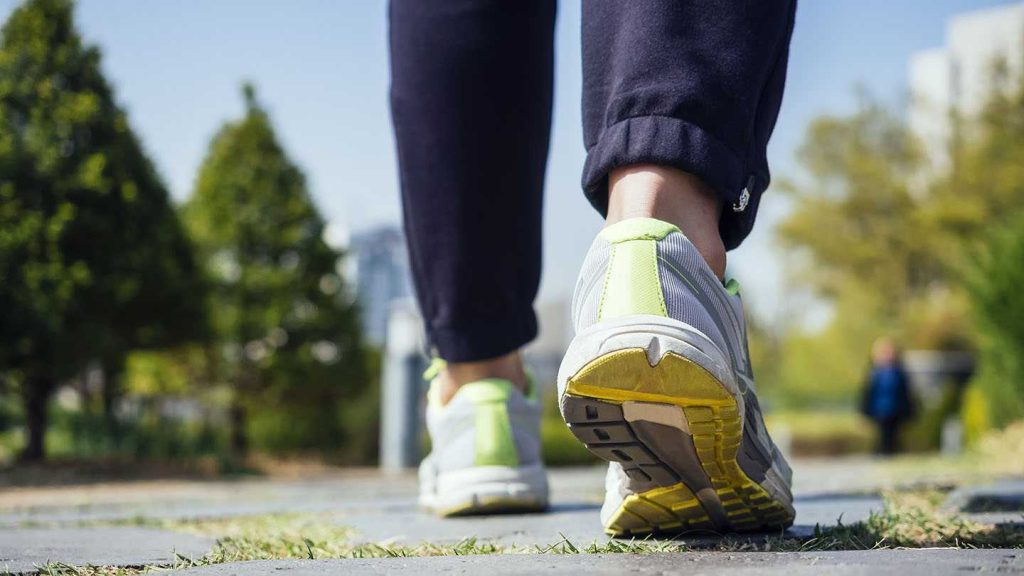 The authors of the study discovered that the advantages of walking increase with each consecutive day.
Walking briskly for 8,000 steps or more each day of the week is linked to a considerable drop in cardiovascular and all-cause death. Yet, a recent study reveals that those who walk just 8,000 steps on one or two days per week also have a lower mortality rate over a 10-year follow-up.
According to a study published in JAMA Network Open, participants 20 years of age and older who walked 8,000 steps or more on one or two days per week had a 14.9% lower mortality rate than sedentary individuals over the course of ten years of follow-up.
As the number of days engaged rose, the probability of mortality decreased. For instance, exercising three to seven days per week was linked to a 16.5% decrease in cardiovascular and all-cause fatalities.
Those who achieved their step objectives of 6,000 to 10,000 steps per day showed the similar pattern. According to prior studies, the risk of mortality drops by up to 10,000 steps per day for persons under 60 and by 8,000 for those over 60.
Method of exercise
The study's conclusions apply to both "weekend warriors," or individuals who limit their exercise to days off from work, and individuals who sneak a few hours of walking throughout the week.
The report cites recent data showing that the average American only takes 4,800 steps per day, which is far too low to have a significant positive impact on health.
The speed limit for "brisk walking" is three miles per hour. You are walking quickly if you can speak song lyrics but not sing them.
The current study analyzed information from the National Health and Nutrition Examination Survey conducted in the United States in 2005 and 2006 with data from the National Death Index until 2019.
It included accelerometer data from 3,101 individuals, who had to be at least 20 years old, and was a sample that was nationally representative. There were almost the same number of males and women in it, and the racial makeup was 50.9% White, 21.5% Black, 23.7% Hispanic, and 3.9% other.
The people who walked 8,000 steps or more per day were more likely to be Hispanic, young, male, insured, and married. Also, they were frequently never smokers and were less likely to be overweight or have concomitant conditions.
A daily challenge of walking
For many people, it takes a significant amount of time to walk 8,000 steps per day. Walking at a speed of three miles per hour, 8,000 steps equals around four miles, or roughly an hour and 20 minutes every day. Steps can be taken in brief bursts of vigorous walking or simultaneously.
Dr. Kosuke Inoue of Kyoto University in Japan served as the study's principal investigator, working with scientists from UCLA in California. Dr. Inoue provided the following justification for the study:
"We began this study to address a concern raised by one of my patients at an outpatient clinic: 'It is difficult for me to maintain enough steps each day. Is it acceptable to devote my time to walking exclusively on the weekends?
Dr. Inoue observed a dearth of evidence on the potential advantages of walking merely a few days per week. Steps studies frequently take a week's worth of various step targets into account.
According to Dr. Inoue, "our findings provide useful information to encourage walking even for a couple of days per week to lower mortality risk," given that a lack of time is one of the main obstacles to exercise in contemporary society.
According to Dr. Paul Arciero, a professor in the Skidmore College Department of Health and Human Physiological Sciences who was not involved in the study, "This is one of the first studies to employ direct assessments of daily steps using a wearable accelerometer throughout a 10-year follow-up period."
Walking benefits overall health
Walking is regarded as a straightforward, low-impact way to reduce someone's inactive lifestyle. Sedentary behaviour has been associated with a higher risk of cardiovascular and all-cause mortality.
Dr. Arciero continued, "Furthermore, a sedentary lifestyle dramatically raises the risk of cardiometabolic disease, including abdominal obesity, hypertension (high blood pressure), type 2 diabetes, stroke, heart disease, and some inflammatory disorders and malignancies."
Walking can help someone keep a healthy weight, build stronger muscles and bones, and reduce their chance of developing diabetes, heart disease, and high blood pressure. Another thing that has been connected to improving mood is walking.
The Harvard Medical School claims that walking has additional, less evident advantages. Walking counteracts the effects of genes that make you gain weight, lowers your risk of developing breast cancer, and strengthens your immune system. Walking can help alleviate joint pain caused by arthritis, and even a brief stroll of 15 minutes can stop a general or stress-related chocolate appetite.
limited time for walking
According to Dr. Inoue, the study's findings should be useful information for clinicians and other health professionals. He advised that the key message for readers should be that, for those who find it difficult to exercise regularly, "reaching required daily steps merely a few days per week can have considerable health advantages."
Dr. Arciero referred to the study's findings as "encouraging," and he proposed that they might assist those who don't have enough time to walk 8,000 steps a day in overcoming the belief that walking less is ineffective.
Dr. Arciero declared, "We now have scientific proof that shows this thinking is false, and even a couple of days is helpful. The study, according to him, emphasizes the importance of boosting one's daily step count.
It's a wonderful reminder to walk at least once or twice a week because even a little bit is better than nothing.
Current guidelines
The American Heart Association (AHA) and Department of Health and Human Services (HHS) advise aiming for at least 150 minutes of moderate-intensity aerobic activity per week, along with two days of muscle-strengthening activity.
The AHA urges people to move about more and notes that even modest exercise can counteract some of the negative impacts of sedentary lifestyles. Yet, the AHA also asserts that spending at least 300 minutes a week engaged in physical activity can provide even greater advantages.
Yet, Dr. Heffron notes that even the most fundamental aims are rarely achieved by the majority of people. According to statistics from the Centers for Disease Control and Prevention, just 47% of Americans fulfil the aerobic criteria and 24% do both aerobic and strength training recommendations (CDC).
REFERENCES:
For more details, kindly visit below.