What happens when a person is dignosed with Glaucoma?
What happens when a person is dignosed with Glaucoma?
A series of eye disorders known as glaucoma harm the optic nerve. For clear vision, the optic nerve, which transmits visual data from the eye to the brain, is essential. High pressure in your eye is frequently associated with damage to the optic nerve. However, glaucoma can develop with normal eye pressure as well.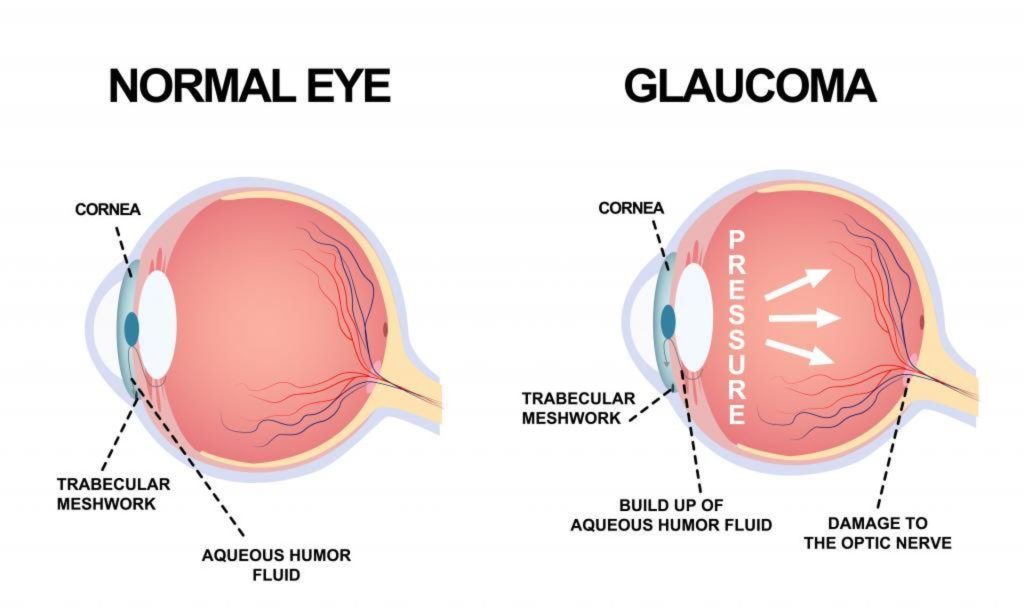 Even while it can strike anyone, older persons are more likely to develop glaucoma. For those over 60, it is one of the main causes of blindness. Numerous glaucoma types show no symptoms at all. You might not notice a change in vision until the problem is advanced since the effect is so gradual.
Regular eye exams that include measuring your eye pressure are crucial. Early glaucoma diagnosis allows for possible prevention or slowing of vision loss. For the rest of your life, glaucoma patients will require treatment or monitoring.
Types of Glaucoma
(Chronic) Open-Angle Glaucoma
The only indication of open-angle, or chronic, glaucoma is a progressive loss of vision. Your vision could be permanently damaged due to this loss's sluggish progression before any other symptoms show up. This is the most prevalent kind of glaucoma, according to the National Eye Institute (NEI).
(Acute) Angle-Closure Glaucoma
A strong, fast, and painful rise in pressure may result from the rapid buildup of fluid if the flow of your aqueous humour fluid is suddenly blocked. An emergency condition exists with angle-closure glaucoma. In the event that you start to experience symptoms like excruciating pain, nausea, or blurred vision, you should call your doctor right once.
Birth defects glaucoma
Congenital glaucoma is a condition in which an abnormality in the angle of the eye limits or delays normal fluid drainage. Symptoms of congenital glaucoma frequently include clouded eyes, excessive weeping, or sensitivity to light. Glaucoma that is congenital can run in families.
Secondary Glaucoma
Secondary glaucoma frequently develops as a result of trauma or another eye ailment, like cataracts or tumours. This kind of glaucoma can also be brought on by medications like corticosteroids. Rarely, glaucoma can develop as a result of eye surgery.
Glaucoma with normal tension
People with normal eye pressure occasionally get optic nerve injury. This has an unknown origin. However, this type of glaucoma may be caused by high sensitivity or a lack of blood supply to your optic nerve.
Symptoms of Glaucoma
Primary open-angle glaucoma is the most prevalent form of the disease. Except for a progressive loss of vision, it shows no indications or symptoms. You should therefore get yearly complete eye exams so that your ophthalmologist, or eye specialist, can keep track of any changes in your vision.
A medical emergency is acute-angle closure glaucoma, also known as narrow-angle glaucoma. If you suffer any of the following signs, see a doctor right away:
intense eye pain
nausea
vomiting
abrupt changes in eyesight
observing bands of colour surrounding lights
sudden eyesight haze
What Causes Glaucoma?
Aqueous humour, a transparent fluid that is continuously produced in the back of your eye, The front of your eye is filled with this fluid as it is created. It then exits your eye via channels in your iris and cornea. The intraocular pressure (IOP), which is the normal pressure inside your eye, may rise if these pathways are completely or partially occluded. Your optic nerve may suffer injury if your IOP rises. You could start losing your eye's sight if the damage to your nerve gets worse.
Sometimes it's unclear why the pressure in your eyes rises. However, medical professionals think one or more of the following may be involved:
eyedrops for dilation
obstructed or constrained eye drainage
prescription drugs like corticosteroids
How Is Glaucoma Treated?
IOP reduction is the main objective of glaucoma treatment in order to prevent further vision loss. Usually, prescription eye drops are the first thing your doctor will prescribe. Your doctor might recommend one of the following therapies if these don't work or if more sophisticated therapy is required:
Medications
There are many medications available that are made to lower IOP. These medications can be used orally or as eye drops, but drops are more prevalent. One of these or a mixture of them may be recommended by your doctor.
Surgery
Your doctor can advise surgery to create a drainage passage for fluid or remove tissues that are generating the excess fluid if a blocked or slow channel is the cause of elevated IOP.
Different therapies are used to treat angle-closure glaucoma. This form of glaucoma is a medical emergency that needs to be treated right away in order to lower eye pressure as soon as feasible. To reverse the angle closure, medications are typically used initially, but they may not be successful. It is also possible to use a laser to perform a procedure called laser peripheral iridotomy. To enable greater fluid circulation, this technique makes tiny holes in your iris.
REFERENCES:
For more details, kindly visit below.