Cognitive function: Can better sleep absorption improve it?
Cognitive function: Can better sleep absorption improve it?
The association between obstructive sleep apnea, insufficient sleep, and cognitive performance was further explored in a new research that examined data from five population-based studies.
Greater sleep consolidation and preventing obstructive sleep apnea, in which breathing is interrupted while sleeping, were connected to greater cognitive function in the subjects, according to the data.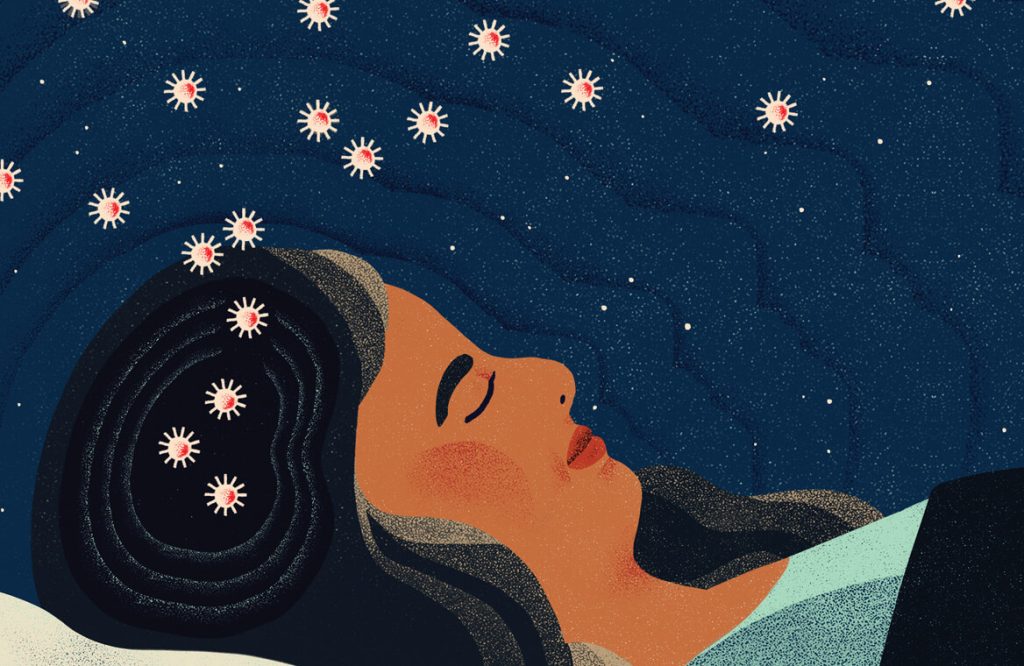 On the other hand, less sleep was associated with concerns like poor focus and other cognitive problems.
According to a study published in JAMA Network Open, sleep consolidation and the absence of obstructive sleep apnea may be crucial for enhancing cognition with ageing in persons without dementia.
Data from five population-based studies conducted across the United States with at least five years of follow-up were examined by researchers. Studies included cognitive tests and nightly sleep studies. They examined the information from March 2020 to June 2023.
The researchers examined sleep studies that focused on sleep apnea and sleep consolidation and their relationships to dementia risk as well as associated cognitive and brain function.
5,945 persons without a history of stroke or dementia participated in the study.
The results showed that longer sleep duration was linked to better attention and processing speed, while better sleep consolidation and the absence of obstructive sleep apnea were related with worse cognitive function.
Sleep that is uninterrupted by nighttime awakenings and is continuous is referred to as consolidated sleep. The hallmark of obstructive sleep apnea is episodes of airway collapse, which can lower oxygen levels and lead to fragmented, unrestorative sleep.
What can we learn from this sleep study?
Over the course of the 5-year follow-up, the researchers discovered that stronger sleep consolidation and the lack of sleep apnea were related to better cognition.
The researchers hypothesised that these results demonstrated the necessity for additional study on the effect of therapies in enhancing consolidated sleep to preserve cognitive function.
"Some aspects [of this study] were predictable and further reinforced concepts related to the association between sleep and cognition over time," said Dr. Vernon Williams, a sports neurologist, pain management expert, and founding director of the Centre for Sports Neurology and Pain Medicine at Cedars-Sinai Kerlan-Jobe Institute in Los Angeles who was not involved in the research.
The lack of a correlation between cognitive deterioration and particular sleep stages was an intriguing and less expected finding in this study. A decrease in slow-wave, deep sleep would have been expected to be more harmful than other stages, however this was not the case. Though there are a lot of plausible answers, that is a fascinating discovery, said Dr. Vernon Williams.
Dr. Williams continued, "This study [further] helps by demonstrating effects across multiple participant groups and by demonstrating that overall sleep efficiency, as well as the presence of obstructive sleep apnea, significantly affect cognition over time, whether or not a prior diagnosis exists."
Obstructive sleep apnea: What is it?
Breathing pauses during sleep are a common symptom of obstructive sleep apnea. According to the National Heart, Lung, and Blood Institute, it restarts frequently while you sleep.
According to medical professionals, between 9 and 17% of women and between 25 and 30% of males are believed to suffer from obstructive sleep apnea. Age increases prevalence.
The most prevalent kind of sleep apnea is caused by a collapse or restriction of the upper airway, which prevents airflow. When this occurs, the person briefly stops breathing before restarting it while they are sleeping, and they normally are not aware of it.
It may result in restless sleep, difficulty focusing, and issues with memory and decision-making.
The American Lung Association lists the following as symptoms of sleep apnea:
snoring
daytime slumber
breathing breaks
memory and attention issues
Moodiness and annoyance
frequent nighttime awakenings for urination
mouth arid.
It is connected to other medical issues as well. Obstructive sleep apnea may increase the risk of high blood pressure, diabetes, heart disease, and stroke, according to research.
How to lessen the symptoms of sleep apnea
A functional medicine physician and health and wellness coach named Dr. Laura DeCesaris, who was not involved in the study, stated that lifestyle modifications like decreasing weight, quitting smoking, and abstaining from alcohol can lessen obstructive sleep apnea.
She also provided the following advice for enhancing sleep:
Managing stress more skillfully and paying attention to where the body stores stress can help prevent forward head carriage and other breathing problems. Many people hold tension in their necks and shoulders.
monitoring your sleeping position, as side sleeping can occasionally aid with symptoms
Since chronic inflammation in the gut and nasal passages frequently makes it difficult to breathe through the nose, changing the diet and, when possible, switching to a more anti-inflammatory diet may be helpful.
Especially in a dry area, remember to stay hydrated and consider installing a humidifier in your bedroom.
REFERENCES:
For Mental disease medications that have been suggested by doctors worldwide are available here https://mygenericpharmacy.com/index.php?cPath=77_478