Is Himalaya Himplasia effective for sexual dysfunction?
Is Himalaya Himplasia effective for sexual dysfunction?
Sexual dysfunction
The term 'sexual dysfunction' refers to any physical or psychological problem that prevents you or your partner from experiencing sexual fulfillment. The prevalence of male sexual dysfunction increases with age, as it is a common health issue for men of all ages. In many cases, men with sexual dysfunction can benefit from treatment.
Main types of male sexual dysfunction in men:
Premature ejaculation (reaching orgasm too quickly).
Delayed or inhibited ejaculation (reaching orgasm too slowly or not at all).
Low libido (reduced interest in sex).
Himalaya Himplasia
Himalaya Himplasia is a medical formulation that belongs to an Ayurvedic class of medication. This medicine is used to treat and relieve symptoms related to prostate health such as bladder function, prostate health, reproductive function, urogenital function, etc.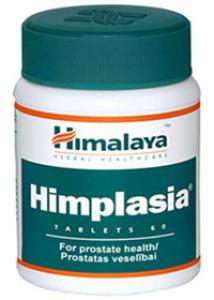 It is a non-hormonal herbal blend that helps maintain a healthy prostate and an effective reproductive function. It reduces disturbing symptoms such as frequent urination and difficulty in urination in elderly men and other.
Benefits of Himalaya Himplasia
The medicine 'Himalaya Himplasia' is beneficial in several sexual dysfunction found in men such as:
Improvement in urine flow
Reduction in frequent urination
lowering prostate weight
Reduction in prostatic epithelial height and stromal proliferation
Decline in post void residual urine volume
Prevention from UTIs associated with BPH
Medical properties
Himalaya Himplasia is loaded with varieties of healing and other medical properties such as:
5α-reductase enzyme inhibitory
α-adrenoceptor antagonistic action
Antihypertensive
Antimicrobial
Antioxidant
Antispasmodic
How to use Himalaya Himplasia?
Himplasia is available to us in a form of a pill that must be taken by mouth with or without food as per your health professional prescription. It must be taken as 1 tablet twice a day with water. The dosage is based on your body condition and body response to the medicine. Swallow the tablet whole rather than chewing or crushing it in your mouth.
Take the medicine at the same time daily to get the most benefits from it. Do not increase the dose or take it more often than prescribed. Consult your health professional in case of any query.
Side effects of Himalaya Himplasia
An herbal medicine is one that contains active ingredients derived from plant parts, such as leaves, roots, or flowers. It doesn't necessarily mean they're safe for you to take them since they're "natural." The body will respond to herbal medicines just as it does to conventional drugs. If not used properly, they could cause harm to the body.
Currently, No side effects of Himalaya Himplasia Tablets have been reported in the medical literature or reported by any such user. However, you should always consult your doctor before using Himalaya Himplasia Tablets.
REFERENCES:
For more details, kindly visit below.