Top causes of Gastroparesis you need to know about.
Top causes of Gastroparesis you need to know about.
What is Gastroparesis?
Gastroparesis, which literally translates to "partial paralysis of the stomach," is a condition where your stomach is unable to properly empty itself of food. If you have this problem, your muscles and injured nerves won't work with their usual strength and coordination, which will hinder the passage of food through your digestive tract.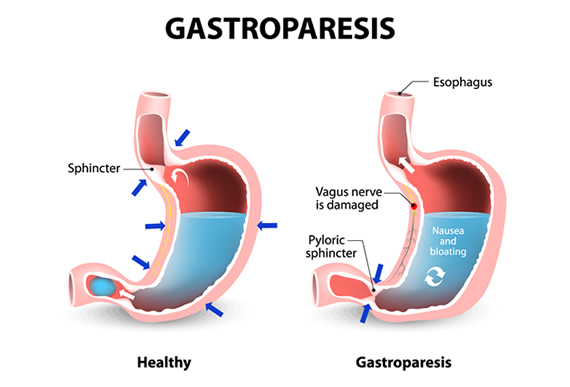 Long-term diabetics frequently have this syndrome, however it can also happen in other circumstances. Gastroparesis can be misdiagnosed and occasionally confused with an allergic reaction, heartburn, or an ulcer. The problem can be related to acid reflux in those without diabetes.
What causes gastroparesis?
Injuries to the nerves, including harm to the vagus nerve, can result in gastroparesis. The vagus nerve normally causes your stomach muscles to contract (tighten) in order to aid in the passage of food through your digestive system. Your vagus nerve is harmed by diabetes in cases of gastroparesis. As a result, food cannot pass from your stomach to your intestines because the muscles in your stomach and intestine are unable to function properly.
Gastroparesis can also result from:
Diabetic gastroparesis
Diabetes, notably diabetes that isn't well-controlled, is a common factor in nervous system impairment that impairs digestion.
This is due to the fact that sustained high blood sugar levels can harm neurons, especially the vagus nerve, which regulates the passage of food through the digestive tract.
One of the most effective ways for diabetics to manage the symptoms of gastroparesis is to maintain healthy blood sugar levels by implementing dietary and lifestyle adjustments.
What are the symptoms of gastroparesis?
Dehydration and malnutrition can result from gastroparesis symptoms including vomiting and decreased appetite. Malnutrition and dehydration can lead to a wide range of issues, including:
Food staying in the stomach for too long due to gastroparesis might lead to an overgrowth of microorganisms. Additionally, the meal has the potential to solidify into bezoars, which can clog the stomach and produce nausea and vomiting.
Keeping blood glucose levels under control is crucial for diabetics. It may be more difficult to control those levels if you have gastroparesis.
Should I change my diet if I have gastroparesis?
Changing your everyday eating habits is one of the best methods to help manage the symptoms of gastroparesis. For instance, you could consume six little meals throughout the day rather than three. By doing this, you will have less food in your stomach, which will make you feel less full and make it simpler for the food to pass through your system.
The texture of the dish is another crucial element. Your doctor might advise drinks and low-residue foods (you should eat applesauce instead of whole apples with intact skins). Additionally, you should stay away from fiber- and fat-rich foods because they can cause gastrointestinal problems (which is difficult to digest).
REFERENCES:
For more details, kindly visit below.