A new method may help forecast chronic renal illness risk.
Heart disease is more likely to strike those with chronic kidney disease (CKD). Researchers created a model to predict cardiovascular risk in CKD patients using proteomics, the study of proteins.
The model was proven to be more reliable than the standard techniques for determining risk. Additionally, scientists found several proteins that might be used in future treatments.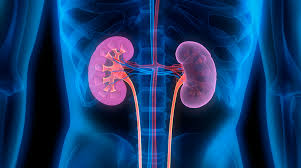 People with chronic kidney disease (CKD) die from cardiovascular disease (CVD) more frequently than any other cause.
Stage 1 of CKD, when there is visible evidence of kidney loss but viable kidney tissue is still present, progresses to stage 5, often known as end-stage renal disease, where dialysis or a kidney transplant is required.
A 2021 study found that stage 4 and stage 5 CKD patients suffer CVD in about half of cases.
The techniques available to medical professionals to assess patients with CKD's cardiac risk are limited. The Pooled Cohort Equation (PCE), designed by the American College of Cardiology and the American Heart Association in 2013, was created to evaluate cardiovascular risk.
The original version did not, however, account for measurements for chronic kidney disease. Researchers have issued a warning that risk prediction techniques made for the general population may not be as reliable for CKD patients.
A new risk model for cardiovascular disease in CKD patients has been established as a result of an initiative coordinated by scientists at the Perelman School of Medicine at the University of Pennsylvania. According to the researchers, it is more accurate than the methods currently used to assess these people's cardiac risk.
Protein biomarkers were discovered by researchers.
The extensive study of proteins known as proteomics was used by the researchers to create a model to predict cardiovascular risk. A particular protein may function as a biomarker, a marker for a particular illness in the body.
The Chronic Renal Insufficiency Cohort (CRIC), a prospective study of adults with CKD conducted at seven U.S. clinical centers, and a cohort from Atherosclerosis Risk in Communities (ARIC), a prospective epidemiologic study carried out in four U.S. communities, provided the researchers with nearly 5,000 proteins from 2,667 participants with CKD.
According to Bansal, who was not engaged in the study but cited the model's and study's usage of numerous people from various areas throughout the county as one of their advantages
32 proteins were chosen by the researchers to be part of their proteomic risk model using machine learning techniques. These proteins were shown to be the ones that most accurately predicted the risk of cardiovascular disease in CKD patients.
They employed a broad-based approach to identify proteins that may reveal novel biological pathways that increase the risk of cardiovascular disease in individuals with renal illness, focusing on biology and disease mechanisms, according to Bansal.
Research of chronic kidney disease
Cryopreserved plasma samples from the participants chosen for this study from the CRIC were available for proteomic evaluation. The chosen participants had CKD and ranged in age from 21 to 74.
Dialysis patients and participants with end-stage renal disease were excluded. People who at the start of the study self-reported having had coronary heart disease, a myocardial infarction, a stroke, or heart failure were excluded. They were also excluded if they had a documented history of those events.
There were 2,182 participants in the last batch.
Participants in the CRIC were slightly younger, more likely to be men and Black than those in the ARIC. In addition, CRIC participants were less likely to be active smokers and more likely to have a history of diabetes and hypertension.
In comparison to CRIC participants, participants in ARIC had higher total cholesterol levels. There were 459 cardiovascular events throughout a 10-year follow-up period in the CRIC cohort and 173 cardiovascular events in the ARIC cohort.
The risk indicator's precision
Researchers created a proteomic risk model for incident cardiovascular risk in the participants and used 390 ARIC cohort members, all of whom had CKD, to verify the model.
Researchers also determined the participants' 2013 PCE. Additionally, they noted the history of hypertension in the participants, as well as their diastolic blood pressure, proteinuria, and estimated glomerular filtration rate (eFGR), a score that represents kidney function.
"They were trying to look at how these biological pathways compare with clinical prediction models, in terms of predicting cardiovascular events," Bansal said.
The proteomic cardiovascular risk model, according to the researchers, was more accurate in predicting a CKD patient's risk for having a cardiac event than the PCE and a modified PCE that took into account eFGR scores.
Bansal said, "I believe the study does progress the field." Over ten years, participants with the highest measure of predicted risk experienced a 60% observed incident cardiovascular event rate.
Nancy Mitchell, RN, a registered nurse with more than 37 years of experience treating patients with chronic renal illness and chronic cardiovascular problems, is optimistic that the study could result in "improving the treatment options for heart disease."
Researchers may look at how the proteins found in bloodwork relate to cardiac disease and how they may use these discoveries to develop more specialised drugs for the condition, she said.
REFERENCES:
For Renal disease medications that have been suggested by doctors worldwide are available here https://mygenericpharmacy.com/index.php?therapy=82