Is Pelvic floor therapy good for sexual dysfunction?
Is Pelvic floor therapy good for sexual dysfunction?
Any stage of the sexual response cycle is susceptible to sexual dysfunction. You can't get the satisfaction you want from having sex because of that.
The classic stages of the sexual response cycle are anticipation, plateau, climax, and resolution. Both arousal and desire are a part of the sexual response's excitement phase. It's vital to understand that women don't always experience these phases sequentially.
Even though evidence indicates that sexual dysfunction is common, many people find it uncomfortable to discuss. But you should discuss your worries with your partner and your doctor because there are therapeutic choices. Among the sexually dysfunctional are;
Sexual desire disorders ,
irregularities in sexual arousal,
an early ejaculation,
Anejaculation (inability to ejaculate),
sexual dysfunction,
Priapism (persistent and painful erection of the penis, in the absence of sexual excitement) 
The Peyronie's disease (a bent, rather than straight, erect penis due to scar tissue).
Erectile dysfunction
Physical therapy for the pelvic floor is used to treat issues with the pelvic floor. Exercises that are part of this specialist therapy can aid in the relief of symptoms including pain, discomfort, and disturbances to your quality of life.
The Pelvic floor
There are numerous purposes for the pelvic floor. First, it supports the internal genital organs (the uterus) within the pelvis as well as the bladder, intestines, and other abdominal organs. The pressure that develops up in the pelvis and abdomen when doing things like coughing or lifting is secondly resisted. Finally, the ability to keep urine and faeces until one is ready to use the restroom is a function of the pelvic floor.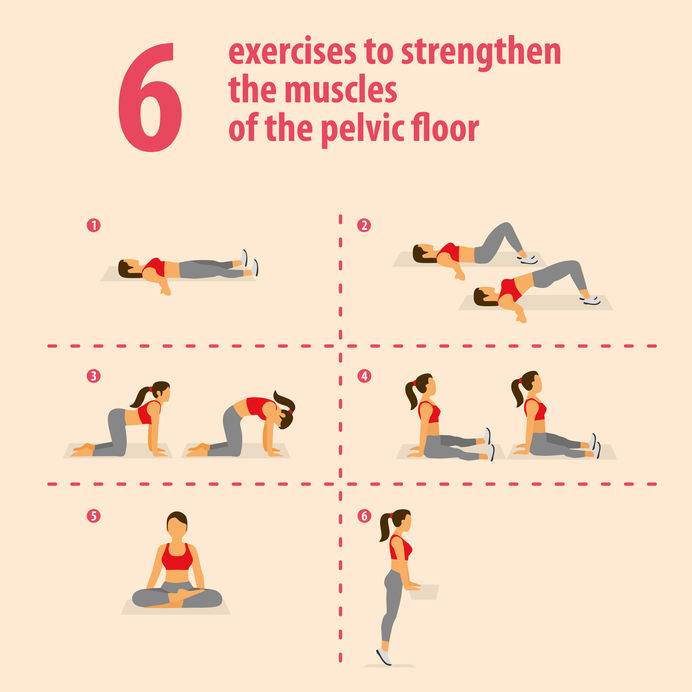 The pelvic floor has openings through which the urethra and rectum travel. Urination and faeces are made possible by the pelvic floor muscles relaxing. The pelvic floor muscles' regular tension acts as a sphincter to keep these chemicals from passing out. If there are issues with one or more of these muscles, known as pelvic floor dysfunction, pelvic floor PT may be beneficial.
Pelvic Floor Dysfunction
Simply put, pelvic floor dysfunction refers to a malfunction of one or more pelvic floor muscles. This could indicate that they are either too tight or too loose, or that the person is having difficulty properly contracting and releasing them. Additionally, certain forms of surgery, such as a prostatectomy, as well as childbirth, medical procedures, and other procedures have the potential to harm the pelvic floor muscles.
A combination of a medical history, physical examination, MRI, and/or ultrasound can be used to diagnose pelvic floor dysfunction. It is estimated that up to 25% of women in the US are affected. Information on male prevalence is scarcer. Medication, surgery, and pelvic floor physical therapy are all options for treating pelvic floor dysfunction. Pelvic floor physical therapy frequently serves as an effective first-line treatment since it carries a much lower risk of adverse events. This is especially true for pelvic floor repair alternatives involving surgery, which have the potential to have serious negative effects on sexual function and other aspects.
Pelvic floor physical therapy and sexual dysfunction
In terms of sexual health, pelvic floor dysfunction can have an impact on several areas. Both direct and indirect impacts may be present. For instance, pain during sex could be a direct result of pelvic floor dysfunction. Because the pelvic floor muscles have an impact on so many facets of sexual function, there are many potential direct sexual implications of pelvic floor dysfunction. Penile rigidity and orgasm, as well as sexual excitement, are all influenced by muscle contraction.
Stress urine incontinence causing a phobia of sexual intimacy is one possible indirect impact. Muscles that are either too active or too passive might contribute to various sexual health issues linked to pelvic floor dysfunction. Direct effects typically result from excessive pelvic floor muscle contraction, whereas indirect effects typically result from inadequate pelvic floor muscle contraction.
Uncontrolled Muscles
Pelvic pain and pain during sexual activity can be brought on by overactive pelvic floor muscles. Men may experience this discomfort in any location, including the testicles, the tip of the penis, or the abdomen. Overactive pelvic floor muscles in men can potentially lead to:
erection issues
untimely ejaculation
hurt following ejaculation
Overactive muscles in women can lead to:
the vulva stinging or burning (the outer portion of the genitalia)
the clitoris hurts
The vagina is hurting
Sexual dysfunction brought on by hyperactive pelvic floor muscles in all people may or may not be accompanied by pain.
Under-active Muscles
Conditions like pelvic organ prolapse and urine incontinence are made more likely by weak pelvic floor muscles. It has been demonstrated that both urine incontinence and pelvic organ prolapse have a negative impact on people's sexual lives. Each illness has the potential to alter a person's perception of themselves, and there may also be worries about odour or pain during sex (with prolapse) (with urinary incontinence.)
It's important to note that some people have overactive and underactive pelvic floor muscles. This is a feature of a few different pelvic pain syndromes.
Conclusion
Men and women both experience pelvic floor dysfunction, although women typically receive more attention when discussing pelvic floor rehabilitation. Studies and literature suggest that pelvic floor rehabilitation and physiotherapy management can be successful in treating a variety of problems, including urine incontinence, chronic prostatitis/chronic pelvic pain syndrome, erectile dysfunction, and ejaculatory dysfunction.
REFERENCES:
For more details, kindly visit below.