Is Himalaya Confido good for Erectile dysfunction?
Confido is a medical drug that belongs to an Ayurvedic class of medication. It is a Himalaya medical tablet which is used to treat a number of condition in the human body. This medicine is used to treat genitourinary tract disorders, sexual problems, immune systems, increase sexual desire, diuresis, and abdominal detention. It increases the flow of blood in reproductive organs to through vasodilation.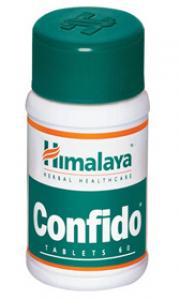 The function of confido is to increase the dopamine levels in the brain. This medicine also involves enhancement in the strength of penile tissue and also improves libido.
Benefits of Confido
Following are several benefits of consuming himalaya Confido.
remedy for erectile dysunction
treats low sexual vitality
treats low libido
improves low sperm count
When and how to use?
Confido is available to us in a form of pill that must be taken by mouth with or without food or as per your doctor's prescription. Ideally, one tablet a day is recommended. The dosage is based on your medical condition and its response to the treatment. Take the medicine at the same time daily to get the most benefits from it. Do not increase your dosage or take this medicine more often than prescribed as there might be no improvement in your condition. Discuss all the other medicine that you may be taking with your doctor and consult them in case of any confusion.
Side effects
Himalaya medicines are known to not have any side effects during their medication. Similarly, Confido is available to us in a form of a pill that usually does not involves any side effects. However, the side effects are not reported for a limited medication period. Consult a doctor if you notice any condition while medicating with it.
Interaction with Drugs.
Althoug confiso does not associates any side effects, there are several drugs that might interact with confido and could cause harmful effects in your body. Such drugs include:
Amitriptyline
Clomipramine
Fluoxetine
Imipramine
Methyldopa
Paroxetine
Phenelzine
Sertraline
Tranylcypromine
Precautions and Cautions.
Alcohol is generally reommended to be avoided although no harmful interaction is observed.
let your doctor know., if you are under medication for any other illness especially of the heart, liver or kidney,
Pregnant or breastfeeding women are not recommended to use confido.
Maintain intake of doses limited to prescribed amount as excess doses might cause hamrful effects in youe body.
Carefully go through the label before you start taking these tablets.
Discuss all the other kind of illness that you may be treating with you doctor.
Always keep the medicine out of reach and sight of children.
Time to work.
Himalaya Confido is a kind of medicine that does not work instantly. However, the medicine may take 2 weeks of daily administration to deliver positive effect in your symptoms. Inform the doctor if your condition does not improve within the provided time period.
REFERENCES:
For more details, kindly visit below.