Effective ways of treating early male pattern baldness.
More than 95% of men's hair loss issues are caused by male pattern baldness, commonly known as androgenic alopecia. It is a widely held idea that it is caused by genetic abnormalities and the male hormone dihydrotestosterone. A quarter of males with this illness may start losing their hair as early as their teens or early 20s.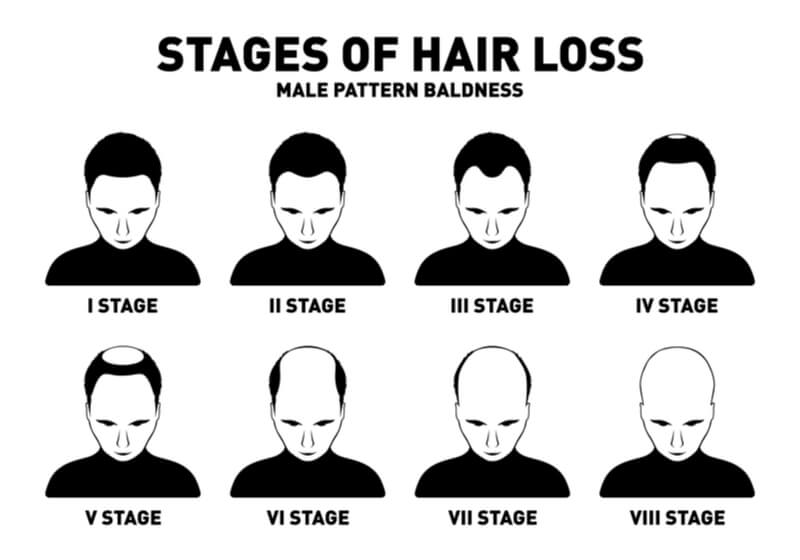 The majority of guys who experience male pattern baldness are very depressed and experience social stress. A man's life is impacted by hair loss both socially and psychologically. In certain cases, it even affects their professional lives. There are particular hair loss therapies available if you have male pattern baldness and feel self-conscious about your look.
Causes:
Men typically experience hair loss when three key factors i.e. genetics, ageing, and hormones, interact. Male-pattern baldness, also known as androgenetic alopecia, develops as a man's hormone levels alter over the course of his life. The likelihood of male-pattern baldness is influenced by genetic factors as well.
These elements play a part in the scalp hair follicles, which are microscopic cavities in the skin at the root of hairs. A person's hair eventually stops growing because it gets shorter and finer.
Depending on their age and genetic make-up, most white guys go somewhat bald. By the age of 50, up to half of all white males experience male pattern baldness, and by the age of 70 years, up to 80% of men in the same group experience the condition.
Who's at Risk?
You don't need a magic mirror to determine your personal risk because male pattern baldness is a genetic condition. If your grandfather goes bald, the question is "when," not "if." Although it can begin in your teens, hair loss is more likely to occur in adults, and the probability rises with age. How quickly DHT decreases your follicles can depend on the size and shape of your head.
Your risk of hair loss may be increased by a number of variables, such as:
a history of baldness on your mother's or father's side of the family
Age
significant decrease of weight
Several medical disorders, including lupus and diabetes
Stress
unsound nutrition
How To Treat Male Pattern Baldness?
Huge advances in hair loss treatment for men have been made in recent years. Men no longer have to tolerate hair loss thanks to the development of effective treatment alternatives. The progression of hair loss issues can now be stopped or even slowed down.
Keep in mind that therapy for hair loss depends greatly on prompt action. As soon as you detect the first signs of hair loss, it is preferable to start the therapy by seeing a doctor. The following treatments have been shown in studies to be successful in treating male pattern baldness.
The brand names of the medications Proscar and Propecia are finasteride. It was initially created as a medication for the treatment of enlarging prostate glands.
A fascinating side effect of hair growth has been seen by certain experts during clinical trials on males with prostate issues. It has already received FDA approval for the treatment of enlarging prostates in males. The majority of men who used Propecia experienced successful treatment of male pattern baldness, making it the first drug in the history of hair loss treatments.
The first medication ever to be licenced by the FDA to treat male pattern baldness is called minoxidil. The medication minoxidil was frequently used to treat high blood pressure. Similar to finasteride, some studies discovered another intriguing consequence of the medication, namely hair growth. People using minoxidil have been observed to develop hair in uncommon places, including their cheeks, the backs of their hands, and other areas.
Additionally, minoxidil has been shown in clinical studies to both delay the development of hair loss and promote some hair regrowth. The best outcomes are obtained from minoxidil because it doesn't interfere with hormone function. However, for some people, it produces fairly unsatisfactory outcomes.
Hair Transplantation
Hair transplantation is the next step if Minoxidil or Finasteride don't show encouraging outcomes. It is a well-liked surgical procedure that aids in regrowing lost hair. It uses a variety of techniques to provide a natural hairline.
The most well-known hair transplantation techniques are FUE and FUT. These surgical procedures entail taking hair follicles from the "donor site" on one area of the body and transplanting them to the "receiver site," which is the area that is bald. The most effective method is primarily used to treat male pattern baldness.
laser devices
There are now several laser treatments for hair loss that can be used at home. The FDA has approved a few. If the phrase "FDA cleared" appears on the laser's package or in information about it, it signifies that the FDA has approved the laser as a safe medical procedure.
When compared to having FDA authorised, the procedures for getting FDA cleared are substantially less demanding.
REFERENCES:
For more details, kindly visit below.