Wound-healing and Anti-aging found in an invasive weed.
Many people are expressing a desire for skin care products made from natural ingredients. Fruit from the cocklebur plant contains antioxidant and anti-inflammatory characteristics. This may make it effective as a skin protectant, according to researchers presenting at Discover BMB.
In 3D tissue models, researchers discovered that cocklebur extracts sped up wound healing and decreased UVB damage. More and more individuals are looking for substances that are naturally derived when it comes to skin care. According to previous customer polls, many women prefer all-natural skin care products.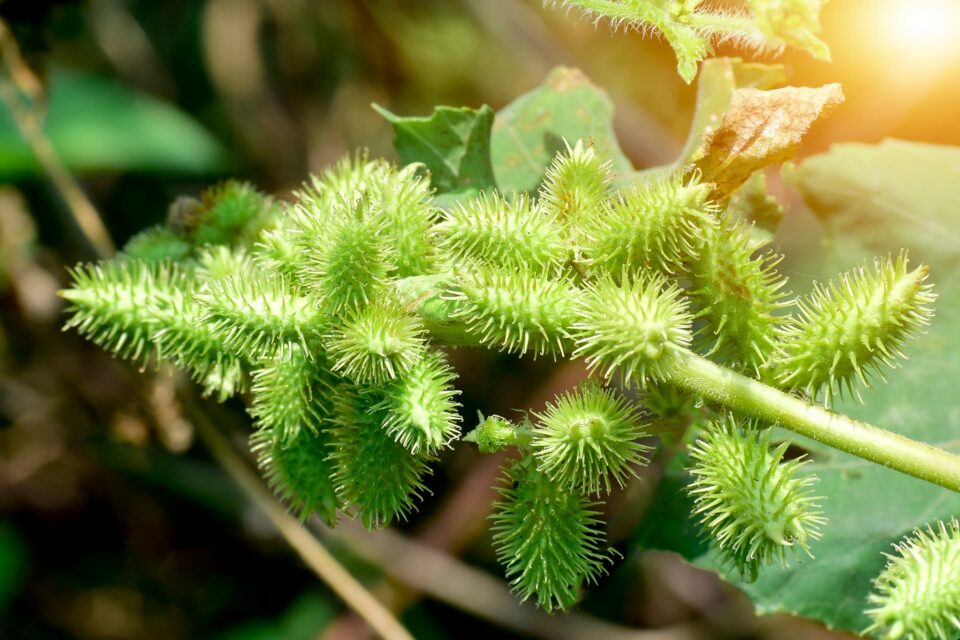 According to recent studies, the fruit of the cocklebur plant, a noxious weed, possesses anti-inflammatory and antioxidant qualities that may not only make it beneficial as a skin protectant but also aid reduce UVB damage and speed wound healing.
The research is presented at Discover BMB, the American Society for Biochemistry and Molecular Biology's annual meeting, March 25–28 in Seattle, Washington.
What is the cocklebur plant?
The cocklebur plant, or Xanthium strumarium as it is named in science, is a summer-growing weed. The weed has both male and female heads as it grows. Its maximum height at maturity is six feet.
With burs, the weed produces blooms. The "fruit" of the plant is found inside these burs. The burs can attach to an individual and disseminate to other locations when a person or animal rubs up against the plant.
Plants called cocklebur are indigenous to parts of China, Central Asia, and Southern Europe. The United States is one of the places in the globe where they are presently, nevertheless.
From ancient times, the cocklebur has been utilised in traditional Chinese medicine, most frequently to relieve headaches and rhinitis. More recently, researchers have investigated using the cocklebur plant to treat cancer, diabetes, and rheumatoid arthritis.
Cocklebur extract and skin protection
In this work, scientists examined how the molecular characteristics of cocklebur fruit extracts can impact collagen synthesis, wound healing, and UVB radiation damage using cell cultures and a 3D tissue model resembling human skin.
Upon examination, researchers discovered that the cocklebur fruit extracts accelerated the healing of wounds and boosted both the creation and breakdown of collagen. It had a protective effect against UVB radiation at lesser doses as well, but at the highest measured dose, it reduced the ability of the cell to react to UVB.
Eunsu Song, a PhD student at Myongji University in South Korea and the study's principal author, told that there have been numerous published studies that describe the chemical makeup of cocklebur fruit.
The identification of bioactive substances in natural goods is greatly helped by solvents. In the majority of published studies, solvents were extracted using methanol, which may not be suitable for usage as food or cosmetic additives. The initial step in our research, according to Song, was the ethanol extraction and examination of the cocklebur fruit's bioactive component.
As a result, the primary phenolic ingredient in cocklebur was the antioxidant chlorogenic acid, she said. Additionally, the predominant phytosterol in cocklebur was ß-sitosterol. Both bioactive substances have been investigated because of their antioxidant, skin-allergenic, and wound-healing properties.
Potential toxicity of cocklebur in high doses
Although the research team's findings are encouraging, they also issued a warning that cocklebur fruit extract taken in large dosages may be dangerous. To ascertain the safe limits for cosmetic and pharmaceutical purposes, more study must be done.
According to Song, the carboxyatractyloside found in the burs of cocklebur is what gives it its toxic properties. That can be one of the causes of the poisonous effects in the high cockleburs concentration. At high amounts, additional substances than carboxyatractyloside can also be hazardous. As a result, it is crucial to determine the optimum dose using acute toxicity studies.
It hasn't been clear up until now whether cocklebur actually promotes collagen formation and wound healing, two processes that are crucial to the molecular health of the skin. We need to identify any potential molecular mechanisms before moving on to the next phase. Following that, we'll test cocklebur using additional non-animal methods.
Intriguing anti-aging, healing potential
Dermatologist Dr. Alexis L. Young, clinical assistant professor in the department of internal medicine at the Hackensack Meridian School of Medicine, provided the following commentary on this study:
According to her, the field of cosmeceuticals as well as wound healing could be greatly impacted by this new study, which she called "extremely exciting." "The key principles of anti-aging products include promoting collagen synthesis, preventing collagen degradation, using antioxidants to ward off DNA damage and the ageing effects of free radicals, and boosting the skin's elasticity and volume. This plant could be able to do those tasks in cell and tissue culture.
Hyaluronic acid (HA) is a temporary addition to the skin that briefly plumpens the skin for around 15 minutes before disappearing, according to Dr. Young. "A topical agent that can genuinely boost collagen and HA formation would be new. Presently available retinols, which promote collagen synthesis and prevent its deterioration, can be quite irritating to the skin. We're constantly looking for skin-care products that are more tolerable yet still effective.
This study, according to Dr. Lamb, is interesting since it reveals a novel development that may be employed as both an antioxidant and a skin protectant: "Naturally derived goods are currently popular, and this is a fresh one that can be quickly added to the arsenal."
The main concern will be whether or whether something similar can induce allergic contact dermatitis, as the plant itself can. Whilst the research is encouraging, we must wait to see if we should put it on the skin because it actually seems to be quite irritating. If it can do more harm than good, we should avoid using it.
The conclusion
Compounds found in the cocklebur's fruit, according to South Korean researchers, may aid in skin protection. These substances accelerated wound healing, lowered UVB exposure damage, and boosted collagen formation in tests employing cells and tissues. But more research is still required.
REFERENCES:
For more details, kindly visit below.