Lets explore the treatment options for Vericose veins.
Blood vessels that bulge just beneath the surface of your skin in your lower body are called varicose veins. Blood backs up in your veins as a result of weak vein walls and malfunctioning valves. You may notice blue and purple bumps on your legs, feet, or ankles as a result. Varicose veins can recur despite the effectiveness of many treatment approaches.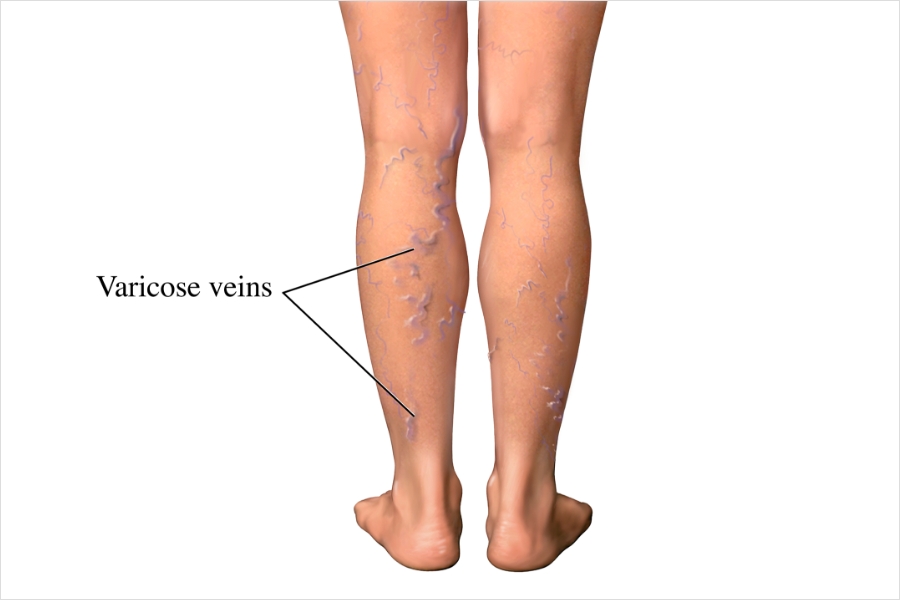 Blood vessels that bulge just below the surface of your skin called varicose veins are twisted and bloated. Your legs, feet, and ankles are where these blue or purple bulges typically emerge. They could hurt or itch. Spider veins are smaller red or purple lines that develop near to the surface of your skin and may surround varicose veins.
Varicose veins aren't dangerous for the majority of people, despite the fact that they can be unattractive and uncomfortable. Serious health issues, such as blood clots, can occasionally result from severe varicose veins. The majority of varicose vein problems can be treated at home by you or by your healthcare practitioner using injections, laser therapy, or surgery.
Causes of varicose veins
When veins aren't functioning properly, varicose veins develop. One-way valves in veins stop blood from flowing backward. Blood starts to build up in the veins rather than flow back towards the heart when these valves malfunction. The veins then grow in size. Legs are commonly affected by varicose veins. Gravity makes it more difficult for the blood to move higher because those veins are the furthest from your heart.
Varicose veins may be brought on by various factors, such as:
older than 50
prolonged durations of standing
obesity
family history of varicose veins
Symptoms of varicose veins
Some people might also go through:
stiff legs
the sensation of having heavy legs, especially after exercising or when sleeping
a slight wound to the afflicted area could cause longer than usual bleeding.
Skin can contract due to lipodermatosclerosis, a condition in which the fat beneath the skin right above the ankle can harden.
enlarged ankles
the affected leg has telangiectasia (spider veins)
a glossy spot on the skin close to the varicose veins
Stasis dermatitis, also known as venous eczema, causes red, dry, and itchy skin in the affected area.
Leg pain when abruptly standing up
Irritable bowel syndrome
Atrophie blanche is a condition in which the ankles develop uneven, white patches that resemble scars.
Treatment of varicose veins
Treatment might not be required if a person has no symptoms or discomfort and does not mind the appearance of their varicose veins. Most varicose vein sufferers can find enough relief at home, including using compression stockings.
But if a person experiences persistent symptoms, they could need medical attention to ease their suffering or to deal with any side effects including leg ulcers, skin discoloration, or swelling. Some people could also want therapy to get rid of their "ugly" varicose veins for cosmetic reasons.
Surgery
Large varicose veins might need to be surgically removed. Generally speaking, a general anaesthesia is used for this. The patient can typically leave the hospital the same day. However, they might have to stay the night in the hospital if both legs need to undergo surgery.
Smaller veins and spider veins are frequently treated with lasers. The vein is exposed to powerful light bursts, which cause the vein to progressively dissolve.
Ligation and stripping
An incision is made at the top of the target vein close to the patient's groyne, and another is made further down the leg, either at the ankle or knee. The vein's top is tied off and sealed. The vein is taken with a thin, flexible wire that is pulled out after being passed through the vein's base.
Usually, there is no need for a hospital stay after this treatment. Ligation and stripping occasionally cause bruising, bleeding, and discomfort. Deep vein thrombosis (DVT), in which a blood clot forms in the vein of the leg, can occur on extremely rare occasions.
Most patients recover from surgery within a few days, but it may take them a few weeks to resume work and other usual responsibilities. They will have to wear compression stockings while recovering.
Sclerotherapy
Small and medium-sized varicose veins are given a chemical injection by a doctor, which scars and shuts the veins. After a few weeks, they ought to disappear. It could be necessary to inject a vein more than once.
Radiofrequency ablation
With the use of an ultrasound scan, a doctor creates a small incision above or below the knee. A catheter, which is a little tube, is then inserted into the vein.
The medical professional then inserts a radiofrequency-emitting probe into the catheter. The vein is heated by the radiofrequency energy, which causes the vein's walls to break down and efficiently close and seal it shut. For bigger varicose veins, this surgery is suggested.
A local anaesthetic is typically used during radiofrequency ablation.
Endovenous laser treatment
The vein of the patient is entered by a doctor with a catheter. A tiny laser is then inserted via the catheter and positioned at the top of the target vein to administer brief energy bursts that heat the vein and cause it to close.
The doctor uses an ultrasound scan to guide the laser up the vein, eventually sealing and burning it all as they go. Using local anaesthesia, this treatment is carried out. There could be some nerve damage, although it is usually just temporary.
Transilluminated powered phlebectomy
In order to see which veins need to be removed, a doctor makes an incision under the skin and threads an endoscopic transilluminator—a special light—through it. The target veins are then sliced and removed using a suction instrument through the wound.
For this surgery, a general or local anaesthetic may be employed. After the procedure, there can be some bleeding and bruising.
Prevention of varicose veins
In order to lower the chance of getting varicose veins, it is advised to:
exercise frequently, such as walking
attain or maintain a healthy weight
Don't remain motionless for too long.
Avoid crossing your legs while seated
When you sit or sleep, elevate your feet on a pillow.
Try to move about at least once every 30 minutes if you must stand while working.
REFERENCES:
For more details, kindly visit below.