Are brain fog, sleep, and pain improved by Cannabis?
Cannabis, according to researchers, may be able to lessen the negative effects of chemotherapy as well as cancer discomfort. In a recent study, cancer patients said that using cannabis helped them feel less pain, sleep better, and think more clearly.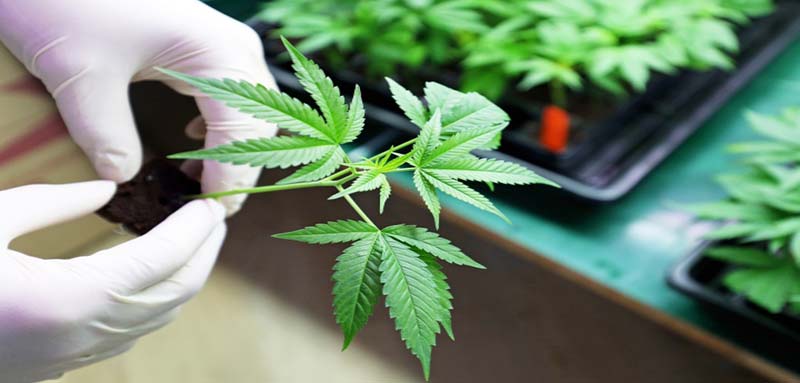 According to experts, federal rules need to be altered so that more studies may be done on cannabis' advantages and impacts on medical ailments.
According to a study conducted at the University of Colorado at Boulder and published in the journal Exploration in Medicine, people with cancer who use cannabis to alleviate symptoms experience less pain, sleep better, and have clearer thinking.
This is one of the first observational studies to examine the potential effects of cannabis products obtained from a dispensary on chemotherapy side effects and cancer symptoms.
University researchers are only permitted to possess and distribute cannabis products that are authorized by the government or that meet pharmaceutical standards in the United States, which makes it challenging to conduct studies on dispensary goods.
The researchers at the University of Colorado, however, developed a novel strategy. When 25 cancer patients bought their products, they watched how they responded.
During a baseline visit, the researchers evaluated the patient's pain tolerance, sleep quality, and cognitive function. After that, the participants went to a dispensary and bought a cannabis edible product of their choice. They selected several different products, such as:
Chocolates
Gummies
Tinctures
Pills
a baked good
Additionally, the THC and CBD potencies varied widely.
Information from the cannabis and cancer pain study
The researchers traveled to each person's residence in a mobile lab.
Before being asked to consume the cannabis product they had chosen at home, each person had their physical and mental capabilities evaluated in the van. After consuming medical marijuana, they completed another test.
Within an hour of using the items, the patients claimed that their pain levels had greatly decreased. Additionally, it made them feel "high" and affected their cognitive function. They claimed to feel higher the more THC was present.
After two weeks of consistent use, the individuals underwent a follow-up examination. At that time, the patients indicated that their pain, sleep, and cognitive abilities had all decreased. Improvements were evident in various cognitive domains, including reaction times, according to objective measurements.
The researchers found that lower levels of pain led to an improvement in cognitive performance. The improvement in cognition increased as the discomfort decreased.
Patients who consumed more CBD reported significant reductions in pain and better sleep. CBD reduces inflammation. The authors of the study point out that while cognition was temporarily reduced, it can be enhanced by treating pain.
How cannabis might benefit cancer patients
Some dosages and cannabis types, according to experts, may be beneficial for persons receiving cancer therapy.
Dr. Wael Harb, a hematologist and medical oncologist at Memorial Care Cancer Institute at Orange Coast Medical Centre in California who was not involved in the study, said, "This study adds to the growing body of research that examines the potential benefits of cannabis use in cancer patients."
According to Harb, "the results highlight the potential for cannabis to reduce pain, enhance cognition, and improve the overall quality of life for patients." These findings have important therapeutic ramifications since they imply that cannabis may be used as an auxiliary or alternative therapy for cancer patients, particularly those who are in pain or have cognitive deficits.
However, "it is important to note that the study has limitations, such as a relatively small sample size, which may not represent the larger population of cancer patients," the author continued.
The study also uses self-reported information, which is prone to bias. To validate these results and investigate any potential hazards or negative consequences related to cannabis usage in cancer patients, additional research with bigger, more diverse samples and more objective assessment technologies is required.
What do you need to understand about medical marijuana?
The director of the UCI Centre for the Study of Cannabis, Daniele Piomelli, Ph.D., stated that "this small study supports what oncologists have known for a long time: many cancer patients (half of them, according to some surveys) use cannabis to cope with nausea, pain, and sleeplessness caused by cancer drugs".
He informed us that the National Cancer Institute, a division of the National Institutes of Health, is aware of this and that urgently required larger investigations are about to begin.
According to the National Institutes of Health, the cannabis plant has two major compounds (cannabinoids) that are employed in medical procedures. THC and CBD are these.
These have not been given use approval by the Food and Drug Administration. The group has, however, approved a small number of drugs that do:
Cannabidiol (Epidolex)
Dronabinol (Marinol, Syndros)
Nabilone
Currently, marijuana use is either decriminalized or legal in 46 states. Anyone considering using medical items should first examine the regulations in their locality as each state has different legislation.
Dr. Olivia Seecof, clinical assistant professor of medicine and attending physician in supportive oncology at NYU Langone Perlmutter Cancer Centre in New York, said she was "very excited" about the study because it was "one of the first studies to address some of the issues surrounding recommending medical cannabis products in an evidence-based way."
During outpatient supportive oncology appointments, I do certify patients for medical cannabis. I had to enroll in the New York State Medical Cannabis Programme and complete further training/certification to be able to do that," she explained to us.
The market for medical marijuana is expanding.
Its US market value in 2021 was close to $27 billion. Market Research Future estimates that by 2030, it would reach $248 billion.
According to a Reuters article, some proposed measures in Congress would decriminalize or legalize marijuana.
It would be decriminalized under one statute, leaving state regulation to their discretion. More research will be possible thanks to the regulation reform, giving doctors and other healthcare providers the data they need to treat patients.
Because of cannabis' murky legal status and negative connotations, many doctors are still uneasy about marijuana, according to Piomelli. "But the profession can no longer bury its head in the sand with so many patients using it. To better meet the requirements of their patients, doctors, nurses, and other medical professionals need to have more knowledge about the advantages and drawbacks of cannabis.
REFERENCES:
For Mental disease medications that have been suggested by doctors worldwide are available here https://mygenericpharmacy.com/index.php?cPath=77_478