Important causes & treatment of dyspersia you need to know.
Important causes & treatment of dyspersia you need to know.
Indigestion, commonly referred to as dyspepsia, is a feeling of discomfort or pain in the upper belly that frequently follows eating or drinking. It is a symptom, not a sickness. Up to 30% of people experience dyspepsia, making it a widespread issue. Bloating, discomfort, feeling overly full, nausea, and gas are typical symptoms.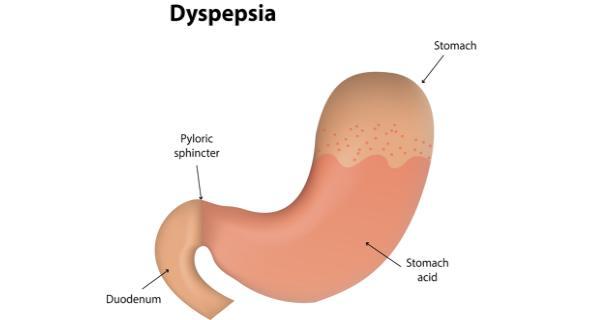 It typically occurs after eating or drinking. A change in lifestyle can frequently be beneficial. Medical problems including gastroesophageal reflux disease (GERD) and the usage of specific drugs are among the other causes.
One of the most typical functional disorders is functional dyspepsia. 10% to 20% of patients who seek medical attention for their symptoms are thought to have functional dyspepsia. But the number of people who have it may be far higher than we realise because many people never seek medical attention for their symptoms.
Different types of dyspepsia
Functional dyspepsia symptoms can be divided into two groups, according to some medical professionals:
Epigastric persistent pain (EPS). Only the symptoms connected to upper abdomen discomfort and burning are referred to as epigastric persistent pain (EPS).
Postprandial distress syndrome (PDS). Only post-eating symptoms, such as bloating, nausea, and early fullness, are referred to as postprandial distress syndrome (PDS).
Not all people's symptoms fit neatly into one of these two groups, but when they do, it makes it easier for medical professionals to address those symptoms as a group.
Causes of dyspepsia
Indigestion can have a variety of causes. These may include things like dietary and lifestyle choices, adverse drug reactions, and life-threatening underlying diseases.
Lifestyle
Indigestion occurs when your body has trouble digesting food normally. Eating excessively or eating too quickly may be the cause of this.
Indigestion risk is also increased by greasy, fatty, and spicy foods. Too soon after eating, lying down can hinder proper digestion. Your chance of experiencing stomach pain rises as a result.
Other typical reasons for inadequate digestion include:
smoking
overindulging in booze
Medication
The negative effects of taking some drugs can include indigestion. Aspirin, ibuprofen, and naproxen are a few examples of nonsteroidal anti-inflammatory drugs (NSAIDs) that might aggravate dyspepsia.
Antibiotics, which treat or prevent bacterial infections, can also have the adverse effect of irritating the digestive tract and causing indigestion.
Food allergy
An unidentified food allergy may be causing an inflammatory reaction in your intestines. White blood cell counts in some FD patients are greater, which may indicate that the gut immune system is active.
Others disclose food sensitivities on their own, notably to wheat. The causes of nausea, flatulence, and inflammation may be due to an allergic reRisk for Indigestionaction. Bloating and pain could be brought on by inflammation.
Medical conditions
In addition, indigestion can be brought on by a number of medical issues. These comprise:
illness of the stomach and oesophagus (GERD)
digestive cancer
anomalies in the pancreas or bile ducts
digestive ulcers
gluten, lactose, and other intolerances
idiopathic bowel syndrome (IBS)
gastroparesis
You could occasionally feel dyspepsia for no apparent reason. Functional dyspepsia is the term used in medicine for this.
Symptoms of dyspepsia
The symptoms of dyspepsia come and go: They appear and disappear for unknown reasons, and it is difficult to determine what specifically makes them better or worse. Functional dyspepsia is a chronic condition that lasts for a long time, yet it can occasionally go away for a while before coming back for no apparent cause.
You must have experienced symptoms within the last three months and consistently for at least six months in order to receive a diagnosis. Additionally, you'll experience multiple of the following signs:
Stomach discomfort. Under the ribs, there is pain in the upper abdomen. Your stomach, small intestine, pancreas, and liver are all located in this area, which is referred to as the epigastrium.
Stomach bloat. belly pressure or a sense of being overstuffed, especially after eating.
Early satiety or appetite loss. Feeling "full" immediately following or during eating.
Heartburn. This is a searing pain that typically results from acid reflux and is felt in the area between the stomach and the oesophagus.
Acid reflux. The oesophagus serves as a conduit for stomach acid, which causes your mouth to burn and frequently leave you with a sour taste.
Vomiting and nauseous. Fullness and appetite loss may become actual nausea or vomiting in severe cases.
Risk of dyspersia
Indigestion can affect people of all ages and genders. It's quite typical. The following factors raise a person's risk:
excessive alcohol use
Use of medications that can cause stomach irritation, such as aspirin and other painkillers
conditions in which the digestive tract is aberrant, such as an ulcer
emotional issues like depression or anxiety
Smoking
Diagnosis
A physician will enquire about:
their indications
their medical history, both personal and familial
any further medical issues, drugs they use, and dietary practises
They might also check the stomach and chest. This may entail applying pressure to various abdominal regions to feel for any spots that might become sensitive, tender, or painful when pressed.
The tests listed below may occasionally be used by a clinician to rule out an underlying medical condition:
Blood test: This can diagnose illnesses such as anaemia, liver issues, and others.
Tests for H. pylori infection: In addition to a blood test, these tests could also involve urea breath tests and stool antigen tests.
Endoscopy: The physician will take pictures of the digestive system using a long, thin tube equipped with a camera. Additionally, a tissue sample for a biopsy may be taken. They can use this to identify a tumour or an ulcer.
Complications of dyspersia
Rarely, problems can result from severe and ongoing dyspepsia. These consist of:
Esophageal stricture
Upper gastrointestinal scarring can result from prolonged exposure to stomach acid. Chest pain and difficulties swallowing can result from the tract becoming narrow and restricted. The oesophagus can be widened through surgery.
Pyloric stenosis
In some instances, stomach acid can irritate the pylorus, which connects the stomach and small intestine, over an extended period of time. The pylorus may narrow if it develops scar tissue. A person might require surgery if that occurs since they might not be able to digest meals adequately.
Peritonitis
The lining of the digestive tract can deteriorate over time as a result of stomach acid, which can result in peritonitis. Medications or operations might be required.
Treatment for Dyspersia
Usually, indigestion goes away on its own and will go away eventually. As your body starts to digest the food you've eaten, for instance, if you have indigestion following a large meal, your abdominal discomfort may subside. You may manage and prevent the symptoms of indigestion, though, with the aid of some drugs and lifestyle modifications.
Medications
In order to address typical indigestion symptoms, your doctor may prescribe drugs, but these drugs may have negative effects. Pepcid and other H2 receptor antagonists (H2RAs) lessen gastric acid. Although they are rare, side effects can include:
nausea
vomiting
diarrhoea
itching or rashes
constipation
headache
bruising or bleeding
Similar to Prilosec, proton pump inhibitors (PPIs) reduce stomach acid but are more potent than H2RAs. Some adverse effects are:
nauseous and dizzy
constipation
diarrhoea
cough
headache
backache
dizziness
abdomen ache
Prokinetics, such the pharmaceutical drugs Reglan and Motilium, enhance the digestive tract's muscular function. However, using these drugs may have unwanted effects, such as:
depression
anxiety
uncontrollable tics or spasms
fatigue
A home remedy
Indigestion can be treated in addition to with medication. With lifestyle adjustments, you might be able to enhance digestion and ease painful symptoms. For instance, it may be beneficial to:
avert eating things that cause heartburn
more slowly
avoid eating before going to bed.
If you smoke, make an effort to stop.
Keep your weight at a healthy level.
Reduce your consumption of coffee, soft drinks, and alcohol.
through practising yoga or relaxation techniques, lower stress
REFERENCES:
For more details, kindly visit below.