Dahlias might be the newest diabetes weapon.
Dahlias might be the newest diabetes weapon.
Three chemicals found in the petals of vibrant dahlias may help people with prediabetes or diabetes maintain their blood sugar levels, according to recent studies. These substances lessen brain inflammation, which enhances insulin performance.
The discovery may help millions of individuals throughout the world who lack access to pricey and frequently unavailable drugs to some degree of blood sugar management.
D. pinnata dahlias are more than just exquisitely symmetrical flowers. Three chemicals that were discovered in the petals of these flowers, according to a recent study, may help persons with prediabetes and type 2 diabetes better control their blood sugar levels.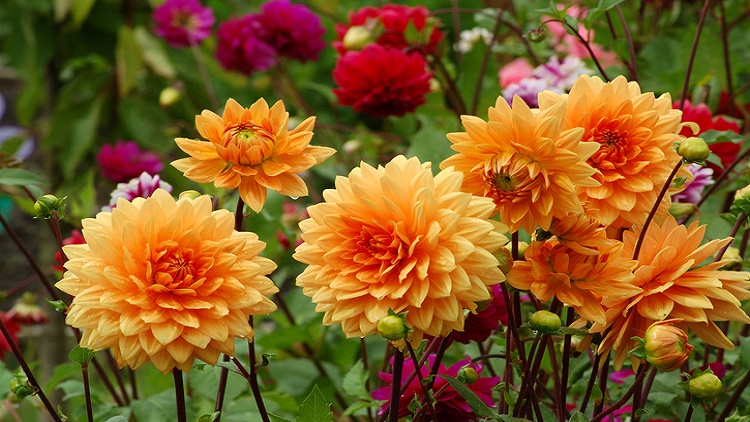 The researchers discovered that an extract containing the three dahlia compounds greatly enhanced the study participants' control of blood sugar during a randomised, controlled, cross-over clinical trial.
Researchers from the University of Otago in Aotearoa, which is the aboriginal name for New Zealand, found in 2015 that a dietary flavonoid called lutein may be able to lower brain inflammation. Also, it improves blood sugar levels in people who have trouble controlling their blood sugar levels.
The dahlia flower's petals are identified in the latest study as a source of butein and two additional compounds that increase its effectiveness.
The U.S. Centres for Disease Control (CDC) estimates that 37.3 million Americans have diabetes and 96 million Americans have prediabetes. The CDC believes that 8.5 million of them have not yet received a diagnosis. According to the World Health Organisation, diabetes affected 422 million people globally in 2014. Also, it directly contributed to 1.5 million deaths in 2019.
Uncontrolled diabetes can result in lower limb amputation, kidney failure, blindness, strokes, and heart attacks. Continuous blood sugar monitoring, lifestyle adjustments, and often taking insulin or medications that can aid with blood sugar control are required to prevent such results.
Treating diabetes with dahlias
The discovery that dahlias might contain the butein that his team had been looking for, according to study author Dr. Alexander Tups, was fairly accidental. He brought it up to a coworker over coffee. They then inquired, "Did you know that dahlias may contain that molecule?"
International dahlia experts were cultivating dahlias in the extreme south of New Zealand and were willing to offer the flowers. Thus, this was the beginning of a magnificent trip, according to Dr. Tups.
The group created a button-containing extract, which was successfully tested on mice. The other two compounds that might increase the impact of butein were then discovered in cooperation with a group of plant chemistry specialists.
In a preclinical context, the researchers discovered that all three molecules are necessary to maximise the blood sugar-lowering impact.
Additionally, we were able to demonstrate that the compounds' ability to suppress brain inflammation in mice. Also, their dependence on doing so for the glucose-lowering impact, said Alexander Tups, M.D.
Human trials revealed the extract was efficient and generated no observable negative effects.
The tablet form of Dahlia
Since then, the group has obtained a patent for their discovery, released their research, and launched Dahlia4, an extract for bettering blood sugar regulation. There is a tablet version of Dahlia4. The American Food and Drug Administration has not yet reviewed it.
Although various plant extracts have been identified and studied, Dr. Thomas Lutz, full professor of veterinary physiology at the University of Zurich, who was not involved in the study, observed that "the question is always about the availability, the efficacy, and potential toxicity."
The discovery made here has a lot of importance in these regards, according to Dr. Lutz. According to Dr. Tups, the dahlia molecules may be capable of more than just regulating blood sugar.
"We are now conducting a clinical trial in people with chronic fatigue syndrome or long COVID syndrome," he said. "It showed promise in helping to improve brain function."
Blood sugar regulation and brain inflammation
"We know that 'brain inflammation' is associated with many metabolic disorders, e.g., access to high energy/high fat food, obesity, type 2 diabetes," said Dr. Lutz.
"The reduction of brain inflammation has been shown to improve/restore the sensitivity to various hormones involved in the physiological control of metabolism. Particularly in insulin and leptin," the author added.
"This idea has been around for a while. The issue was how to approach it in a way that benefits the patients concerned", according to Dr. Lutz.
Why this finding is significant?
Dr. Lutz claims that "potentially, the discovery described here may be of benefit for a very large number of people."
He clarified that in addition to the newly developed dahlia extract, there were numerous other therapy options that were either recently approved or that were being studied in pre-clinical or clinical settings.
He stated: "Many of these are pharmacological approaches based on agonists of endogenous hormones." Adding, "Efficacy and safety is very good, [but] cost is high, and availability has been an issue."
"From a legal standpoint, we are not discussing drugs here; rather, we are discussing food additives. Their broad use may benefit from this," according to Dr. Lutz.
Dr. Tups stated that there are "literally millions" of people who could gain from promoting normal levels of insulin and blood sugar.
Therefore, the finding is crucial for all patients with metabolic diseases, particularly type 2 diabetes mellitus, but possibly also with other illnesses where brain inflammation is involved, according to Dr. Thomas Lutz.
REFERENCES:
For Diabetes medications that have been suggested by doctors worldwide are available here https://mygenericpharmacy.com/index.php?cPath=77_95