A large study links vitamin D to the severity of psoriasis.
A large study links vitamin D to the severity of psoriasis.
An inflammatory skin condition called psoriasis is characterized by elevated, irritated, scaly areas of skin that can also be unpleasant and itchy.
From person to person, psoriasis severity varies widely. According to recent studies, having more severe psoriasis may be linked to having low vitamin D levels.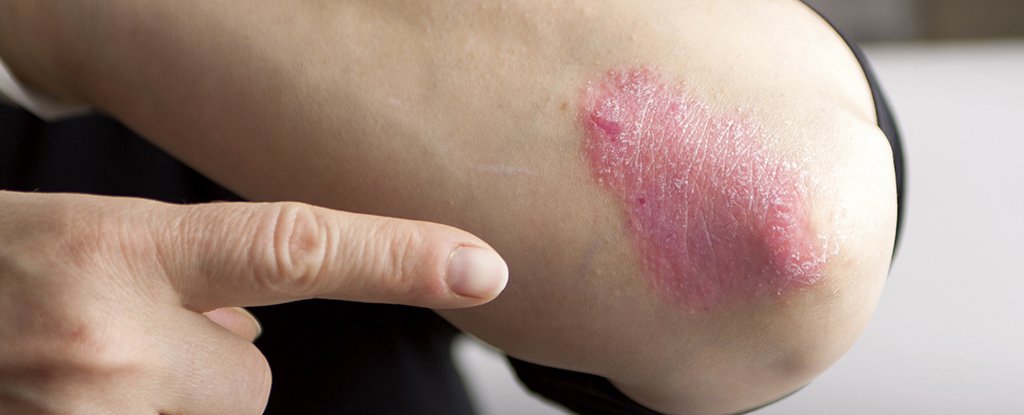 In the US, psoriasis is a disorder that affects more than 7.5 million people. Low vitamin D levels may be linked to more severe psoriasis, according to recent research from the Warren Alpert Medical School of Brown University.
Scientists believe that psoriasis is an autoimmune illness, which means that it results from the immune system mistakenly attacking your body instead of protecting it. The specific etiology of psoriasis is still unknown. In psoriasis, this immunological activity speeds up the production of new skin cells, which leads to the development of thick, scaly patches on the skin's surface.
Psoriasis symptoms can range from minor to severe. The National Psoriasis Foundation reports:
Less than 3% of the body is affected with moderate psoriasis.
3–10% of the body is affected by mild psoriasis.
More than 10% of the body is affected by severe psoriasis.
The connection between psoriasis and vitamin D
Experts enquired as to the biological relationship between vitamin D and psoriasis from Eunyoung Cho, ScD, research team head and associate professor of dermatology and epidemiology at Brown University.
Your skin's keratinocytes, which are cells, have vitamin D receptors. Currently, topical vitamin D analogs are used to treat psoriasis because they bind to vitamin D receptors on keratinocytes and stop their proliferation. These analogs replicate the effects of vitamin D. Dr. Eunyoung Cho explained that this multiplication causes the thick plaques that are typical of psoriasis.
Italian, Brazilian, and Nepalese researchers found that psoriasis patients have significantly lower serum levels of vitamin D, and that these levels are correlated with the severity of the condition.
Dr. Cho and her associates wanted to determine whether this association would hold true in a sizable, nationally representative US population because the majority of earlier investigations have been carried out outside of the US.
Vitamin D deficiency associated with more severe psoriasis
Data from the National Health and Nutrition Examination Survey (NHANES) were utilised by Dr. Cho's team to determine the number of psoriasis cases between 2003 and 2006 and between 2011 and 2014. Out of the 40,401 people that were evaluated, they discovered 491 cases, including 162 from 2003 to 2006 and 329 from 2011 to 2014.
The amount of vitamin D in the blood, the body surface area affected by psoriasis (a measurement of the severity of psoriasis on the body), and other details including age, gender, race, body mass index, and smoking habits were also recorded.
The researchers employed a mathematical technique known as "multivariate linear regression" to evaluate the connection between low vitamin D levels and the severity of psoriasis.
They discovered that the severity of psoriasis increased as blood levels of vitamin D declined. The mean serum vitamin D levels of those with the least amount of psoriasis-affected body surface area were highest (67 nmol/L), whereas those with the most amount of psoriasis-affected body surface area had the lowest levels (56 nmol/L).
When they separated the population into groups based on the body surface area affected by psoriasis and examined the proportion of individuals with vitamin D deficiency in each group, the researchers observed a similar trend. Vitamin D deficiency affected 39% of the group with the most severe psoriasis compared to 25% of the group with the least severe psoriasis.
The new study adds to our understanding of psoriasis.
Lim was reported in a press release as saying, "Only one prior study, published in 2013, used NHANES data to analyse the relationship between vitamin D and psoriasis." Our results are more current and statistically significant than those obtained from previously accessible data because we were able to include more recent data, which more than tripled the number of psoriasis cases analysed.
The University of California, San Francisco's Dr. Tina Bhutani, an associate professor of dermatology, co-director of the Psoriasis and Skin Treatment Centre, and head of the dermatology clinical research unit, noted that these findings are not new because "similar associations have been reported in the past."
Nevertheless, "the advantage of NHANES is that it is likely to be more representative of the US population vs. other prior studies," Dr. Bhutani noted.
The University of Pennsylvania Perelman School of Medicine's James J. Leyden Professor of Dermatology and Epidemiology, Dr. Joel M. Gelfand, stated that the study "shows a modest association between vitamin D levels and psoriasis severity" but cautioned that it cannot be used to establish a causal relationship.
According to this study, "We cannot say whether slightly lower vitamin D levels cause more severe psoriasis or whether slightly higher vitamin D levels cause less severe psoriasis," stated Dr. Gelfand.
What does this signify for those who have psoriasis?
Dr. Cho stated that even though "topical vitamin D analogs are already used to treat psoriasis, further research, such as large randomized clinical trials of oral vitamin D supplementation, is warranted before any firm medical recommendations are made on the use of oral vitamin D supplementation among psoriasis patients."
Despite this, Dr. Cho advised that persons with psoriasis and vitamin D insufficiency "discuss this with their clinicians and treat the deficiency."
Despite the correlation between vitamin D levels and the severity of psoriasis revealed by these data, Dr. Bhutani concurred that "we do not have enough information here to recommend the use of vitamin D supplementation in our psoriasis patients."
Dr. Gelfand further stated that monitoring or augmenting vitamin D levels in psoriasis patients to treat or prevent psoriatic illness is not currently supported by sufficient levels or quality of data.
Drs. Bhutani and Gelfand both emphasised in their remarks that there have been conflicting outcomes from earlier research testing vitamin D supplementation for psoriasis.
According to Dr. Gelfand, a clinical trial that was conducted in 2022 "showed some evidence that vitamin D supplementation may marginally prevent the development of autoimmune diseases, with some evidence, though not statistically significant, that this includes prevention of psoriasis."
However, a clinical trial that was released in 2023 revealed that vitamin D supplementation had no impact on the severity of psoriasis.
"A cautionary tale is the experience of vitamin D and prevention of cancer and cardiovascular disease – after many years of intense investigation, large RCTs involving >25,000 patients showed no benefit of Vitamin D supplementation for preventing these major health outcomes," noted Dr. Gelfand.
REFERENCES:
For Skin disease medications that have been suggested by doctors worldwide are available here https://mygenericpharmacy.com/index.php?therapy=27