long time beta-blockers use doesn't enhance heart health.
long time beta-blockers use doesn't enhance heart health.
Following a heart attack, beta-blockers are frequently prescribed to patients to treat high blood pressure and heart conditions.
According to a recent study, taking drugs over the long term after a heart attack doesn't seem to benefit cardiovascular health.
The observational study, according to experts, offers useful data, but they also point out that beta-blockers continue to be helpful for a large number of people.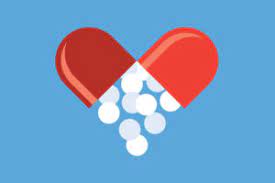 Research in the journal Heart found no evidence that long-term beta-blocker use improved cardiovascular health or decreased the risk of further heart attacks.
Researchers looked at the medical records of persons who had a heart attack between 2005 and 2016 and required hospital treatment using the Swedish national registry for coronary heart disease.
Records from 43,618 persons, with an average age of 64, were included in the study. There were about 1 in 4 women. None of them had left ventricular systolic dysfunction or cardiac failure.
One year after being hospitalized for a heart attack, of the participants, 34,253 (78%) were using beta-blockers, whereas 9,365 (22%) were not.
For an average of 4.5 years following their hospitalisation, the researchers followed up with the participants.
Researchers evaluated the two groups in terms of:
Death rates from all causes
Additional heart attacks
Getting re-vascularized, a procedure to bring back blood flow to certain areas of the heart
Heart attack
2,028 (22%) and 6,475 (19%) of the beta-blocker users had one of these occurrences during the observation period.
There was no noticeable difference in the rates between the two groups, according to the researchers, who took demographic factors and pertinent co-morbid disorders into account.
According to real-time data, the use of long-term beta-blockers after a heart attack in persons without heart failure or left ventricular systolic dysfunction was not linked to better cardiovascular outcomes.
Physician response to beta-blocker research
The interventional cardiologist at MemorialCare Heart & Vascular Institute at Orange Coast Medical Centre in California, Dr. Hoang Nguyen, recommended beta blockers for patients with left ventricular dysfunction since they had a demonstrable mortality benefit.
According to him, beta blockers are a lifetime in this patient population. "Beta blockers are necessary for patients with a history of coronary artery disease who are not candidates for bypass surgery or stents to lower angina symptoms and hospitalizations for this symptom. I might try to wean them off of beta blockers, especially if they have serious adverse effects if they have undergone revascularization (either with stents or bypass surgery) or have normally left ventricle function."
This study has prompted some doctors to reconsider their methods, but not all of them are presently prepared to do so.
According to Dr. Devin Kehl, a non-invasive cardiologist at Providence Saint John's Health Centre in California, "this study suggests that a long-term continuation of beta-blockers following myocardial infarction may not be of significant benefit in patients without any of those factors and with normal cardiac function." However, because it was an observational study, the results might have been impacted by unrecognized confounders.
To be more clear about whether beta-blockers should be continued or stopped after one year following myocardial infarction, randomized trials are required, according to Kehl, who spoke to us. "Caution is needed in interpreting the results of this type of analysis and applying this clinical practice," Kehl said.
In conclusion, it is still necessary for a patient's cardiologist to exercise careful clinical judgement when deciding how long beta-blocker therapy should be administered after myocardial infarction.
Beta-blockers
Beta-blockers are used to treat high blood pressure and heart conditions.
They accomplish this by preventing the negative effects that stress hormones have on the heart and can lower heart rate. They are also beneficial for migraines.
Beta-blockers are typically regarded as secure and efficient. However, there are some adverse effects, such as:
Fatigue
easily running out of breath
Unsteadiness or faintness
Nguyen notes that side effects of the drugs include memory loss and impaired sexual function.
"Perhaps we should try to wean patients off beta blockers if a beta blocker is not needed after one year, especially if the patient's heart function is normal," Nguyen suggested.
Some people might not be able to take them or might quit taking them because of the negative effects.
The use of beta-blockers
After the first year of treatment, Miller typically stops prescribing beta-blockers to heart attack survivors with intact cardiac function.
They are only kept on the drug if there is another condition, like hypertension, that calls for it.
Those with heart failure, irregular cardiac rhythm, hypertension, and recurring palpitations that happen without a known trigger (like caffeine), are candidates who can benefit from beta-blockers.
"The patient should always discuss with their physician whether or not a beta-blocker is a suitable treatment and/or should be discontinued," he said.
Reduce the dosage gradually rather than stopping the drug all at once if a patient decides to stop taking it.
Considering the future
Medication observation studies examine participants' responses to a drug or treatment without changing their circumstances.
Observational studies are not regarded by medical practitioners as being as reliable as randomised, controlled trials. However, when prescribing medications, they provide important information for doctors and other medical professionals.
"Beta-blockers have long been and will continue to remain a cornerstone medical therapy following a myocardial infarction as they have been clearly demonstrated to reduce the risk of recurrent events and death," said Kehl. However, clinical trials have not examined the benefit of beta-blockers in patients with normal cardiac function beyond three years after a myocardial infarction, and their benefit is strongest in the early period post-myocardial infarction, according to the study.
Additionally, patients with and without cardiac dysfunction were included in a mixed cohort in clinical trials looking at the benefits of beta-blockers, the author continued. "It is unclear if long-term use of beta-blockers after myocardial infarction benefits people with normal cardiac function. Due to a lack of data from clinical research, the American College of Cardiology guidelines do not directly address the issue. Currently, a long-term continuation of beta-blockers depends on carefully examining the patient's cardiac history and determining whether there are any other distinct indications for using beta-blockers, such as arrhythmias, angina, cardiac dysfunction, heart failure, or hypertension."
REFERENCES:
For Heart disease medications that have been suggested by doctors worldwide are available here https://mygenericpharmacy.com/index.php?cPath=77_99