Can protein predict mental decline before Alzhiemer's sign?
A protein called NPTX2 that is present in the cerebrospinal fluid may be able to forecast the onset of memory and cognitive issues, according to recent research.
Researchers evaluated people who had initially been in normal mental health but later experienced dementia or mild cognitive impairment (MCI).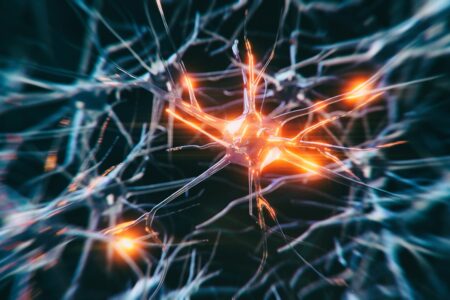 According to the study, the quicker start of MCI symptoms was linked to lower levels of NPTX2. The results also demonstrated that NPTX2 levels, like other Alzheimer's disease-related indicators, appear to fluctuate over time.
Findings from a recent study could be useful for understanding cognitive decline and early Alzheimer's disease diagnosis.
The levels of a protein called NPTX2 in cerebrospinal fluid (CSF), or more simply put, the fluid surrounding the brain, were evaluated by the researchers in order to better understand the brain changes connected to moderate cognitive impairment and dementia.
Lower levels of NPTX2 were discovered to be associated with a more rapid beginning of cognitive deterioration. Along with other Alzheimer's disease-related indicators, NPTX2 levels evolved with time.
Alzheimer's disease indicators in cerebrospinal fluid measurement
The 269 participants in the BIOCARD Study who were initially in good mental health had their brain fluid (CSF) taken by the research team.
These patients were followed for an average of 16.3 years, and their average age at the start of the study was roughly 57.7 years.
Out of these people, 77 subsequently experienced dementia or Moderate cognitive impairment (MCI).
Quantitative parallel reaction monitoring mass spectrometry was used by the researchers to evaluate three similar peptides that make up the NPTX2 protein.
Three other markers—A42/A40, p-tau181, and t-tau—that are frequently linked to Alzheimer's disease were also measured. These measurements were made using a Lumipulse automated electrochemiluminescence test on the identical CSF samples.
The goal of this data analysis was to help the researchers better understand how these indicators changed over time and whether they might be related to the onset of MCI and dementia in the patients under study.
NPTX2 levels and cognitive issues over time
They discovered that people with lower NPTX2 protein levels in their brain fluid (CSF) exhibited cognitive issues and memory deterioration (MCI) earlier than people with higher NPTX2 protein levels.
Both those who acquired MCI within seven years of the study's beginning and those who did so later found this link to be substantial.
Even after accounting for other well-known Alzheimer's disease markers detected in the CSF, the researchers observed that the baseline levels of NPTX2 were able to predict when the symptoms of MCI would manifest.
This implies that the amounts of these markers may be associated with modifications in NPTX2 and may contribute to the emergence of cognitive issues.
According to the study's first author, Anja Soldan, Ph.D., an associate professor of neurology at Johns Hopkins University, "our study shows that low levels of the protein 'neuropentraxin 2' (or NPTX2) measured in the cerebrospinal fluid among cognitively healthy middle-aged and older adults may predict later onset of mild cognitive impairment (MCI)."
"[NPTX2] has been connected to learning and memory in mice in the past. Our findings add to the mounting evidence that low levels of this protein in individuals could signal MCI years before symptoms manifest. Notably, our results demonstrate that low levels of the protein enhance the prediction of cognitive impairment even when traditional Alzheimer's disease biomarkers (such as those linked to amyloid plaques and tau tangles) and well-established genetic risk factors for late-onset Alzheimer's disease are taken into account," according to Dr. Anja Soldan.
According to Dr. Soldan, NPTX2 is "predictive of subsequent symptoms of MCI both within and beyond seven years before symptoms occurred."
Limitations
The study does have a few drawbacks.
Namely that the majority of the participants were white, educated people with a history of dementia in their families. Therefore, it is uncertain whether the results apply to other populations, according to Dr. Soldan.
Without taking part in the study, Santosh Kesari, Ph.D., a neurologist at Providence Saint John's Health Centre in Santa Monica, California, and the regional medical director for the Research Clinical Institute of Providence Southern California, told that "identifying blood or CSF biomarkers that predict developing dementia is critical to intervene earlier by preventative approaches or treat at the earliest onset of cognitive issues or even before when patients are aware they have dementia."
Could this indicate new Alzheimer's medications?
There is now just one FDA-approved treatment on the market that is known to even slightly reduce the signs of Alzheimer's disease in its early stages, and there are no known therapies or strategies to avoid the disease, according to Dr. Soldan.
Our research demonstrates that reduced NPTX2 levels exist for many years before MCI or dementia brought on by Alzheimer's disease, which increases the prospect of creating therapies that specifically target NPTX2.
Additionally, Dr. Soldan added, "Our findings may be relevant to other neurodegenerative diseases since this protein does not appear to be a specific marker for Alzheimer's disease."
Although significant work is being done to create sensitive methods of testing NPTX2 in blood rather than cerebrospinal fluid, we are not yet able to routinely measure brain levels of the substance in clinic settings. Another crucial area of research, according to Dr. Anja Soldan, is the factors that affect the levels of NPTX2 in the brain. However, we know very little about these factors.
Dr. Kesari concurred, stating that "NPTX2 may turn out to be a good target of drug development to prevent cognitive decline and will need to be further tested and validated in future studies."
Future research will examine NPTX2 in more detail. In the end, additional study is required.
REFERENCES:
For Alzheimer's disease medications that have been suggested by doctors worldwide are available here https://mygenericpharmacy.com/index.php?cPath=77_239