The natural peptide could help tackle obesity and diabetes.
Smaller versions of proteins known as peptides can serve a variety of functions. This includes the potential to lessen the effects of ageing, reduce inflammation, or stimulate the creation of new muscle.
In 2015, scientists made the discovery of a kind of peptide known as PEPITEM and recognized its role in the adiponectin-PEPITEM pathway. It controls the onset and severity of autoimmune or chronic inflammatory disorders.
The potential for this peptide to provide a game-changing treatment for numerous diseases has just been discovered by new study in animal models.
The study suggests that the peptide may reduce the risk of type 2 diabetes and. Other illnesses are connected to obesity, like fatty liver disease.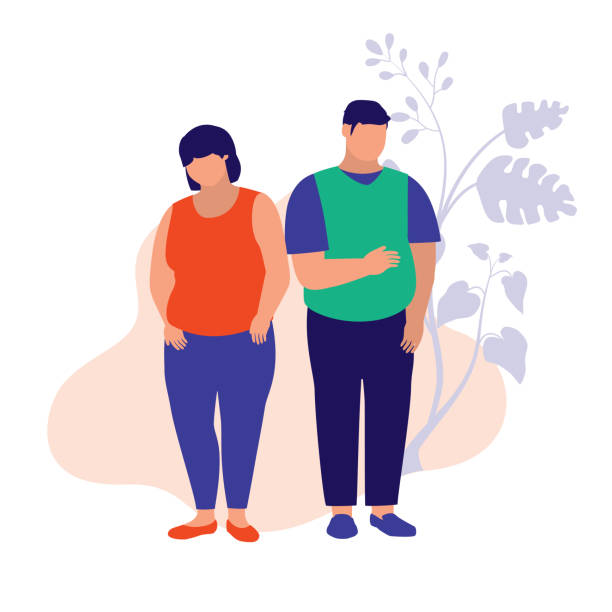 Obesity alters the metabolism of adipose (fat) tissue significantly, damages the pancreas, reduces insulin sensitivity, and finally results in hyperglycemia (high blood sugar), which is the primary cause of type 2 diabetes.
It also causes a low-grade inflammatory response throughout the body. This encourages the infiltration of white blood cells into a variety of tissues, including visceral adipose tissue. It is a deep-lying fat deposit that surrounds organs like the liver and gut, as well as the peritoneal cavity, a thin membrane that encloses the gut.
According to a recent study, the adiponectin-PEPITEM pathway connects obesity, the related low-grade inflammatory response, and changes in the pancreas that take place before the onset of diabetes. The study was published in Clinical and Experimental Immunology.
To see if the effects of a high-fat diet on the pancreas could be avoided or even reversed, the researchers used a mouse model of obesity and a slow-release pump to inject the peptide PEPITEM.
When PEPITEM was given to mice on a high-fat diet, the researchers discovered that this significantly decreased the size of the insulin-producing cells in the pancreas. Also, the quantity of white blood cells in the visceral adipose tissue and peritoneal cavity as compared to the control group.
Small protein impacts some effects of obesity
The adiponectin-PEPITEM pathway, which is important in regulating the onset and severity of auto-immune and chronic inflammatory illnesses, is where the peptide employed in this study plays a part.
Obesity can have a variety of negative impacts on the body. This includes altering the metabolism of adipose tissue (fat), harming the pancreas, decreasing insulin sensitivity, etc. Ultimately causing the high glucose levels associated with type 2 diabetes.
But, it also triggers a low-grade inflammatory response, causing white blood cells to flow into visceral adipose tissue, which surrounds organs like the liver and gut, as well as into the area of the abdomen that houses the intestines, stomach, and liver (peritoneal cavity).
In the latest research, which was released on March 9 in the journal Clinical and Experimental Immunology, mice were administered PEPITEM in addition to a high-fat diet.
The size of the pancreatic beta cells that produce insulin was reduced in mice who received the peptide as compared to those who did not. Also, they noticed a reduction in the quantity of white blood cells in the peritoneal cavity and visceral adipose tissue.
"Our results show us that PEPITEM can both prevent and reverse the impact that obesity has on metabolism," study author Asif Iqbal, PhD, an associate professor at the University of Birmingham's Centre of Cardiovascular Sciences, said in the release.
The next step, he continued, is to transform these promising findings into human-useable treatments.
Reversing obesity
Dr. Christoph Buettner, an endocrinologist and professor of medicine at the Rutgers Robert Wood Johnson Medical School in New Brunswick, New Jersey, told Healthline that experts have known for many years that obesity and diabetes are connected with elevated inflammation.
In contrast, "although in mice various medications that particularly lower inflammation have demonstrated to also reduce obesity and diabetes, in humans—where obesity is also typically related with inflammation—the facts are much less clear," he noted.
The current study's findings imply that PEPITEM may be effective in lowering some of the negative consequences of obesity, including the growth of insulin-producing beta cells and the accumulation of white blood cells in particular regions.
Yet, mice given PEPITEM still put on weight when given a high-fat diet. The researchers added that there was "no effect" on fasting glucose tolerance or insulin resistance, both of which are impacted in type 2 diabetics.
"To me, that suggests that this is an anti-inflammatory treatment that is unlikely to have a meaningful effect on either obesity or high blood sugar," said Buettner.
Aiding in type 2 diabetes prevention
This could "potentially be a useful additional tool for patients regarding the prevention or treatment of type 2 diabetes, especially as related to the decrease in enlargement of the beta cells," according to Nicole Anziani, a registered dietitian, certified diabetes care and education specialist, and senior clinical manager for Cecelia Health who was not involved in the study.
For the purpose of examining PEPITEM's effects on obesity, Anziani noted that the mice used in the study were fed a high-fat diet either before or during the administration of PEPITEM.
Anziani emphasised that it's crucial to recognise that obesity has a complex aetiology, which means it can be brought on by a variety of variables and isn't always related to a high-fat diet. Moreover, Anziani emphasised that obesity was "more than just a biological phenomenon."
Discovering the root of obesity
While it's great that there are more options for patients to help with the biochemical aspects of obesity and preventing systemic inflammation, especially when there may already be pancreatic damage present, Anziani told us that it's also crucial to acknowledge the behavioural and social aspects related to the development of obesity and other related ailments.
To properly understand these pathways, she continued, "additional research into the relationship between inflammation and obesity is still needed." "Although this therapeutic strategy is being examined to get to the underlying cause of obesity-related disorders," she noted.
While stating that "additional studies would be required," Dr. Bosa-Osario concurred and said that "the findings appear encouraging."
PEPITEM might be a useful treatment target for additional causes, he added. "While the body can make a bioprotein comparable to PEPITEM, it can be made in a lab and administered to patients. He remarked, "That's exciting.
Currently authorised effective weight loss medications
Several medications have previously been approved to treat obesity, but more research is required to determine whether PEPITEM will be useful in the management of illnesses linked to obesity, such as type 2 diabetes.
This contains semaglutide, a type of medication known as a GLP-1 agonist (brand names Ozempic, Wegovy, and Rybelsus). Those who took semaglutide in clinical trials saw weight loss and a decrease in inflammation. In one trial, participants lost up to 14.9% of their starting weight.
Yet according to Buettner, "it does not imply that [these drugs] function by reducing inflammation" because they aren't often thought of as anti-inflammatory medications. As an alternative, "they function in the brain to decrease appetite and balance the autonomic nerve system," he said.
Some medications also have side effects, including nausea, diarrhoea, vomiting, and stomach pain. Buettner is therefore concerned about whether people will be able to handle these medications over the long term, which may be necessary to assist people in maintaining a healthy weight throughout their lives.
That's why other medications to treat obesity are still needed, he added, including ones that function through different mechanisms than GLP-1 agonists and don't have the adverse effects of those treatments.
According to Buettner, "for now, the tolerance for the adverse effects is still high, but with time, patients may become dissatisfied with the [lower enjoyment of eating food]."
REFERENCES:
For more details, kindly visit below.