Is Tadasiva a cure for Erectile Dysfunction?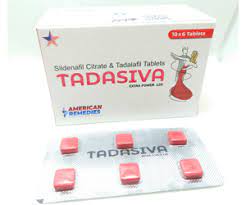 Tadasiva is a medical drug that belongs to a class of medication called PDE-5 hormone inhibitors. Tadasiva is a combination of two medicines namely tadalafil and sildenafil. This medicine is generally used to treat erectile dysfunction in men. It is a temporary treatment for men dealing with erection problems.
How to use?
Tadasiva is available to us in a form of pill that must be taken by mouth as per an individual's requirement. The dosage is based on your medical condition, and other medicine that you may be taking along with Tadasiva. Do not increase the dosage or take it more often than prescribed. Contact your doctor in case of any confusion or exception associated with medication.
Side effects
Side effects associated with tadasiva intake includes Headache, Diarrhea, Nausea, Itching, Tremors, blurred vision, chest pain, dizziness, vomiting, stomach pain, rashes, palpitation, etc.
Safety
Tadasiva is a unique and only one of its kind medicine that is not necessarily safe. An individual must make sure to inform the doctor regarding allergies to any of the tadasiva ingredients as an allergic individual might have to deal with some complicated allergic side effects.
Precaution
There are several precautions necessary to be taken before using tadasiva. An individual must make sure to inform the doctor regarding medical conditions such as nerve disease, heart disease, diabetes, etc, to the doctor before using tadasiva. Also, one must avoid using grape juice, alcohol, narcotic, when medicating with tadasiva.
Tme to work
Tadasiva is a kind of medicine that does not work instantly. The medicine might take 30-60 minutes before causing a strong erection. Also, erection after ejaculation is based on an individual's physical and mental health.
Drug Interactions of Tadasiva
Tell your doctor of all nonprescription and prescription medication you may use, especially of nitrate medications (nitroglycerin, isosorbide dinitrate), nitroprusside (any nitric oxide donor medicines), cimetidine, erythromycin, azole antifungals (itraconazole, ketoconazole), mibefradil, rifamycins (rifampin), high blood pressure medicines, certain HIV protease inhibitors (saquinavir, ritonavir, amprenavir), delavirdine, etc. Do not start or stop any medicine without doctor or pharmacist approval.
REFERENCES:
For more details, kindly visit below.