Treat and prevent bacterial infections with Oregano.
Oregano
What is Oregano and its use?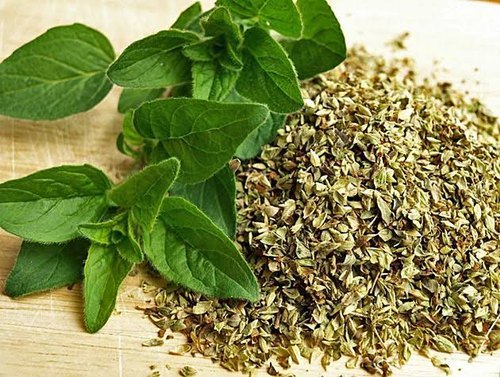 Oregano, botanically known as Origanum Vulgare, is a natural herb that belongs to the mint or Lamiaceae family. The name is derived from the Greek words 'oros' meaning mountain, and 'ganos' meaning joy. Oregano has green leaves and purple flowers. It consists of fresh and dried leaves of oregano which is closely related to several other herbs such as basil, marjoram, basil, etc. There are many different types of oregano based on the variety in their flavor and region in which they are found. Some of the varieties of Oregano includes:
Marjoram
Golden Oregano
Italian Oregano
Mexican Oregano
Ornamental Oregano
Mexican Bush Oregano
Cuban Oregano
Greek Oregano
Syrian Oregano and several others.
Out of all the different types of oregano available in nature, Greek Oregano or Origanum Vulgare is the most popular and widely used.
Oregano is considered as a major herb in a number of dishes and cuisines around the world. Its feature of warmth and sweetness in the dish along with strong flavor, shows its vast demand and applications in foodie peoples worldwide. 
Medical Applications
It can be used as a fresh, dried or oil form, where all contain some important medical application for a human body. Although there is no proper scientific evidences, oregano is expected to treat certain medical conditions in all os its types such as:
viruses
indigestion
cough
ailments
wounds
respiration
menstruation and many more.
How does oregano work in the body?
Oregano consist of certain antibacterial and phytonutrients that fight and kill several infections such as Staph. It helps to prevent cells from damage caused by free radicals through its antioxidant and antiinflammatory properties.
Benefits of Oregano in a human body
In addition to its several features associated with flavoring and aromatic properties in a number of dishes, oregano consist of several important health benefits in a human body when taken in any form that includes:
consist of good antibacterial agents
might help to decrease inflammation
could provide anti-cancer properties
rich antioxidant source
helps to prevent viral infections
could prevent heart disease
beneficial flavoring substance
acts as an antibiotic
might help to lower cholesterol
might improve gut health
Due to lack of data regarding full potential benefits of oregano in a human body, there might be several other benefits apart from those mentioned above. Also, these benefits is obtained due to several residing vitamins and minerals in oregano such as:
Oregano Dose for Humans
Oregano is not a kind of substance that a human body needs daily to perform certain tasks which could only be pulled out by it. People generally used oregano as a flavoring agent or sometimes to treat several medical conditions or gain several medical properties.
There is no clinical evidence that specifically supports the oral dosing of oregano in a human body. It is Generally advisable to consult a doctor or a health professional and follow their prescription if you are taking an additional oregano supplement for any reason. Generally natural substances are considered safe but must be consumed under certain provisions as their safety is not an absolution.
Overview
Oregano is a naturally occurring plant that belongs to the Lamiaceae family.
Out of many different types of oregano, Greek Oregano or Origanum Vulgare is the most popular and widely used.
It could be used in different forms as a flavoring agent as well as a medical agent to treat several medical conditions.
There are many medical benefits inside oregano for the human body. Such benefits are obtained due to several residing minerals and vitamins in it.
REFERENCES:
For more details, kindly visit below.