Importance of Intense exercise for Parkinson's symptoms.
According to a recent study, vigorous exercise may help reduce the progression of Parkinson's disease.
Nearly 90,000 people in the United States receive a new diagnosis of Parkinson's disease each year. The second most prevalent neurological disease worldwide is Parkinson's.
Recent findings from an international team of researchers suggest that a vigorous exercise regimen may possibly halt the progression of Parkinson's disease, opening the door for non-pharmaceutical methods of relieving symptoms and treating the condition.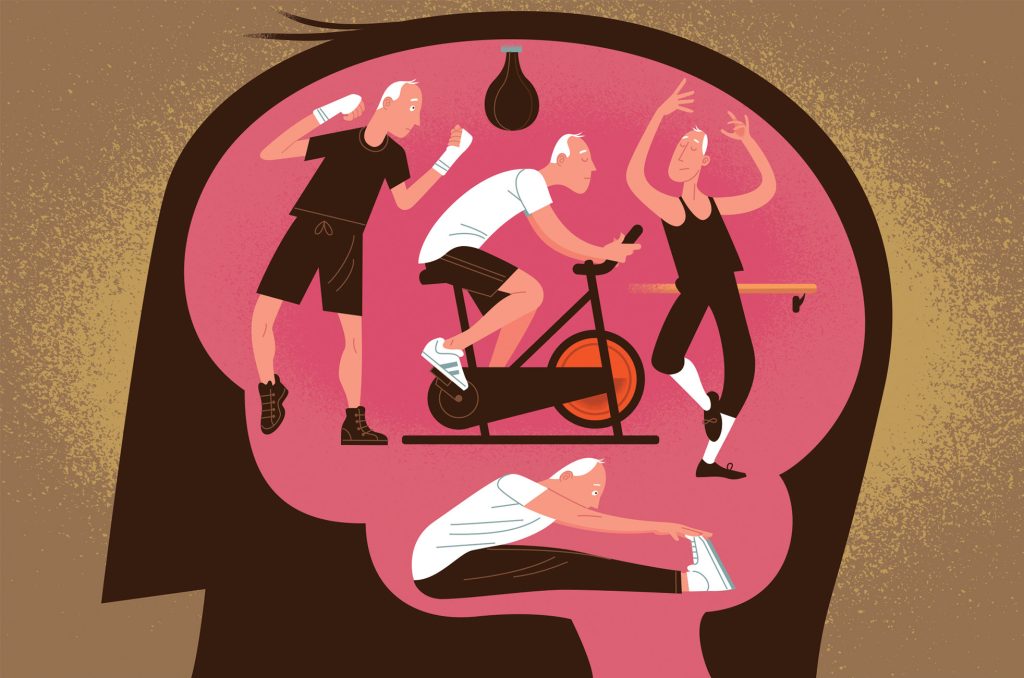 According to the Parkinson's Foundation, almost 90,000 people in the United States receive a new diagnosis of Parkinson's disease each year. Right now, there is no remedy.
Clinical researchers from all over the world are working to manage symptoms and better understand how to do so in addition to trying to find a cure.
Parkinson's disease, which has been afflicting people for many years, is the second most prevalent neurological ailment in the world after Alzheimer's disease.
However, because many of the symptoms appear years after the damage begins, it can be challenging to understand this disorder in its early stages.
This rat study looked at whether strenuous exercise could alter the brain abnormalities shown in a Parkinson's disease experiment.
Physical activity and Parkinson's
Data showing that vigorous exercise reduces both the motor and cognitive symptoms connected with Parkinson's disease were published on July 14 in the journal Science Advances by a team of neuroscientists from the Faculty of Medicine of the Catholic University, Rome Campus with the A. Gemelli IRCCS Polyclinic Foundation.
They have gained a better understanding of how this works thanks to their research.
As a neurologist treating Parkinson's disease patients in the early stages, Paolo Calabresi, Full Professor of Neurology in the Department of Neuroscience at Catholic University of the Sacred Heart in Rome, Italy, said: "I noticed that some of them had a better course of the disease when they were routinely actively doing aerobic exercise."
How is exercising beneficial?
Exercise, according to experts, is essential to sustaining a healthy lifestyle in general. They also think it can lessen some of the more noticeable symptoms of some illnesses, like Parkinson's.
Tremors, a shuffling stride, and general slowness of physical movement are some of the early signs of Parkinson's disease. Harvard Health Letter claims that one of the best methods to treat the illness is through exercise.
How does it assist?
It has been demonstrated that physical activity increases the production of neurotrophic factors including brain-derived neurotrophic factor (BDNF). These elements are essential for the development, maintenance, and survival of neurons. These are essential for the development of new neurons, the preservation of existing neurons, and the improvement of synaptic connections, according to Jennifer Prescott, RN, MSN, CDP, the study's lead author.
Exercise has been demonstrated to enhance mitochondrial function and encourage mitochondrial biogenesis. For the generation of energy and overall brain health, healthy mitochondria are essential, according to Prescott.
Dr. Daniel Truong, a neurologist and the medical director of The Parkinson's and Movement Disorder Institute at MemorialCare Orange Coast Medical Centre in California, claims that there are more ways exercise benefits people with Parkinson's disease.
For us, Truong provided the following examples:
Reduced Alpha-Synuclein Aggregates: The spread of pathogenic alpha-synuclein aggregates in the brain is inhibited by intense exercise. These aggregates, which are a defining feature of Parkinson's disease, cause neuronal malfunction and death.
Exercise May Help Preserve Motor Control and Visuospatial Learning: According to research, Parkinson's disease frequently results in a decline in motor control and visuospatial learning because of the degradation of particular brain regions (the substantia nigra pars compacta and the striatum).
The study found that the neurotransmitter glutamate, which is important in learning and memory, interacts with the NMDA receptor for BDNF, whose levels rise with exercise. Through this interaction, neurons in the striatum can react to stimuli more quickly, which offers advantages that go beyond exercise practice.
Exercise has been shown to have anti-inflammatory effects, which may help treat Parkinson's disease.
Which workouts are most beneficial for Parkinson's disease
Dr. Andrew Feigin, the executive director of the Marlene and Paolo Fresco Institute for Parkinson's and Movement Disorders at NYU Langone Health in New York stated that regular exercise helps maintain motor function in [Parkinson's] patients and may reduce the advancement of the disease.
"We frequently advise all of our Parkinson's patients to engage in regular exercise. However, we do urge activity," Feigin said. "Of course, patients have varying capacities for exercise depending on a variety of things, including the severity of Parkinson's.
"In the past, exercise advice might have been ambiguous, such as 'taking a walk occasionally. With a better understanding of the advantages of exercise, we are offering more specific advice: this study and others that came before it emphasizes the need for high-intensity exercise, with earlier research suggesting that this intensity should achieve 80 to 85 percent of maximum heart rate for 30 minutes, three to four times per week.
Power walking, swimming, water aerobics, exercise cycles, and other activities with little to no impact but high intensity are frequently recommended to patients, said Petrossian. Additionally, in line with earlier studies, we suggested strength training twice a week using progressive resistance exercises with heavier weights or repetitions. Additionally, we offer our patients advice on stretching, balance training, core strengthening, and skill-based exercises like Pilates, yoga, dance, boxing, and ping pong.
"Exercise can help reduce the symptoms of [Parkinson's] in the short term, improve energy, lengthen strides and balance, prevent falls, improve sleep and mood, and improve cognition," she added. In addition to the recent study indicating decreased alpha-synuclein propagation, BDNF release is neuroprotective. Through angiogenesis, exercise can also increase cerebral blood flow.
In advanced Parkinson's disease, exercise can help
The researchers examined exercise in the new trial and found distinct and significant advantages when the disease was in its early stages.
According to experts, exercise may also be advantageous later on and have other goals.
"In the later stages of Parkinson's disease, the primary benefits of exercise could potentially shift towards the maintenance of mobility, strength, balance, and flexibility, as well as improvement in quality of life," added Truong. "As we all know, exercise can help control symptoms like constipation and can also enhance mood and sleep. Falls are less likely when you exercise your balance.
Truong stated that it's crucial to keep in mind that patients with Parkinson's disease in its latter stages frequently experience more severe symptoms and may have additional medical problems. "Therefore, any exercise programme must be carefully designed to ensure safety and effectiveness for the individual's specific condition and needs."
Summary
Intense exercise may help people with Parkinson's disease lessen their symptoms, according to a recent study. Exercise preserved the aggregates that cause Parkinson's disease and prevented their spread, according to research done on rats. They discovered that exercise reduced the symptoms and slowed the disease's progress as a result.
REFERENCES:
For Parkinson's disease medications that have been suggested by doctors worldwide are available here https://mygenericpharmacy.com/index.php?therapy=64