Aspects of Kidney infection(Pyelonephritis) and its remedy.
Aspects of Kidney infection(Pyelonephritis) and its remedy.
An unexpected and serious kidney infection is known as acute pyelonephritis. The swelling it produces to the kidneys could result in long-term harm. Pyelonephritis poses a serious risk to life. The illness is referred to as chronic pyelonephritis when attacks happen frequently or persistently. Although the chronic form is uncommon, it tends to affect kids or persons who have urinary blockages more frequently.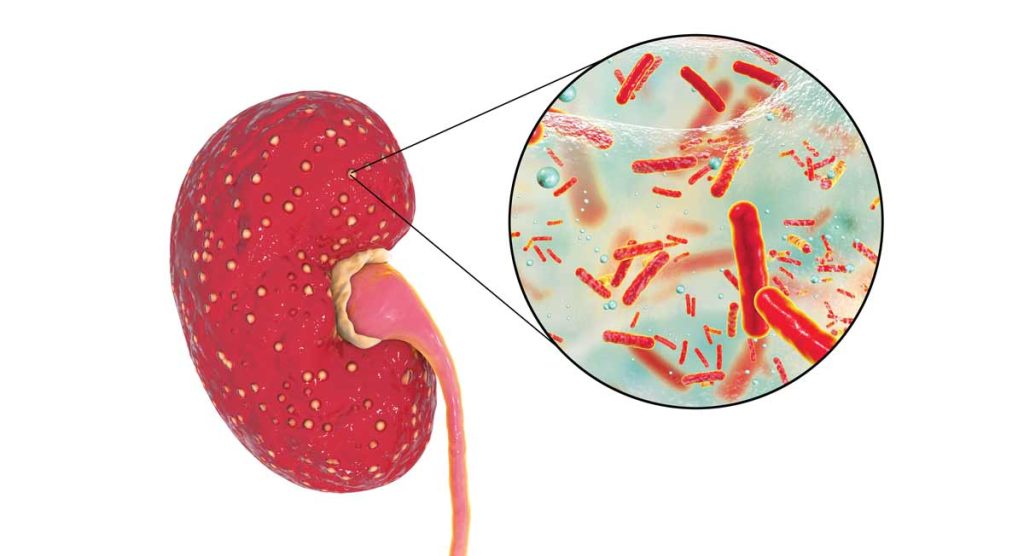 The lower urinary system, particularly the bladder (cystitis), the prostate (prostatitis), or the upper tract and kidney can all be infected (pyelonephritis). Typically, it is a bacterial illness. In the United States, three to seven people out of every 10,000 are affected by the condition. About 2 percent of pregnant women experience it. If caught early, it is easily curable.
Ninety percent of kidney infections are brought on by a bacteria known as Escherichia coli (E Coli). The germs move up the tubes (ureters) that connect the bladder to the kidneys from the genital area through the urethra, which is the tube that drains urine from the body. Some bacteria can enter the kidneys through the bloodstream, such as staphylococcus infections.
Symptoms of Pyelonephritis
In most cases, symptoms start to show two days after infection. Typical signs include:
a temperature of 102°F (38.9°C) or higher
abdominal, back, side, or groyne pain
scorching or uncomfortable urinating
murky urine
pee with pus or blood in it
frequent or hurried urinating
urine that smells fishy
Additional signs can include:
chills or trembling
overall ache or discomfort
fatigue
damp skin
Children and older individuals may experience distinct symptoms than other people do. For instance, mental confusion is a frequent symptom in older persons and is frequently the only one. People who have chronic pyelonephritis may only have minor symptoms or possibly no discernible symptoms at all.
Causes of kidney infections
Normally, the passage of urine flushes out bacteria. A kidney infection can, however, be made more likely by a number of issues. These issues could involve:
obstruction of urine flow due to structural anomalies (strictures, stents, stones, surgery).
a urethra that is being compressed by a benign prostatic hyperplasia, or enlarged prostate.
Urine recirculation (reflux) from the bladder to the kidneys.
if you experience immune system issues (low white blood cell count, use of certain medications, HIV, cancer, an organ transplant).
pregnancy, when the growing uterus might constrict the ureters and lessen urine flow, enabling the germs to go to the kidneys.
uncontrolled type 2 diabetes.
Risk factors for kidney infection
Pyelonephritis acute
Acute pyelonephritis is more likely to occur when there is an issue that prevents urine from flowing normally. For instance, acute pyelonephritis is more likely to result from a urinary tract that is unusually large or shaped.
Additionally, because women have shorter urethras than males do, bacteria can enter their bodies more easily. Because of this, women are more likely to contract kidney infections and develop acute pyelonephritis.
Other individuals at higher risk include:
anyone who has recurring kidney stones or other renal or bladder issues, especially older people
those with immune systems that are weakened, such as those who have cancer, diabetes, or HIV/AIDS
Individuals who have vesicoureteral reflux(a condition in which a tiny volume of urine backs up from the bladder into the kidney and ureters)
individuals with enlarged prostate
Additional elements that may increase your susceptibility to infection include:
using a catheter
cystoscopic analysis
urological surgery
certain medicines
spinal cord or nerve injury
Persistent pyelonephritis
People with urinary blockages are more likely to develop chronic versions of the illness. These can be brought on by anatomical malformations, vesicoureteral reflux, or UTIs. Children are affected by chronic pyelonephritis more frequently than adults.
Kidney Infection Diagnosis
Following a discussion of your symptoms, your doctor may order tests such as:
Urine testing to look for bacteria, pus, and blood in your poop
to determine the type of bacteria in your urine
Additionally, your doctor might carry out the following tests:
CT or ultrasound. These check for obstructions in the urinary tract. If treatment doesn't work after three days, your doctor may prescribe these.
Cystourethrogram voiding (VCUG). This kind of X-ray is used to check for urethral and bladder issues. These are frequently prescribed by doctors to kids with VUR.
Digital rectal examination (for men). To check for a large prostate, your doctor inserts a finger that has been greased into your anus.
DMSA scintigraphy uses dimercaptosuccinic acid. This shows kidney infection using radioactive material.
Kidney Infection Treatment
You may require antibiotics for a week or two, which your doctor will likely prescribe. Within a few days, your symptoms ought to become better, but be sure to take the entire prescribed dosage. If you have a serious illness, you will require hospitalisation and intravenous (IV) antibiotic treatment.
If you have recurrent kidney infections, there may be a problem with the design of your urinary system. Your physician might refer you to a specialist, like a urologist. Many times, surgery is required for these problems.
Kidney Infection Prevention
Bladder infections are not fully preventable. However, you might have a lower chance if you:
Avoid using deodorant douches or sprays to your genitalia.
Condoms and diaphragms shouldn't be used with spermicide since they can encourage bacterial growth.
Use condoms with lubricant. Other varieties can irritate the urethra, increasing the risk of infection.
Get plenty of water.
As soon as you have an urge, use the restroom.
Pee after sexual activity.
After using the restroom, wipe the door to the back.
REFERENCES:
For more details, kindly visit below.