Is Strength training effective for managing blood pressure.
Hypertension, often known as high blood pressure, is a common ailment that, if left untreated, can cause major issues. Medication and lifestyle changes can both be used to address high blood pressure.
A systematic evaluation and meta-analysis of the available data revealed that strength training may be a useful non-drug alternative for the management of high blood pressure. Its effectiveness, however, is influenced by variables including intensity and duration.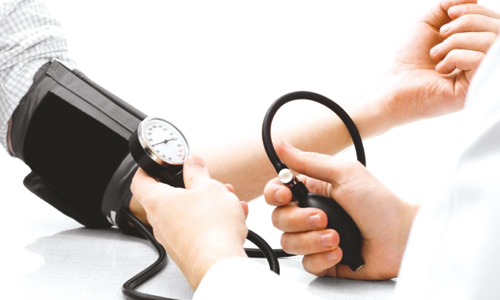 People who have hypertension or high blood pressure are susceptible to some long-term problems. Blood pressure can be lowered and a person's risk of problems can be decreased with early management.
The greatest strategies for modifying one's lifestyle to lower blood pressure are constantly being researched. How strength training affects blood pressure is one topic of interest. Recent systematic reviews and meta-analyses have demonstrated the blood pressure-lowering benefits of strength training.
Researchers found that strength training appears to be most useful when it entails working out at least twice per week for at least two months at a moderate to strenuous level.
High blood pressure and treatments
The force the heart uses to pump blood throughout the body is measured by blood pressure. The force blood applies to blood vessel walls as the heart contracts is known as systolic blood pressure. When the heart relaxes, the blood pressure in the diastole is the force.
It's critical that blood pressure maintain a healthy range. Stroke, heart attack, or kidney failure are just a few of the severe problems that high blood pressure can cause. Dr. John Higgins, a sports cardiologist from UTHealth Houston and a non-study author, observed:
"Hypertension is a significant risk factor for developing heart disease that, if not managed properly, can result in early coronary artery disease (CAD), stroke, peripheral arterial disease, atrial fibrillation, and heart failure. Increased morbidity and death are linked to all these disorders.
Aside from taking medicine, managing high blood pressure entails making changes to one's lifestyle. Losing weight, giving up smoking, and exercising are a few examples of lifestyle changes. Individualized treatment programs for people with high blood pressure can be created in collaboration with their doctors.
Dr. Rohini Manaktala, a cardiologist with Memorial Hermann Medical Group and an independent study author, stated that "following a healthy way of living with daily physical activity, maintaining a normal weight, consuming alcohol in moderation, and refraining from tobacco use are all ways to control an individual's blood pressure."
Using strength training to manage hypertension
In this systematic review and meta-analysis, researchers investigated the effects of strength training on high blood pressure levels by reviewing several papers. Through several databases, including PubMed, the Cochrane Library, and the World Health Organisation, they discovered studies. Fourteen randomized controlled studies that satisfied inclusion requirements were included in their study.
253 hypertensive people in all were included in the study and analysis. Participants were just about sixty years old on average.
Giovana Rampazzo Teixeira, Ph.D., the senior author of the study and a professor at UNESP – So Paulo State University's School of Technology and Sciences, said: "We used randomised clinical studies that used strength training as a treatment for arterial hypertension in hypertensive individuals."
The following criteria were determined to be the most conducive to strength training's ability to lower blood pressure in participants:
At least twice a week, individuals engaged in strength exercises that ranged from moderate to strenuous intensity. The intervention lasted at least eight weeks. As outlined by Dr. Teixeir:
"We found that people under 59 years old experienced a more notable drop in blood pressure during the physical training phase. People between the ages of 60 and 79 reported a less noticeable but still discernible difference. Thus, we emphasize that strength training provides advantages for both young and old.
Dr Teixeria continued, "Professionals who are faced with a hypertensive subject in clinical practise or even in the day-to-day at the gym will be able to use strength training as a treatment for arterial hypertension, knowing what the necessary variables for this are to be achieved, and always taking into consideration the goals of that subject."
How to lower blood pressure
Studies like this one, according to Dr. Fahmi Farah (MD), of Bentley Health, can give cardiologists like her another tool when communicating with the patients they care for.
We have always known that exercise lowers the chance of developing cardiovascular disease, but this study gives us additional proof and confidence to tell our patients about the benefits of exercise and encourage them to try it for themselves.
Farah and her peers in the sector are aware that strength training can provide health hazards or be prohibitively expensive or difficult to get owing to geography. is not accessible to all.
"I would say that on a population, a country, and a government level, I think the help needs to come from higher up so that we can make it more practical for everyone to be able to afford working out."
Even for individuals who can exercise, Makowski advises against becoming overly ambitious or pushing oneself beyond their limits.
Strength training may be done at many degrees, and it's not always what we imagine when we think of someone bench pressing a lot of weight elastic bands, light dumbbell weights, and bodyweight movements known as isometrics are some examples.
But before beginning weight training as an intervention for high blood pressure, every expert for this article advised the same thing: make sure you've spoken with your doctor.
Data limitations and clinical implications
This analysis and assessment does have some restrictions. First, research involving the use of blood pressure-lowering drugs were not disregarded. This fact might have affected how their analysis turned out.
Second, while multiple control groups were employed in the studies that were included, the researchers only paid attention to the blood pressure readings of participants who had high blood pressure. The ability of researchers to compare how strength training would benefit men and women differently was also constrained. Researchers also point out that there may be publication bias in the available studies.
Dr. Manaktala made the following assumptions regarding how strength training might be used to reduce high blood pressure based on the study's findings:
Strength training is simple to incorporate into a person's regular routine. The most crucial factor is constancy. A decent first exercise method to lower blood pressure would be a moderate to strenuous workout, 2 to 3 times per week.
It's also crucial to remember that each person's use of strength training may seem different. To perform a strength training programme safely, people might ask doctors and other experts for assistance.
Dr. Higgins stated that it is wise to consult with medical professionals before beginning a strength training programme to ensure that it is safe to do so and to get their advice on the appropriate level of intensity.
REFERENCES:
For Blood pressure medications that have been suggested by doctors worldwide are available here https://mygenericpharmacy.com/index.php?therapy=53